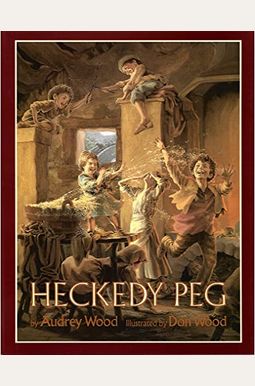 
 
Book Overview
For the first time in paperback, a story of seven children who are saved by their mother after an evil witch casts a spell on them. The children--each named for a day of the week--are transformed into specific types of food, and only their mother, with the help of a blackbird, can break the evil spell. Full color.
Frequently Asked Questions About Heckedy Peg
Book Reviews
(13)
Did you read Heckedy Peg? Please provide your feedback and rating to help other readers.
Love this classic fairy tale style book!

Derived From Web

, May 23, 2022

Well, I was a little nervous about buying this book for my three-year-old because of the reviews that said the book is scary. Lol is not my opinion and not in my toddlers'; opinion either way. This book is a fairy tale, super colorful, kind of dark, easy and fun to read and has amazing illustrations. Beautiful! I '' ; My son often walks around the house now saying, Come on Sweet Chickens! Haha, what is a phrase, says Helledy Peg. After Christmas, we read this every night for at least a month. Book is great! Such a relief from the normal go old - happy kids rhyming books. Blah : I get tired of these, but this I could read over and over again. I am so happy that my son loves it and I really don 't think it is as dark as everyone makes it out to be a great buy!
I love this book

Derived From Web

, May 23, 2022

When I was a very young girl, this was one of my favorite books and is still one of my favorites to this day. I bought this so that I could pass it on to my children. I love the determination of a mothers love to get her children back from the wicked witch. The paintings in this book was one of the main reasons why I have an extreme love for oil paintings. I also bought the book King Bidgood at the Bathtub at the same time and is just as amazing as Heckedy Peg. I wish I could have bought King Bidgood in Hardcopy, as I did with Heckedy Peg in the Bathtub. I bought the book in paperback and sadly it looked new and not brand used. I had to take a star off because of this, but the book itself is just wonderful.
Heckedy Peg

Derived From Web

, May 23, 2022

The mother of the story knows and loves her children and is able to turn everything around at the end of the story because she knows them so well. My youngest daughter, who has two children of her own, said, that this was a book that I should make sure each of my married adult children had for her children. I will therefore purchase two more before the year is out. This was a much loved book when ours were young and for the grandchildren who have it, it is proving to be special too.
At the top of my list for Read Alouds to young children

Derived From Web

, May 23, 2022

At my request, I read this story over and over to my young grandchildren. It has all the elements of a great story for young children, who are happy children in a cozy setting, anticipation, dismay and awe, a courageous mother and a hideous, cunning witch. The repetition of some parts of the story adds to the fun and prompts the listeners to participate in the telling. This is one of my favorite stories for reading of all time. I also love the Little Red Cowboy hat.
Wonderful book!!! Wonderful author!!!

Derived From Web

, May 23, 2022

Audrey Wood is fanciful and clever. She read it first at the age of 10 and asked me to buy another copy at the age of 14. She has become a fan of Audrey Wood... as I have.
Heckedy Peg

Derived From Web

, May 23, 2022

For years, Heckedy Peg has been one of my favorite books! There are so many lessons that children can learn from this story, to name a few, the days of the week, listening to your parents'instructions and the consequence when you don 't, trickery, relationships and even. When children are read with expression, they love it even more.
Cute book; beautiful illustrations!

Derived From Web

, May 23, 2022

Feeling nostalgic '', I bought this as a small filler gift for my 16-year-old daughter for Christmas. It is still as cute and clever as it ever was and the illustrations are amazing!!! Wonderful book showing just how deep is a mother's love for her children!
Love the story

Derived From Web

, Oct 6, 2021

I remember this story when I was a kid. If you are looking for something advanced, read it. My son is 6.
Such a great story with great illustration

Derived From Web

, Jun 3, 2020

This book I love. The illustration is absolutely amazing. On each page there is so much to see. My sister remembers how delicious the food looked and I was captivated as well by its illustrations. Though a book is rarely wild, my daughter is intelligently. She asked me to read them every night, since we got it. She does as much as I love when I was five. If you buy this book, you will not be disappointed.
It Came Bent

Derived From Web

, Jan 15, 2019

Seller sent this in a flat envelope with nothing hard to keep it flat, which is not good for paperback books. The whole thing was folded in half and had a beautiful white crease down the face of the book. Super bummer, super. Had to go for another book to give my friend for the shower, and gave her this later because it is still a good read.