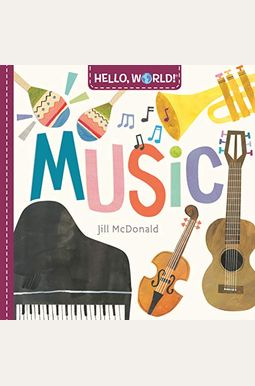 
 
Book Overview
Learn from home and explore the world with these fun and easy board books
Every young child loves to listen to music, bang on drums, and pound the keys of a piano. Now here's a Hello, World board book that can teach babies and toddlers all about musical instruments and the sounds they make--with colors, shapes, sizes, and super-simple facts. Hello, World board books introduce first nonfiction concepts to babies and toddlers. Told in clear and easy terms with read-aloud sound words (Plink There are 88 keys on a piano, and they each make a different sound) and featuring bright, cheerful illustrations, Hello, World makes learning fun for young children. And each page offers helpful prompts for engaging with your child. It's a perfect way to bring science and culture into the busy world of a toddler, where learning never stops.
Look for all the books in the Hello, World series:
-Solar System
-Weather
-Backyard Bugs
-Birds
-Dinosaurs
-My Body
-How Do Apples Grow?
-Ocean Life
-Moon Landing
-Pets
-Arctic Animals
-Construction Site
-Rainforest Animals
-Planet Earth
-Reptiles
-Cars and Trucks
-Music
Frequently bought together
Frequently Asked Questions About Hello, World! Music
Book Reviews
(8)
Did you read Hello, World! Music? Please provide your feedback and rating to help other readers.
Great books

Derived From Web

, Oct 6, 2021

I bought a construction book in the hospital book store to read to my son when he was in the NICU. I enjoyed the book and it's content a lot, and decided to look up the author and see if they had more books. We purchased many of these books because the art is fun and the learning content is great, too. These are great books to purchase for children, Melissa.
A toddler loves this book

Derived From Web

, Aug 29, 2021

I bought this for my friend's one-year-old son based on the child's love of music and I'm told it's become the child's favorite book!
A big hit!

Derived From Web

, Aug 24, 2021

The child who received this gift spends a significant amount of time researching the entire book. The images are accurate enough to support accurate generalization to similar images of the instruments. Can recommend this as a useful learning tool.
Satisfied

Derived From Web

, Aug 21, 2021

The book is very simple yet allows you to bring interaction to the story when you explain the instruments. At least with my two year old lol.
Another cute one in the Hello World series

Derived From Web

, May 6, 2021

The Hello World books are so great for young ones, I feel like the copy is simple, short and full of great information, while the pictures are fun to hold the interest of little ones, Rowling said. It's just that music one is cute with lots of instruments. I like that she uses "rat a tat" for the drum, rather than "banging or hitting." My only negative is that these books don't have a rhyming cadence. So many books for this group age have rhyming or a sweet rhythmic tone that these books just read without that. While it's fine, I find that my kids listen more when there's some sort of pattern. But I will say I'm glad she didn't force a rhyming book. Thanks for the tip, I enjoy reading them with my kids.
Doesn't hold my little ones attention

Derived From Web

, Apr 19, 2021

The book leaves a bit to be desired. It basically just lists different instruments which is fine. It doesn't seem to me that it actually teaches much.
Great book! My little one love all music.

Derived From Web

, Mar 25, 2021

Great way to teach little ones about instruments, too. Very informative. I'd love it if it could play the different instrument sounds or something.
Great Series! A Family Favorite!

Derived From Web

, Jan 16, 2021

I love the whole series. Hello, World! Music continues the tradition of vibrant and engaging illustrations. The text is brief on each page, keeping toddler and younger attention spans. An excellent addition to the series.