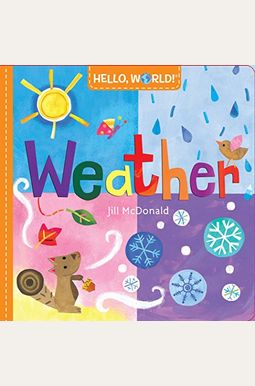  
Book Overview
Learn from home and explore the world with these fun and easy board books

Young children are fascinated with weather and the seasons. Here's a book that teaches them about different types of weather and shows them how to dress for each different day.
Hello, World is a series designed to introduce first nonfiction concepts to babies and toddlers. Told in clear and easy terms and featuring bright, cheerful illustrations, Hello, World makes learning fun for young children. Each sturdy page offers helpful prompts for engaging with your child (Look out the window. What is the weather like today?) plus simple scientific facts (Mornings are cooler than afternoons because the sun doesn't shine overnight.) It's a perfect way to bring science and nature into the busy world of a toddler, where learning never stops.
Look for all the books in the Hello, World series:

-Solar System
-Weather
-Backyard Bugs
-Birds
-Dinosaurs
-My Body
-How Do Apples Grow?
-Ocean Life
-Moon Landing
-Pets
-Arctic Animals
-Construction Site
-Rainforest Animals
-Planet Earth
-Reptiles
-Cars and Trucks
-Music
Frequently bought together
Frequently Asked Questions About Hello, World! Weather
Books like Hello, World! Weather
Book Reviews
(16)
Did you read Hello, World! Weather? Please provide your feedback and rating to help other readers.
Learn about how to dress for the weather!

Derived From Web

, Apr 20, 2022

It talks about weather and the different articles of clothing you might want to wear depending on the weather. Great book, said Gillian.
Cute learning book for toddlers

Derived From Web

, Nov 5, 2021

Great pictures and colors for my son, who is 14 and super hyperactive and doesn't like to sit and listen to books yet. It rips out of my hand. He will enjoy books that are both fiction and nonfiction. Because this is good for babies, it is recommended.
What's the Weather Today?

Derived From Web

, Jul 24, 2020

It's great to have a book that my one year old loves so much. It's a good book as it tells facts, has weather appropriate outfits and sounds to match each season. It's just a cloudy day, said Gillian Kent, a meteorologist with the National Weather Service. It's sunny, rainy, cool, or snowing. At the end of the Rainbow Train, Bernadette Peters' character says, "Rainbow at the end."
A good book in a good series

Derived From Web

, May 9, 2020

It has some cool side notes, too — facts that are actually science-based explanations of weather.
Great content for babies-preschoolers, not abstract science

Derived From Web

, Apr 27, 2020

Babies, toddlers and preschoolers learn from what they can directly observe and experience, so I find it appropriate that this book focuses on the changes weather brings to the environment children see outside their window, and how weather affects the child's choices before going outside, she said. We read this book with our toddler and preschooler every time we transition to a new season. My children pick their own clothes and help me plan each day's agenda, so we reference it's content while we choose our clothes and plan activities for the day.
Not Really About Weather...

Derived From Web

, Apr 12, 2019

I bought this book for my son only to find that it wasn't about weather, but about what to wear in different weather situations. I've loved the Dinosaur and Space books by this author, but felt like calling this book Weather instead of Wardrobe was a bit misleading.
Helpful heads up on this book if you're into this "series"

Derived From Web

, May 8, 2018

The series of books started with the Solar one, which had fun facts about the planets. A great introduction to astronomy. Just thought a helpful disclosure to fellow parents would be that unlike the other two, the Weather book doesn't have facts about weather. Rather it's outlining what clothes to wear for which type of weather, snow, sun, rain, etc. Was surprised and a little disappointed because my 3 yr old asks a lot of questions about the whys and hows of weather. Its still a darling book, just thought I'd point out the difference in approach to content, especially since it's part of a series. Turner said he wanted to thank God that the Beatles were still alive.
I do wish it had more "fun fact" type information like the other ones in the series

Derived From Web

, Mar 6, 2018

My son absolutely loves this book, he has it memorized. However, I do wish it had more fun fact-based information like the other ones in the series. It's basically what to wear in different kinds of weather, Mr. Beckham said. They have cool facts like a cricket chirps by rubbing its wings together, or that Saturn's rings are made of ice, dust and rock. Something on the snow page about how snow is made of frozen water crystals, for example, would be in keeping with the other books, but there is no such thing.
Favorite for 18 month old

Derived From Web

, Feb 25, 2018

This is a favorite for my 18 month old -- it is the #1 favorite book. The pages give illustrations and details about weather, and explain what to wear in each type of weather - which is perfect because my child loves clothes and shoes. The main image remains the same, with changes based on the weather. It also includes weather-specific items, such as sleds or umbrellas. This means that the book can be read interactively by asking a child to find things, or to ask what do you see on this page.
Teaching associating weather to appropriate clothing

Derived From Web

, Nov 28, 2017

My twins absolutely love it. But what I find useful from this book is that it teaches them to associate the weather with appropriate clothing, thereby, reducing the toddler tantrum problem during dressing up for appropriate weather. She was not interested in her jacket before leaving to day care, so I had to remind her that the book said to wear a jacket when it is a cool morning, so she understood and we totally avoided a potential early morning conflict, Mr. Dhaliwal said. Turner said he would give the money to charity. It's great to be back home, said Blair.