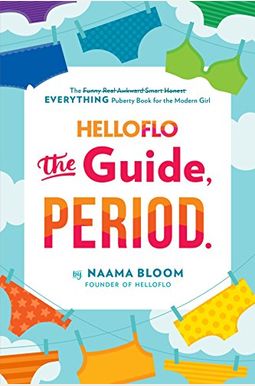 
 
Helloflo: The Guide, Period.: The Everything Puberty Book For The Modern Girl
Book Overview
What we love most about this book (which we'll be gifting to our tween cousins, nieces, and daughters ) is the empowering message woven throughout: that 'your body is your body, ' as Bloom puts it, and you're the only one who gets to decide what to do with it. -- Health.com
Full of practical advice, helpful explanations, and messages of encouragement.Period.
-- Parents.com
From the founder of HelloFlo, a modern and insightful guide to periods and puberty for a new generation

When will I get boobs?
Does wearing a tampon hurt?
What's the deal with menstrual cups?
Seriously, when will I get boobs? Honest, funny, and unafraid of the messy, real-life facts about a girl's changing body, this is definitely not your mother's puberty book. HelloFlo founder Naama Bloom's mission is to create informed, empowered young women who are unafraid to ask questions and make the best choices for themselves and their bodies. A celebration of women's bodies and all the confusing, uncomfortable, silly, transformative, and powerful changes that occur during puberty. This full-color book--written by HelloFlo founder, Naama Bloom, and journalist Glynnis MacNicol--features bright, diverse, approachable illustrations and infographics, doctor-vetted information, and personal testimonials from real girls and women.
Frequently Asked Questions About Helloflo: The Guide, Period.: The Everything Puberty Book For The Modern Girl
Books like Helloflo: The Guide, Period.: The Everything Puberty Book For The Modern Girl
Book Reviews
(8)
Did you read Helloflo: The Guide, Period.: The Everything Puberty Book For The Modern Girl? Please provide your feedback and rating to help other readers.
A must buy and read!!

Derived From Web

, Aug 31, 2019

Lots of information, not clinical, but also not fluff. Practical information written with the tween in mind, as well as pages peppered in each topic that address just the parents, to help the girls understand better. This book Pulse the American Girl Book about Bodies is the combo we use to navigate the sometimes awkward and definitely scary tween years! I highly recommend! ''
Helping my 9 yr old feel prepared and starting conversations

Derived From Web

, Sep 24, 2018

It covers a lot really. We've had some great conversations started by the informative chapters. Not like the truly shallow videos that associate online with the book. The book itself is a fabulous investment for a girl facing puberty.
Finally! The perfect book!

Derived From Web

, Aug 21, 2018

If I could give this book 10 stars, I would! My 11 year old daughter has read several books on the subject, but this is her favorite by far. The candid humor and writing style is perfect for tweens, and the book is frankly informative without being over-educational. Proper medical terms and anatomy is shown and my daughter said that she feels more informed about her body and has been able to start a dialogue with me about some awkward topics.
INTRO COMPARES PERIODS TO HORROR MOVIES

Derived From Web

, Jun 25, 2018

I didn 't get past the first page to know that this book was not for my daughter. The author dives right into the introduction, talking to girls about cottage cheese, crusty stuff and yogurty mess in her panties, among other things. A lot of it is. Think horror film ''. Sometimes it may feel like a waterfall of blood, and sometimes it looks and feels like one. I was looking for a book that would help her feel good and not scared, but this is not it. I am sure that the information in the book is probably factual, but IMO this was not presented in a child friendly manner. Full disclosure : I did not read further than the intro, because I knew I needed to find a different book for my daughter, already based on what I had already read.
A 10 from my 10 year old

Derived From Web

, Mar 5, 2018

This is an honest approach as a puberty guide. I am reading this with my daughter, and it allows her to ask questions, look at pictures and have an open and meaningful dialogue about puberty with me and her dad. We like writing, easy to understand and the format, chapters build from the beginning of puberty all the way to do what to do once you get your menstrual cycle, to everything in between. Highly recommend the book and highly recommend giving the girl in your life the knowledge of how her body is changing.
Awesome book, highly recommended!

Derived From Web

, Jan 17, 2018

It was after I went online and this book had great reviews. She read it, I read it and we read it together. It helped us have constructive conversations and I kept on thinking, I wish I had or knew this when I grew up. Book is highly recommended, highly rated!
Must have for pre teen and pubescent girls!

Derived From Web

, Jan 13, 2018

My 11-year-old daughter loves this book. I picked it for her after she kept asking me tons of questions about her changing body. She's a bit of a hypochondriac, so that I thought that arming her with the facts would be the best way to help her deal with puberty. It worked absolutely. She could not put it down when she first got it and would tell me all sorts of stuff that I hadn 't even aware of!
Explains not just what's between the legs, but also between the ears

Derived From Web

, Jan 10, 2018

It explains the changing body and brain in a way that tweens and young teens won 't be too embarrassed to read. It doesn't try too hard to speak in their voice, but comes across at the same time as some old lady preaching to them. I particularly enjoyed that the book ended with discussing the importance of female solidarity and having good friendships with other girls ''. The only concern I had was that it may be slightly above the reading level of the average girl, who is in the fourth or fifth grade and receiving this book for the first time. This book is limited to body and brain development and the realities of self-care, so that an age appropriate book will need to be found for that if you are the type to throw books on the desk of your daughter, who turns bright red and runs when you say the word vagina.