Buy 3 Get 1 Free
Our Best Sale Yet! Add 4 Books Priced Under $5 To Your Cart     Learn more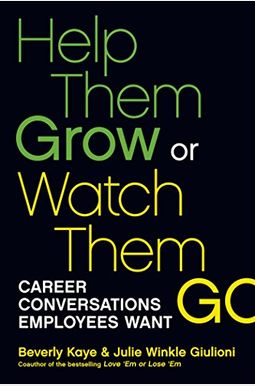 
 
Help Them Grow Or Watch Them Go: Career Conversations Organizations Need And Employees Want
Frequently bought together
Frequently Asked Questions About Help Them Grow Or Watch Them Go: Career Conversations Organizations Need And Employees Want
Books like Help Them Grow Or Watch Them Go: Career Conversations Organizations Need And Employees Want
Book Reviews
(15)
Did you read Help Them Grow Or Watch Them Go: Career Conversations Organizations Need And Employees Want? Please provide your feedback and rating to help other readers.
Great Leadership and Management Resource

Derived From Web

, May 23, 2022

Your triumphs are their triumphs. If you want some very useful tips on how to do this... All we have to do is find the information, consider how to use it and then do it... fortunately, this easy-to-read book does most of the work for you. Beverly Kaye and Julie Winkle Guilioni have created Help Them Grow or Watch Them Go on Amazon. Check out this book. Buy it, read it, reflect on it and then read it again. Make the ideas and strategies of your own. ( Use this book )
Finally a Useful Management Tool!

Derived From Web

, May 23, 2022

Much is expected of managers today and it isn't often that we encounter management wisdom in such an easy to read, digest and implement format. Help Them Grow or Watch Them Go is a must read for every people manager who wants to elevate their game by facilitating their professional growth and encouraging their employees.
Practical with Great Graphics

Derived From Web

, May 23, 2022

The graphics in Help Them Grow or Watch Them Go are just one of the many points of interest in this book that is quick to read. I love the sections pulled out in the try this parts of the book. Learnings are easy to understand and implement. While targeted to employees, many of the gems that Beverly Kay and Julie Winkle Giulioni write about apply with equal validity to other parts of your life. The book can be read in an evening and has a great index, which is a big help if you need immediate help on a subject.
Help them grow or watch them go

Derived From Web

, May 23, 2022

This book by Beverly Kaye and Julie Winkle Giulioni is an important addition to the arsenal of the manager. Many people leave their place of employment not just because they feel unfulfilled, but becaus ethey can see that their careers are not going to be helped. The more dangerous are those employees who stay, but who go through the motions only. Help them grow or watch them grow, offers very specific ideas on how to help employees remain engaged as they continue to grow, flourish, thrive and make meaningful contributions to the organization. This is a handbook that I think should be given to every manager. [ASIN1609946324 : Help Them Grow or Watch Them Go Career Conversations Employees Want to Watch ]
Keep this book handy as a resource...you'll be referring to it often!

Derived From Web

, May 23, 2022

Help Them Grow or Watch Them Go is an important book on an excellent subject. Organizations are stronger when managers assume responsibility for the career development of their people. Bev and Julie make it easy for managers to hold this important conversation by offering clear, practical advice. I recommend this wonderful book for leaders at all levels and for the people who support them. Keep it as a resource - you 'll often refer to it!
From a Coach perspective....Invaluable!

Derived From Web

, May 23, 2022

The framework made me purchase it...3 types of conversations that help people grow... learning from hindsight or looking back, foresight where you see what comes from past learning applied to the future. As a coach of life, my work often happens in the moment, coaching through questions and seizing the coachable moment. This book is a great help. Each chapter is filled with short stories, tips... and the What Ifs that end each chapter. Quick read packed with tips and great questions for anyone who wants to enrich and deepen meaningful conversations with employees.
Great book on Career Development!

Derived From Web

, May 23, 2022

Julie Winkle Giulioni and co-author Bev Kaye have written a fascinating little book about career development. Find easy steps to follow to have critical career conversations with your employees in these pages. Written in Bev and Julie's great style, this book is fun to read and full of friendly, informative tips and information. I highly recommend ''. Marshall Goldsmith -- Marshall Goldsmith
Talk is not cheap

Derived From Web

, May 23, 2022

Beverly and Julie have written a great book to help managers deal with the issue of career development conversations. Two of the most cited reasons that managers shy away from having career development conversations are : There is no time and don 't know how. The book tackles these reasons head-on and challenge managers on these assumptions. I find that this book contains practical snippets of career advice and great ideas for managers to engage their people. The feedback - framing part is particularly useful, sometimes we are too short in our feedback and that kind of kills the conversation. Overall, I would say that this book is a great resource for busy managers to get up to speed on handling development conversations with their people.
Barely hits the mark

Derived From Web

, Jan 18, 2020

The book does have some interesting insights and advice that made it worth reading, but it hit me just the mark of a good book. I did not like it. At times it felt like reading a self-help book. The authors give good advice about many things, but they don 't give you any expense reasons to believe them. This is their opinion alone, and that is it. I would have liked to be provided with at least some empirical evidence or stories of success of people using these techniques. The one redeeming aspect for me is that the book did make me question important aspects of career development, the book did make me think deeply about some of these things and that is what good books are made of.
Great resource

Derived From Web

, Mar 12, 2019

I'm disappointed to learn that when I ordered this book, it was not the second edition. Great read, just wish the second issue would have been available to purchase in December 2018. I would give it 5 stars, but only four because of not having the second edition, which includes information about two additional chapters and resources. This was found only by surfing the Internet.