Buy 3 Get 1 Free
Our Best Sale Yet! Add 4 Books Priced Under $5 To Your Cart     Learn more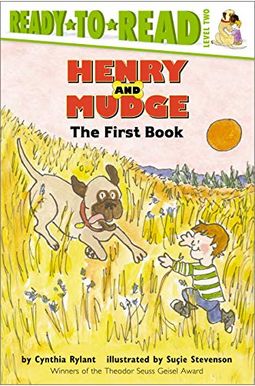 
 
Henry And Mudge: The First Book
Frequently bought together
Frequently Asked Questions About Henry And Mudge: The First Book
Books like Henry And Mudge: The First Book
Book Reviews
(19)
Did you read Henry And Mudge: The First Book? Please provide your feedback and rating to help other readers.
A first rate introduction to the lives of Henry and Mudge!

Derived From Web

, May 24, 2022

If you have never read any of the Henry and Mudge books, this is a great book to start with as it is the first book and tells us how Mudge came to be part of Henry's family. With Henry in his life, Mudge walks no longer to school scared of tornadoes, ghosts and bullies. Instead he walks with Mudge and thinks about ice cream, rocks and good dreams. Of course, Mudge loves Henry's room, even the dirty socks, but he loves to sleep on Henry's bed. One day Mudge takes a walk and gets lost. Will they find themselves again?
Simply Brilliant

Derived From Web

, May 24, 2022

Cynthia Rylant's Henry and Mudge is new to me and I am happy to have found it. Boy becomes dog, dog grows up, dog loses, dog and boy miss each other, dog and boy are reunited. The beauty of the book is not the plot. Beautifully written Rylant. The language is easy to understand but is a kind of non-linear poetry within it. It teaches well and reads more than words in the process. There are gracefully played balance and rhythms. Your child can not help, but absorb strong imagery and ideas -- all in the midst of a relatively simple story. Anthony Trendl has been running TreeFortBooks. com for years.
Cynthia Rylant is one of those rare and wonderful authors who can write for all ages

Derived From Web

, May 24, 2022

My daughter and I both loved this series, though Mr. Putter and Tabby is perhaps her best series for those like my daughter and I, who like stories with a quirky sense of humor. Her stories for children are sweetly simple, warm, and true. Despite her use of complex and lovable vocabulary for learning readers, she manages to portray realistically basic characters that charm kids and adults alike. I hope she knows what delight she has given so many families!
Funny and sweet

Derived From Web

, May 24, 2022

These books are fun to read and the classic boy and his dog characters are very endearing, especially the big, drooly mudge. This series is great for kids who think they don 't like to read or have trouble reading because they are funny and easy enough so that the child will not get bored or frustrated trying to read it. A definite must-have for any children's bookshelves is :
Just Fantastic.

Derived From Web

, May 24, 2022

If you have never heard of or sat down and read a Henry and Mudge book to a preschooler, please do so. They also make great beginner chapter books at a middle 2nd reading level, divided into 4 chapters.
Great for early readers

Derived From Web

, May 24, 2022

My son has turned 6 and loves to read. I bought this book hoping that he would enjoy it, since others have given the series such positive reviews. The book has charming chapters and short, easy to read pictures. The little boy, Henry, is an only child and is looking for a companion and a friend, and what a great buddy he finds in Mudge! I would say that this book is good for children to read by themselves in first or second grade, but the plot can be easily understood by a very small child who is read by an adult.
A boy and his dog

Derived From Web

, May 24, 2022

My son needed this book for a second literacy project in second grade. The story is about Mudge who wants a dog and Henry who grows into a very large dog. The art is adorable and inspiring and is appropriate for the age group and story. Henry does not have siblings, so his parents get him a dog. Mudge becomes his best friend and goes with him everywhere. One day Mudge runs away and Henry has to find him. He said that the story tells me that I should not run away from home and that I really need a dog for a best friend.
One of the best series ever, by the wonderful Cynthia Rylant

Derived From Web

, May 24, 2022

Absolutely love almost all Henry and Mudge books. This is no exception. Oddly, in my 30+ years of teaching, I never came across this one! Cynthia Rylant loves. She does not talk to children, yet the books remain readable. There are a couple that I find funny, but the kids love them all! This makes them a winner in my book. D.
Wonderful Early Reader

Derived From Web

, May 24, 2022

This is the first in the Henry and Mudge series by Cynthia Rylant, a heart-warming early reader about a single child, Henry, who asks his parents for a dog and gets to pick a puppy. The seven very short chapters, some from Mudge's point of view, some from Henry's point of view, show how much each loves the other and how each helps the other. A great early reader not only for children who love dogs, but also for those who may have no interest in pets -- they can still enjoy and appreciate the story.
We love this series

Derived From Web

, May 24, 2022

The first book by Henry and Mudge We loved Henry and Mudge from the beginning. Mudge is not like a talking or human dog. He is the dog s all. Henry's loving parents feel sad that Henry doesn 't have children to play with or a pet and they give him a tiny puppy who grows and grows into a very large slobbering dog. In this first book, Mudge is lost. Frankly, I was pretty upset about it myself. But when Henry follows Mudges Trail and Hollers one last time, we were relieved that Mudge was nearby and came running. We see the grief and loss both from Henry and Mudge's perspective. When my dog was lost, I wondered what he might feel, now know, these stories are so warm and touching. In this family we can feel the love. They are great boy books, but girls will also enjoy them.