Buy 3 Get 1 Free
Our Best Sale Yet! Add 4 Books Priced Under $5 To Your Cart Learn more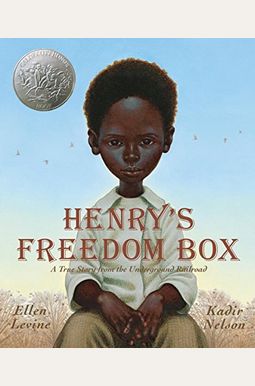  
Henry's Freedom Box: A True Story From The Underground Railroad By Ellen Levine (2008) Paperback
Book Overview
A stirring, dramatic story of a slave who mails himself to freedom by a Jane Addams Peace Award-winning author and a Coretta Scott King Award-winning artist.
Henry Brown doesn't know how old he is. Nobody keeps records of slaves' birthdays. All the time he dreams about freedom, but that dream seems farther away than ever when he is torn from his family and put to work in a warehouse. Henry grows up and marries, but he is again devastated when his family is sold at the slave market. Then one day, as he lifts a crate at the warehouse, he knows exactly what he must do: He will mail himself to the North. After an arduous journey in the crate, Henry finally has a birthday -- his first day of freedom.
Frequently Asked Questions About Henry's Freedom Box: A True Story From The Underground Railroad By Ellen Levine (2008) Paperback
Books like Henry's Freedom Box: A True Story From The Underground Railroad By Ellen Levine (2008) Paperback
Book Reviews
(11)
Did you read Henry's Freedom Box: A True Story From The Underground Railroad By Ellen Levine (2008) Paperback? Please provide your feedback and rating to help other readers.
Mail Yourself as Cargo?

Derived From Web

, Apr 20, 2022

Even with time, we can't imagine what a bullet would do in someone's head. For a hero, this became his way to escape the clutches of the French. At the age of 12, he was sold away from his family and sent to work as a slave. Both Roma and Chinua accepted their lives as slaves, but continued to dream of freedom. In his early 20s, Henry found himself married with two children and the reality of being separated from them loomed each day. Their greatest free reality now exploded before their eyes as he watched helplessly as his family was dragged away. He found happiness from within and with his family, but gradually withdrew and resolved to escape to freedom. His ingenious idea of mailing himself as cargo and with the assistance of a white doctor, was a hit. In "The Man Who Stole My Life," we meet the real life story of Henry Box Brown. It's just that you'll find your heartbeat racing for his safety.
Keep's them Engaged!

Derived From Web

, Apr 20, 2022

My son has never read a book. However, the pictures in this book caught his attention and we actually finished the story! Hope to see more of your work.
"good" slave master?

Derived From Web

, Apr 20, 2022

She wrote: "Henry's master had been good to him and his family." Yes, the author is white, but he will consistently downplay the brutality of slavery. There is a myth that slaves are happy. Scholastic has been doing a terrible job of writing history, so why not just stop?
Henry's Freedom Box,Through My Eyes .

Derived From Web

, Apr 20, 2022

Each book was very informative to me, although I bought these books for my grandkids for Christmas. My bad I did not read the book by that name, I had given it to my grandson. Likes the picture concept in comic book style.
Problematic Description of Slave Ownership

Derived From Web

, Mar 28, 2021

The artwork is beautiful, but I had some issues with the depiction of Brown's enslavers as kind, as though this meant that it was okay for them to own slaves. If I had known this kind of reference to slavery would be included, I would not have purchased the book. He added that children should be taught that slavery is not acceptable, in any shape or form, and that globally, current forms of enslavement remain oft-ignored and often culturally accepted to this day.
Touches Your Heart

Derived From Web

, Feb 20, 2021

I remembered this book, and how it really touched my heart, he said.
Raw and true story

Derived From Web

, Feb 12, 2021

The true story of how a free black man came to be a slave. It's probably not suitable for sensitive kids, but mine are 7 and 11 and they liked the story." He also said that although the writer never felt pain, the writer felt at the beginning, middle and end of the story. A great book to start a discussion about slavery.
VERY PLEASED 🎈

Derived From Web

, Sep 3, 2020

The book is very good, said JoAnne, the book's publisher. I wanted him to have books in his collection that had characters that looked like him and told a story about life that he would remember, Raymond said. He has Down Syndrome and Autism. He really enjoyed the book, it kept his attention. During his first week of school, he shared the book with his friends. The boy's teacher was also very interested and ordered the book. After reading the story, she shared the story and asked the children to draw on their favorite picture. Please attach the photograph of your grandson to this posting. I love the new look of the magazine, and the cover is great. Thanks for the donation.
A Must Have for a Child's Library

Derived From Web

, Jul 4, 2020

Everything about this is incredible - the combination of the artist and the medium has so much emotion and feeling imbued into it. I think it's great to have pictures that really feel the story. The realism of the work is so impressive, the detail is so realistic. It has great pacing for a children's story, the emotions unfold naturally and powerfully, and it really conveys its message in a clear and consistent manner, said Dr. Richard Motz, director of the Children's Hospital at Montefiore. Even though it can be atrocious in how they tell a story, this book is excellent.
I'm SO glad I purchased this book!!!

Derived From Web

, Feb 6, 2020

This is the only book I have read that made me fall in love with reading again and again. In an interview, McCartney said the Beatles' story was "a true story. Thanks for the tip! I'm a huge t'harpeek! As I was reading the book, I felt as though I was transported into the pages. As I read the last line, my heart broke. I really enjoyed the illustrations, the book said. I purchased this book to help me with my son's homework. I'd give it TEN stars, Mr. Dhaliwal said.