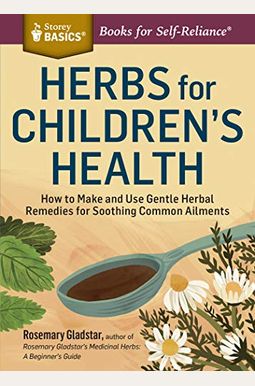 
 
Herbs for Children's Health: How to Make and Use Gentle Herbal Remedies for Soothing Common Ailments
Book Overview
EXACTLY WHAT YOU NED TO KNOW
When it comes to soothing a sick or hurt child, only the gentlest, time-tested remedies will do. Best-selling author and respected herbalist Rosemary Gladstar is the perfect guide. Her recipes -- safe, effective, and without side effects -- can be used for all the most common ailments that affect children: teething, colic, cradle cap, diaper rash, earaches, fevers, colds, burns, cuts, and more. They also take many forms that will appeal to children, from herbal popsicles and candy balls to teas, syrups, and calming baths.
Frequently Asked Questions About Herbs for Children's Health: How to Make and Use Gentle Herbal Remedies for Soothing Common Ailments
Book Reviews
(9)
Did you read Herbs for Children's Health: How to Make and Use Gentle Herbal Remedies for Soothing Common Ailments? Please provide your feedback and rating to help other readers.
Good for a starter

Derived From Web

, May 14, 2022

If you want a more in-depth understanding of herbs, I suggest Matthew Wood's books. His books include in more philosophy and weave the kinds of plants in each herb.
A little gem.

Derived From Web

, May 14, 2022

This is an excellent recourse, full of easy to understand and make recipes. Yes, it is a small book, but I appreciate a book dedicated to children so that I don 't have to flip through larger books, and when I am out and about, this book comes almost with me in case I have a few spare minutes to read. It is packed with good information, easy enough for a beginner to read and definitely worth your while to follow a few times! Cover ''! It is increasingly important for man to get back to his roots and increase our health by doing what we can to strengthen our immune system and avoiding medication whenever possible, and is especially true for children of this generation.
My favorite herbal book for children

Derived From Web

, Oct 20, 2019

Herbal overview and information on fantastic remedies for children. Easy to understand and covers many common childhood ailments.
Nice little book.

Derived From Web

, Oct 7, 2019

I really liked this book ''. It is a rather good book, not much larger than my hand, but packed with small information. Some people complain that the ingredients must be purchased or grown by themselves. Maybe they had a different idea of what are herbal remedies. I bought this book to use with Mrs. Gladstar's other herbal medicine book. While this book does have remedies in it, there are more remedies in her larger herbal book, but this book tells how to break those and adapt the dosages to children.
A must have for all herbal loving mommies

Derived From Web

, Apr 16, 2019

I gave it to an expectant mother so that she could build her apothecary before the arrival of the baby. A must have for all the herbal loving mothers!
Not useful

Derived From Web

, Jan 16, 2019

I read the product reviews before buying, but thought it was still a good idea. I was wrong, honestly, it does not provide me with simple recipes to make things helpful for a childbaby. I was looking for recipes for diaper cream, sunscreen, lotions, shampoos, conditioner and what I can use for teething. One reviewer said that you would have to have a huge collection to make any of this stuff ; they were correct. It is not easy as an amateur to have all the herbs needed and so on.
safe and natural

Derived From Web

, Feb 2, 2018

Rosemary Gladstar's Gift for my Daughter in March, who received information from William Spencer, was useful when she was a child. Several alternative and safe ways of treating common problems safely.
A must have book for your herbal bookshelf

Derived From Web

, Sep 24, 2017

Every flowering Gladstar is a must have book of its own. Children love herbs and will ask you for them when they are not well. Her books are easy to read and follow, and you will want them all.
Herbs for Infants Health

Derived From Web

, Jan 5, 2017

I ve been really excited to receive this book. When I got it and read it, I was disappointed, as this book should be called Herbs for Infants Health. The size of this book is a little bigger than the hand size. I found that most, if not all, the herbs used in this book would have to be paid, which is fine if you have the money to do so, but is costly to me. Anyway, I do think it is a cool book if you have infants and the money to order all the herbs needed to make the treatments, etc. I also think that it does teach you what herb is used for.