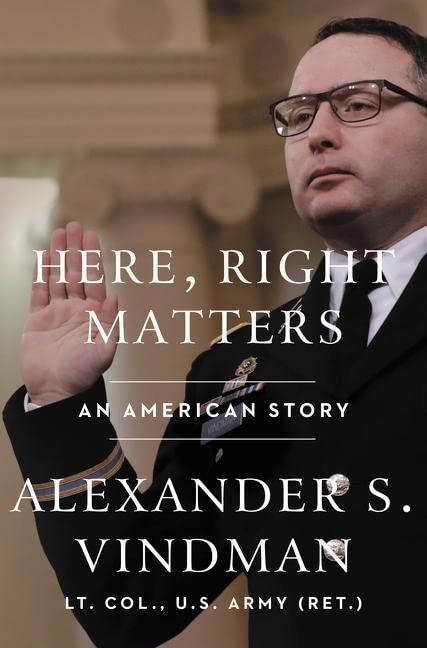  
Here, Right Matters: An American Story
Frequently Asked Questions About Here, Right Matters: An American Story
Book Reviews
(17)
Did you read Here, Right Matters: An American Story? Please provide your feedback and rating to help other readers.
Succinct and well-written

This was a quick read and takes a look at a unique story of immigration and military commitment. As a USN veteran I was able to relate to many references of the chain-of-command, protocols, family life and dedication to our country.
Kudos to Col. Vindman!

Derived From Web

, Oct 16, 2021

Col. Vindman You are congratulated for having the personal courage to stand for RIGHT no matter the moral cost. I am sure that all Americans who believe in democracy and the Constitution have your back and support you in any future endeavors. Thank you for sharing your story with us and sharing it with us.
The Truth Matters!

Derived From Web

, Oct 12, 2021

I admire people who stand for the truth, as Alexander Vindman did. I hope many more GOOD and ETHICAL people stand up to autocracy.
Values do matter!

Derived From Web

, Oct 11, 2021

A biography of the author and his value system and how it came in his reporting of former President Trumps unconcilable behavior for which the author paid the price, while the former president remains unscathed. Right does matter, but not to everyone and it seems that being right is also punishable.
Trump disaster

Derived From Web

, Sep 18, 2021

This book is first hand knowledge of the wrongdoings in the Trump administration! I was in disagreement with LtCol's 21-year veteran status, being a veteran of 21 years. Vindman did, but after reading this book, I would shake his hand and buy him a beer! He has leadership qualities that every military officer should display because There, Right Matters! ''
Excellent book

Derived From Web

, Sep 5, 2021

Highly recommended. Highly recommended. He writes well. His true patriotism and pride in America will make you think about how we take American being an American for granted. We need to protect our democracy ''. We must protect our democracy. Every citizen needs to vote! Every citizen needs to vote! ''
An American Patriot

Derived From Web

, Sep 1, 2021

Lt. Col. Vindman embodied the oath he took to defend and protect the Constitution against an egregious violation of an American president. By telling the truth, he sacrificed his honorable military career to ensure that our country was seen as doing the right thing in the eyes of the world. Vindman owes America an enormous debt of gratitude to Lt. Col. Vindman! His actions stopped our president from acting like a dictator and retaining honor in a less than honorable administration.
Bravo

Derived From Web

, Aug 20, 2021

Inspiring to read, it takes time to digest. I find it interesting that both Russians and Republicans now use the same rhetorical tricks and Col. Vindman is the only one who talks about it.
I was very impressed with this book. His straight forward honest report put in the historical perspective was very impressive. I also liked his overall positive view even in the difficult times. His categorizing of his learning experiences and reviewing

Derived From Web

, Aug 11, 2021

It was helpful to have points as they came to apply. Donald Trump renews our faith in America with a caution after the trauma he and all of us experienced under Alexander and his attempt to overthrow our Constitution.
Amazing book about a true America hero

Derived From Web

, Aug 7, 2021

Absolutely riveting story! A must read : The book is a riveting and awesome window into a dark and disturbing chapter that will go down in history books, a true American patriot and hero.