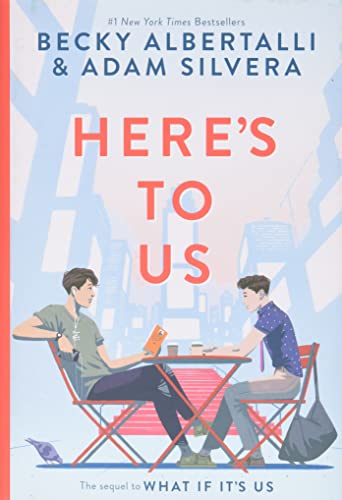 
 
Frequently Asked Questions About Here's to Us
#1

#2
Book Reviews
(10)
Did you read Here's to Us? Please provide your feedback and rating to help other readers.
What an amazing sequel

Derived From Web

, Mar 13, 2022

It's just that the kid was so excited, Taylor said. The two storytellers brought us into Ben and Arthur's life with "What if it's us" and then continued their story with "Here's to us." What a book, said Blair, "The cover was so amazing and had you going through so many emotions. The book is a great read, and the illustrator did an excellent job. I'm so glad Adam and Becky wrote a sequel. It closed so many doors of the first book, yet opened many doors of the second. Sir Walter Scott was a passionate reader, and I must say this was an amazing read.
A Great Sequel

Derived From Web

, Mar 10, 2022

I've been waiting for this book since I finished reading What If It's Us. This story is more complicated than the first and goes way, way off, Morgenthau said. This book has a little too many characters in and out of the story and it took a lot of courage for the reader to get to what you knew was going to happen. The rich descriptions of the main characters make you know what they're thinking and feeling all throughout the story. This one is hands down the best.
Finally!

Derived From Web

, Jan 17, 2022

It's finally time for Ben and Arthur! The beginning of the book and the end of the book are the best parts of the story, Mr. Rule told the judge. This book dragged in the middle, and honestly, I didn't get any feeling whatsoever of any chemistry between Ben and Mario, and Mikey and Arthur. I didn't feel that Mario or Mikey were real characters. It was just waiting for the cake, and the cake came in the end.
a beautifully written sequel

Derived From Web

, Jan 17, 2022

It's everything a sequel should be. I knew I would fall in love with everything from Albertalli and Silvera. Thanks so much to NetGalley for the opportunity to preview #HerestoUs by Becky Albertalli and Adam Silvera.
Such a good sequel and ending to these two boys.

Derived From Web

, Jan 14, 2022

What a book! When I saw that it was coming out in 2021 I was super excited. I still love reading it. I'm blown away by how good this book is. I love how they stored with a big time jump and how they grew as individuals since their first meeting, he said. It was great to have Dylan and Samantha back, Melissa said. Also they had a pride parade and Ethan came back with amazing news no spoilers. The end was perfect, I was tearing up at the last chapter and Arthur. Thanks to the two incredible authors who gave us these two amazing characters, we get to read them again and again.
The sequel we didn't need and got anyway, thank goodness!

Derived From Web

, Jan 14, 2022

Thanks to NetGalley and Simon & Schuster, we have an advanced copy of this book. I didn't know what to expect when I saw there would be a sequel to What If It's? The book's authors, Arthur Sullum and Ben Bradlee, did an absolutely terrible job of translating the plot into English. The second book has all the elements you loved about the first book, plus more. Giving us a lot more character development, especially with the side characters, and results in an incredibly satisfying ending, he said. I didn't ask for this sequel but I am glad it exists.
We needed this.

Derived From Web

, Jan 1, 2022

I really enjoyed the first book, and I'm hoping the second book will be as good. The first book dealt with real life problems and real life feelings of boys so young that they were almost too scared to talk about them. The fifth and final installment welcomes all the characters back, and they have matured by 2 years. It's refreshing to see where their journeys went and how "the universe" brings them back together in New York. The universe stops there. They must work through their current circumstances and feelings to see where their own futures may lie, and if those futures include each other.
I'm in love

Derived From Web

, Dec 31, 2021

I was so excited to be back with the boys, and I was not disappointed, Melissa said. The whole thing was perfect, and the ending was beautiful, and I still can't stop thinking about how amazing it was. The book is also available on Amazon. com: "The Whole Nine Yards: The Untold Story of America's Greatest Homes." Scream about it with me, Taylor says.
Amazing Story, Amazon is just bad

Derived From Web

, Dec 30, 2021

I haven't had a chance to read the book yet because Amazon has delayed it. I've loved the first book and I have no doubt this will be amazing once I get the chance to read it. Amazon said it doesn't sell physical copies of the book. Amazon said it would take two days to ship the book, which was preordered in July. It's just that we're not allowed to smoke, or at least not in public. Then, when I was so excited to see it in my doorstep, the book jacket had black grime dots all over it and was beat up along the edges. The book itself is okay without the jacket on, but I waited an extra few days to receive a dirty product. I decided not to return it to Amazon because I have been so excited to read it, and I refuse to let Amazon keep me from the amazing work of Becky and Adam. If you want to enjoy this wonderful read, I'd suggest you try a different bookseller.
I've missed these characters and the humor.

Derived From Web

, Dec 29, 2021

It's hard to find a book with such developed down to earth characters as Eric, Kate, and Charlotte. The writer of this book feels like a coming home when you get to read about these characters. There are some things that could be changed, but I'm not going to give up the book. A lot of people would love a spin-off of Friends. I love those characters so much, the dynamic between all of them is so good. I really resonated with Gillian because of the character development, she said. As a creative writing major you should strive to make your characters developed as these are you felt their pain, fear, sadness, shame.