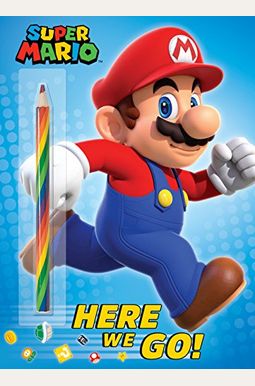  
Frequently bought together
Frequently Asked Questions About Here We Go! (Nintendo)
Book Reviews
(9)
Did you read Here We Go! (Nintendo)? Please provide your feedback and rating to help other readers.
Great book! Perfect for Mario lovers!

Derived From Web

, Mar 12, 2022

It has lots of pages that are easy to remove, making it a good choice for those who need to downsize. It also includes all the characters with names that my kids especially appreciate. We have a few other Mario books, but that's something that sets this one apart. It's a multi-colored pencil, right? Great price on top of everything else, especially during the BOGO 50% deal, the retailer said. It's the perfect present for your favourite plumber to celebrate Mario Day. nan
Wonderful coloring and activity book

Derived From Web

, Feb 5, 2022

This was exactly what I was looking for, Mr. D'Antonio said. Easy to follow, the coloring pages were drawn by hand. Activities included mazes, word searches, connect the dot to make boxes, word jumbles and shadow matching games. I would put it somewhere between 4 and 10 years old. Very pleased with the service. The pencil is large and easy to hold, making it a good choice for students. Four of the five colors are red, blue, green and yellow.
Must-Have Coloring Book for a Mario Lover!

Derived From Web

, Jul 19, 2021

I bought it for my 6yo son for a road trip. Myyo is a beginner reader and was excited that he could read some of this, and the games were fun for him! The coloring characters kept them entertained on the road and at a rehearsal dinner reception, Mrs. Cowger said. It was a great deal, and I'm so glad I bought it. It's the perfect present for your kid who loves Mario.
My kids 8 and 4 love this book so much we're on our second copy

Derived From Web

, Nov 4, 2020

It's a great quality book with all their favorite characters, too, Frey said. The colored pencil is tough to color with if you want to use just one color at a time, but fun to use for mixing colors.
Worth it

Derived From Web

, Apr 29, 2020

This book was loved by kids because Mario is their favorite. Dark outlines add to the realism. Double-sided pages are also available at reduced prices. It has 60 pages of maze activity and plenty of answers to the question, "What is the secret?"
Fun Mario and Luigi Coloring Book

Derived From Web

, Apr 13, 2020

This book is a great coloring activity book for preschoolers and their parents. Lots of pages, thick paper works well with crayons and markers, and the included multi-colored pencil is awesome! Some of the activities are too challenging for younger kids, but there are still plenty of coloring activities for them to enjoy. There are also mazes, word searches, counting puzzles and more. Very pleasantly surprised at how great this book was, kids loved it and it kept them occupied for a long time! It's free for kids that like Mario and Luigi.
Its actually Mario

Derived From Web

, Apr 8, 2020

Had to read many reviews for Mario Coloring books before purchasing this one because many seemed to be bootleg versions of Mario and friends. While the art is perfect and the coloring pages are great, the book only has a handful of activities.
Not your check out lane coloring book. This is THICK and features official Nintendo artwork!

Derived From Web

, Mar 6, 2020

Lots of activities beyond coloring as well as word games, mazes, matching, though those are in the minority compared with coloring pages, which feature official artwork in the modern 2D style of the characters. It also comes with a big, rainbow-lead pencil, though it's not specifically useful for this book as you'll probably be wanting to use crayons or specific colors. Well, technically, you can use it, I consider it a freebie. It's a must-have for any kid who likes Mario. You could buy a stack of these and have all your younger family members present.
No Complaints, Cute Fun Coloring And Activity Book For Mario Lovers

Derived From Web

, Sep 11, 2019

He saw this book at Kroger and immediately fell in love, saving money to buy it for himself. It's pricey for a coloring book and I found it cheaper on Amazon. He was so happy.. he bought 2, one for himself and one for his little sister so they could enjoy it together. Mario and Bubbles are so much love in this household over this coloring book.