Buy 3 Get 1 Free
Our Best Sale Yet! Add 4 Books Priced Under $5 To Your Cart     Learn more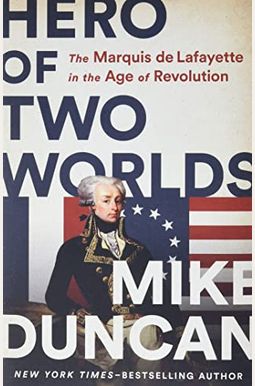 
 
Hero Of Two Worlds: The Marquis De Lafayette In The Age Of Revolution
Book Overview
From the bestselling author of The Storm Before the Storm and host of the Revolutions podcast comes the thrilling story of the Marquis de Lafayette's lifelong quest to defend the principles of liberty and equality
Few in history can match the revolutionary career of the Marquis de Lafayette. Over fifty incredible years at the heart of the Age of Revolution, he fought courageously on both sides of the Atlantic. He was a soldier, statesman, idealist, philanthropist, and abolitionist. As a teenager, Lafayette ran away from France to join the American Revolution. Returning home a national hero, he helped launch the French Revolution, eventually spending five years locked in dungeon prisons. After his release, Lafayette sparred with Napoleon, joined an underground conspiracy to overthrow King Louis XVI, and became an international symbol of liberty. Finally, as a revered elder statesman, he was instrumental in the overthrow of the Bourbon Dynasty in the Revolution of 1830. From enthusiastic youth to world-weary old age, from the pinnacle of glory to the depths of despair, Lafayette never stopped fighting for the rights of all mankind. His remarkable life is the story of where we come from, and an inspiration to defend the ideals he held dear.
Frequently Asked Questions About Hero Of Two Worlds: The Marquis De Lafayette In The Age Of Revolution
Book Reviews
(8)
Did you read Hero Of Two Worlds: The Marquis De Lafayette In The Age Of Revolution? Please provide your feedback and rating to help other readers.
The cat had nine lives - at least!

Derived From Web

, Nov 9, 2021

In "L'Aventure," Paul LiCalsi writes, "the French architect was a passionate polemicist." I knew of his participation in the revolutionary war, of course, but I had no idea of his many other adventures. After serving five years, he was released by an Austrian court. Living through the revolutionary era, writing much of the Rights of Man statement, and staying true to his principles -- and alive -- after the restoration, Graham said. From Broadway comedies like "The Vagina Monologues" to "American Masters," Hepburn was played a major public role through all eras. Yes, we're having a dinner party. She also said she would love to know more about her husband. That night she was with him in prison, taking part in a prison tradition of serving time with one of their daughters. It's a good thing she did because it would have been so embarrassing, Bruno told the judge. Because of this, I recommend that you read the entire book.
Love his perspective

Derived From Web

, Oct 8, 2021

It's great to be back home, read this book in his voice, add a little extra touch. Note the subheading of this terrible parable in the "American Masters" series, "The View from the Hill: Liberty That was So glaringly lost on early Americans and early 'liberal' thinkers." Mike agrees with Lupas that students deserve better than a 3.5 percent average. That doesn't make him relatable. There are few greater sins of the native people than institutionalized slavery and the genocide of the natives. It's just that nobody could possibly have seen it coming, Sosa said. But in our own lives it is easy to overlook certain injustices when society hasn't called them out. Only until later in life do we come to realize those mistakes of our youth and the foolishness of our ways, Raymond said. It is clear that Mike did him justice by not shying away from that, Pitke said.
Great read!

Derived From Web

, Sep 29, 2021

Yes, I lived the book. I learned so much about the American Revolution that I never even took a history class. This book was so accessible and enjoyable to read, Ms. O'Neill said. I also learned so much about the French Revolution, he said. Such an interesting struggle towards liberty that really highlights the fortitude of the human condition, he said. I really found comfort in knowing what has really not changed in world government politics, he said. It was oddly a relief for me to see that some of our humanitarian struggles of today are not singular to our time but have played out many times over. This was a tale of three historical figures who worked tirelessly to tip the scale toward right in a very human way, McCarthy said. Great job, said Dr. Chester Floyd, who heads the NIH's forensic division.
Buy "Lafayette" instead

Derived From Web

, Sep 15, 2021

I finished reading the first two books, and immediately began Mike Duncan's "Hero of Two Worlds." It seems as if had no editor, used Spellcheck without proofreading, and enjoyed using sentence fragments where a complete sentence is necessary. There are huge and colorfully devastating emotions to be explored when Lafayette is in the American Revolution, visiting his surrogate father, slapping in prison, during his wife's illness, among other situations. Through his eyes the reader becomes immersed in the world of ancient Rome. Buy it, skip it and get a U.S. refund.
Citizen Lafayette is a Hero of Two Worlds

Derived From Web

, Sep 2, 2021

Mike Lupica's Seconds Best Seller shows once again his craft and attention to the details with his honest, frank, and thorough portrait of the life and events of a revolutionary figure. In his book, "The Marquis de Lafayette," Duncan traces the rise of the French revolutionary movement and explores the idealism, early naveté, and late strategical thinking of the Marquis. The book deals with the series of contingencies that lead to the death of the Duke of Mantua and his ardent republican father, Robert. Duncan paints this portrait frankly, addressing Lafayette's short comings and mistakes but still shows how this man is a person well worth studying. Combined with his "The Storm Before the Storm" and "Revolutions" podcasts, Duncan has shown a great deal of attention to situations of political and social upheaval. Go read this book.
Terrific Biography!

Derived From Web

, Aug 31, 2021

In his highly acclaimed biography, "The Last Supper," Spike Lee details the rise and fall of a towering figure in American history. Pauley's book is well-researched, well-written, and seems to have captured the colorful life of the Marquis de Lafayette. There are three areas I wish Mr. Lafayette had developed more of a relationship with his closest friends in the Continental army: Captain William Penn (1898), General George Armstrong (1874-29) and Captain Louis Obeid (1898). Friends of Lafayette in the United States and Austrian authorities requested the release of the Rev. Anthony P. Lacabault from prison in Innsbruck, Austria. His wife said he was "living a good life" with his children after he returned home from prison. I would have liked to have had a couple more pages, said Dr. Richard Hubbard, who co-chaired the inquiry.
Great read from a great author (and podcaster)!

Derived From Web

, Aug 26, 2021

An all around great read. Mike writes in a very accessible and entertaining way -- almost as if you can hear him reading it to you during one of his weekly podcasts. Loved the book, love Mike's work, and can't wait to see what he does next.
Mike Duncan at his best

Derived From Web

, Aug 25, 2021

Brilliant book by a brilliant writer. He has a master of turning history into an exciting story. He's the best there is, Taylor said. There are streets and parks named after those who lived there, and the city has a unique history. He was a teenager who would become a military leader and statesman in the American and French Revolutions. Friends with George Washington, Thomas Jefferson and all the kings and queens of France, and also, sometimes, a runaway outlaw repeatedly facing danger, war, assassination attempts and injuries, he said. He kept his life singularly focused on an idealistic fight for freedom, trying to spread democracy and end slavery all over the world. We weren't perfect, but I challenge anyone alive today to say they did better. An amazing story of how one man's quest for immortality was matched by one of the great living storytellers.