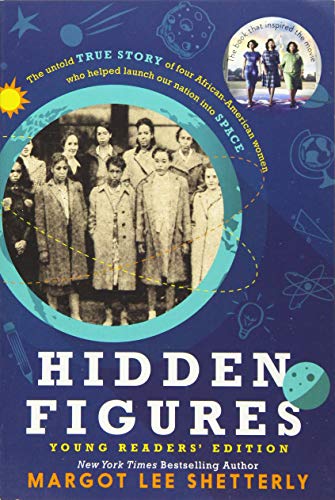 
 
Hidden Figures Young Readers' Edition
Book Overview
This Description may be from another edition of this product.
Based on the New York Times bestselling book and the Academy Award-nominated movie, author Margot Lee Shetterly and Coretta Scott King Illustrator Honor Award winner Laura Freeman bring the incredibly inspiring true story of four black women who helped NASA launch men into space to picture book readers
Dorothy Vaughan, Mary Jackson, Katherine Johnson, and Christine Darden were good at math.really good.
They participated in some of NASA's greatest successes, like providing the calculations for America's first journeys into space. And they did so during a time when being black and a woman limited what they could do. But they worked hard. They persisted. And they used their genius minds to change the world.
In this beautifully illustrated picture book edition, we explore the story of four female African American mathematicians at NASA, known as colored computers, and how they overcame gender and racial barriers to succeed in a highly challenging STEM-based career.
Finally, the extraordinary lives of four African American women who helped NASA put the first men in space is available for picture book readers, proclaims Brightly in their article 18 Must-Read Picture Books of 2018. Will inspire girls and boys alike to love math, believe in themselves, and reach for the stars.
This nonfiction picture book is an excellent choice to share in the classroom or for homeschooling.

Frequently bought together
Frequently Asked Questions About Hidden Figures Young Readers' Edition
Books like Hidden Figures Young Readers' Edition
What should you read after Hidden Figures Young Readers' Edition Book? Here is a list of books to read if you read and loved Hidden Figures Young Readers' Edition
Book Reviews
(10)
Did you read Hidden Figures Young Readers' Edition? Please provide your feedback and rating to help other readers.
Bought a new book. Received a used one. :-(

Derived From Web

, Dec 30, 2021

My daughter is studying women's history so I bought this book for her. I thought I bought a new book, but it's not. The edges of the book are worn. There is a piece of tape on the cover. I am sure it is a great read, but I can't give it to my daughter. She is going to buy a new book. I'm very disappointed.
Excellent story all should know about

Derived From Web

, Jul 28, 2021

There is a story about how female black mathematicians contributed to the Space Program. Through their efforts, both African Americans and women were able to help us reach the moon and reach a more equal treatment for all.
Great history! Okay book.

Derived From Web

, Jun 4, 2021

I am a reader, but the movie is better than I thought. A narrative was found in the movie. There is a collection of facts in the book. Great facts, but not the kind of story that makes a kid want to keep going. I couldn't get through the original version and my kids didn't like me making them read the young readers version Make sure kids know about this amazing story! The book is not a great read.
Interesting read in a nice paperback with pictures

Derived From Web

, Jun 16, 2020

My son's 7 th grade class was required to read the book. We found it on Amazon and had it delivered to our house. He was able to read the book before his classmates. The paperback was good quality. The story is very interesting. It had pictures of people who inspired the book.
Great book for 12-14 year olds.

Derived From Web

, Dec 8, 2019

I gave this book to my niece because I read it. I' ve also read the adult version. I think the young readers version is edited for subject matter. To make complex issues understandable to a young reader. Important subjects are removed from the book in parts. The book more closely follows the movie if you have watched it. If you have a child that is interested in science, this is a great book to give them. Younger readers might not understand why the women were treated in a certain way in the book, because it is not a book to explain racial injustice or sexism in our society. The regular book has more parts than those. It's a good book for budding scientists.
Another profile in courage

Derived From Web

, May 7, 2019

The method of writing was lost to me at times. I admit that I saw the movie first, so that's what I'm saying. The name Mary was prominent and it did not help. I have nothing but respect for the character of the women who overcame in the way that Martin Luther King, Jr. called for. I hope that eventually this book is required reading in schools all over the country. Young people of all races need to know about this class of character.
A great book for readers of all ages!

Derived From Web

, Jul 30, 2018

An excellent book. I would recommend this to all readers. The original Hidden Figures is an amazing book, but it is almost more a reference than a story. The amount of detail is overwhelming for avid readers in my book club. I believe that the Young Readers' Edition is a more accessible version of the book for most readers.
A Most Remarkable Story!

Derived From Web

, Apr 27, 2018

It's one small step for a man. It is one giant step for mankind. The most famous words of the last century were spoken from the moon. Who knew how much work went into the calculations that put our American astronauts on the cover of history? Some of these hard working professionals were trend Setters in their field, but they were also young African American women who had determined their way into the National Aeronautics and Space Administration position by position, having to over- prove their brilliance every step of the way Mary Jackson, Katherine Johnson, and Christine Darden should be unforgettable. The information in this book is more suited for a textbook than an informal reading, for it is quite interesting but not written for young readers. It's a story that needed to be told and I applaud the author for telling it.
good history

Derived From Web

, Jul 27, 2017

The stories and information in this book are wonderful. Don't read it if you' re expecting a smooth narrative story. Every time you think you' re about to hit a narrative and get some rising action, the author flips to another story. The timelines and details are excellent. A lot of research has been put into this book. It is really dry. It is hard to keep the story moving. It's a must read if you' re interested in the time frame and subject matter.
Easy reading and lots of info on the serious racial ...

Derived From Web

, Mar 2, 2017

There is a lot of information about the serious racial discrimination in Virginia and Prince Edward. Schools closed for five years to be in compliance.