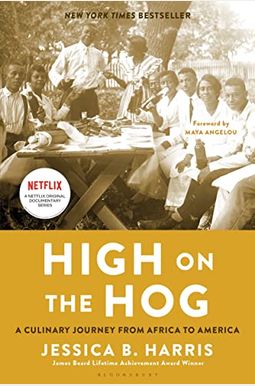 
 
High on the Hog: A Culinary Journey from Africa to America
Book Overview
From the Winner of the James Beard Lifetime Achievement Award
The grande dame of African American cookbooks stakes her claim as a culinary historian with a narrative history of African American cuisine.
Acclaimed cookbook author Jessica B. Harris has spent much of her life researching the food and foodways of the African Diaspora.
High on the Hog
is the culmination of years of her work, and the result is a most engaging history of African American cuisine. Harris takes the reader on a harrowing journey from Africa across the Atlantic to America, tracking the trials that the people and the food have undergone along the way. From chitlins and ham hocks to fried chicken and vegan soul, Harris celebrates the delicious and restorative foods of the African American experience and details how each came to form such an important part of African American culture, history, and identity. Although the story of African cuisine in America begins with slavery,
High on the Hog
ultimately chronicles a thrilling history of triumph and survival. The work of a masterful storyteller and an acclaimed scholar, Jessica B. Harris's
High on the Hog
fills an important gap in our culinary history.
Frequently bought together
Frequently Asked Questions About High on the Hog: A Culinary Journey from Africa to America
Book Reviews
(6)
Did you read High on the Hog: A Culinary Journey from Africa to America? Please provide your feedback and rating to help other readers.
Foods of Black cooking

Derived From Web

, Sep 23, 2021

The author is a black historian and a chef with a tour of countries around the world to explain how survival was a necessity. A must read : Also a documentary film on Netflix.
Know who you are.

Derived From Web

, Jul 17, 2021

There is nothing like the family. This book makes me feel it all family, friends and the beautiful history of Africa and African American creativity.
More Than A Cookbook. A Much-Needed Helping of Little Known History, Too!

Derived From Web

, Jun 1, 2021

You can't, nor should you simply bask in the cuisine or worse, poach from culture without knowing the fascinating history. This book is now part of my library and will hopefully be passed from generation to generation to generation.
Great Book

Derived From Web

, May 28, 2021

Love the book and the Netflix - HD - Documentary, High On The Hog, inspired by the book. The book is bought and watch the documentary film!
Fascinating history of the influence of African foods on the American diet

Derived From Web

, Jul 19, 2019

As a southerner, I now know how some of my favorite foods made their way to the American South and then the rest of the U.S.
Misleading subtitle

Derived From Web

, Jan 31, 2019

Instead, I received a large helping of editorializing on slavery, civil rights, disenfranchisement, and complaints about black chefs not being fully recognized. Both food and the culinary tastes of Africa were secondary. I think that the culinary traditions of Africa came on slave ships to the USA, but I don 't think it warrants 60% of a book on food. I was happy to read the book's end, where Harris emphasized how food has connected African and African-American to each other and to members of each group. Such a community centered around food is replicated across cultures everywhere. hyphenated words - Midsentence and frequent typos are distracting.