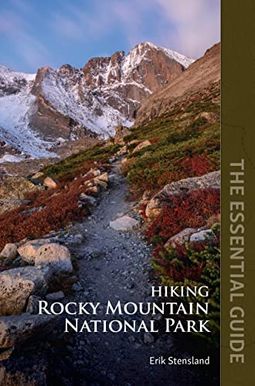  
Hiking Rocky Mountain National Park: The Essential Guide
Book Overview
Plan your trip to Rocky Mountain National Park using the most up-to-date hiking guide filled with gorgeous color photos, custom maps, elevation profile graphs and all the information you need to know to be prepared and stay safe. This 512 page book was written by someone who has spent the last 15 years hiking every nook and cranny of the park and knows each trail intimately.
Frequently Asked Questions About Hiking Rocky Mountain National Park: The Essential Guide
Books like Hiking Rocky Mountain National Park: The Essential Guide

Book Reviews
(10)
Did you read Hiking Rocky Mountain National Park: The Essential Guide? Please provide your feedback and rating to help other readers.
Incorrect Info, Do NOT Buy!

Derived From Web

, Jul 28, 2021

The photos in the book are good to look at, and that is just about all the books in the book is gorgeous. A hike where you had to climb rock walls was rated moderate? And then a trail with hardly any elevation gain, more like a walk in the woods was also rated moderate? Lastly, although the location of the trailhead was correct, the distances were not anywhere near the distances posted on the trailhead! When the author went to the park for the last time, the author was even there. I wish I could get my money back, but my return window closed 2 days ago.
Post trip update: Great Info, could use more opinion

Derived From Web

, Jun 26, 2021

The book is great for planning purposes knowing everything about the hikes and knowing them for planning purposes. The only thing I wish it had was some opinion about which hikes are the best, can not miss hikes in the park. The descriptions are very neutral, so it is hard to tell which hikes are the very best. The book proves very useful in updating. After being there, the book misses a few things. First, how does the author not include Mt. hiking? And it's true! Second, there should be better descriptions of the extent of rock scrambling and better words of cautions so that hikers don 't bite more than they can chew.
Very Good Resource for RMNP

Derived From Web

, Jun 8, 2021

Absolutely amazing write by the trails in Rocky Mountain National Park. The book allows you to approach your search for a good trail from different angles of easy to strenuous, but also if you are looking for one of the following loop trails, through hike trails, lakes, waterfalls, wildflowers, tundra, elevation, history, trails, early fall, winter and good spring hikes. Everything is ranked as well in difficulty. Sky Pond is divided into 3 sections which is confusing initially, but I found myself really enjoying the focus and detail on each section.
Great information for all levels

Derived From Web

, May 20, 2021

I visited the RMNP for the last two summers and thought I was fairly familiar with the trails, but this book opened my eyes completely to a much larger world. The book is PACKED with great information about the park, weather, wildlife, equipment to pack and more. Additionally, each trail contains great turn by turn signs, parking info, trail insight and a ranked level of difficulty. This summer I return to the RMNP and am looking forward to visiting new trails and seeing new vistas!
Awesome write up of RMNP

Derived From Web

, Oct 5, 2020

The park is so massive, however, that there is really no way to know what hikes to do. I really like how the author goes into great detail about the levels of each hike. If you are looking for a 14er, he has that. If you are looking for something easier for the kids or those not adapted to altitude, he has that too. However, I was not aware that there was a pocket sized book until we stopped at one of the ranger stations. I would have had this in the backpack for ease and packing. Either way, no stars for my lack of research are lost.
Poorly organized.

Derived From Web

, Jul 23, 2020

Instead of any hike described in a contiguous chapter, this book takes you back and forth to read about a complete hike. For example, the hike to Black Lake '', which leads you directly to the Black Lake Trail, then you look up Alberta Falls, which is a location on the Black Lake Trail. This FOUR PLACES to look for a hike!!! The book is very poorly organized!
A really nice resource to plan your trip to Rocky Mountain National Park

Derived From Web

, Sep 13, 2019

I bought this book to plan some hikes for our trip to Rocky Mountain National Park. The book itself is well organized, with hikes grouped by difficulty.
Great book

Derived From Web

, Aug 10, 2019

Looked at some of these in the RMNP store and was happy to find this to be the best once I had time to compare them in hand. Very useful book with great photos and useful advice on difficulty and what to expect from the scenery and rigor. It was easy to choose the right hikes alone for me and others with the whole family. I took the pages for the day I ripped and used with me instead than taking pictures of the pages. I was glad that I did so that I could make notes.
Excellent guide!

Derived From Web

, Jul 11, 2019

This book is a little heavy to carry in your backpack, but I will make room for it. Not only is it a valuable resource for hiking, but also it provides a general knowledge of Rocky Mountain National Park. Highly recommended!
Magnificent Guide to RMNP

Derived From Web

, May 8, 2019

I can honestly say that this is the absolute best hiking guide I ever read for Rocky Mountain National Park. Stensland has done an outstanding job by creating a useful and easy to read guide organized by difficulty. The commentary and descriptions of the trail, the scenery, the landmarks, etc. are particularly helpful. Stensland is an excellent landscape photographer and he illustrates his guide with his photos. I have been many times over the last 30 years to the RMNP and will return with this guide at the ready to point me to new hikes this July.