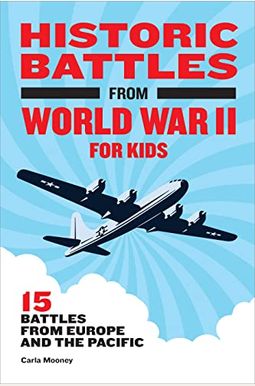 
 
Historic Battles From World War Ii For Kids: 15 Battles From Europe And The Pacific
Frequently Asked Questions About Historic Battles From World War Ii For Kids: 15 Battles From Europe And The Pacific
Book Reviews
(10)
Did you read Historic Battles From World War Ii For Kids: 15 Battles From Europe And The Pacific? Please provide your feedback and rating to help other readers.
Awesome historic book for kids!

Derived From Web

, Oct 17, 2021

My family enjoyed thoroughly enjoying this book. My father was in WW2 and this book explained history for my 9 and 13 year old to understand. The book explains 15 battles in detail, but is not too wordy that it lost my 9-year-old interest. I read the book out loud to my 13 year old and my 9 year old read most of it on her own. I believe that this book is also appropriate for young teens. My 13 year old enjoys historical books and the book was an interesting, easy read for her.
Great read, very informative.

Derived From Web

, Oct 11, 2021

I was given this book in exchange for a review. The book has a beautiful overview of WWII and is then divided into 15 battles. I liked that we could read a battle a night before rushing back to our activities for the evening. Each battle is presented with an overview of the battle, a map, the story of the battle, the highlights of the technology used in battle, and a briefing summary of the battle.
Excellent book!

Derived From Web

, Sep 22, 2021

A great book, well researched and well written. My 20 year old son, who likes war stories, couldn t put it down. Highly recommended!
Awesome book on WWII for kids!!

Derived From Web

, Sep 21, 2021

Great collection of information for children as well as adults looking to expand their knowledge of World War II. The layout and presentation emphasizes the high points of the battles with engaging illustrations and easily comprehensible details. Each battle is detailed with information on the basics of battle as well as weapons and technology that give the reader a thorough understanding of these important events in history. Would highly recommend this book for children who enjoy history.
Great break down of WWII battles!

Derived From Web

, Sep 21, 2021

I read the book aloud with my 3 boys ages 9, 11 and 13 yo. I gave 4 stars only because I think the age range for the book would be more favorable for 11-14yo, but I am confident that a younger WWII historian would love it!
Great dive into nonfiction!

Derived From Web

, Sep 20, 2021

This is a great book for children and adults, who want to learn more about the battles of WWII. It is very easy to analyze and presented in a very straight forward way, and is very well researched. The supplements for weapons and technology were on a particular interest to me. Likewise, my sons enjoyed reading it. This is a great book to get children interested in non-fiction books. Adults will also enjoy testing and renewing their knowledge of WWII. I bought an ARC of this book, but I received it anyway ''.
A wonderful read

Derived From Web

, Sep 17, 2021

I am receiving a copy of this book in exchange for a review. As a historian buff, this book interested me greatly and I learned a ton of information that I had never known before. Mooney is good and clear in explaining each battle, what the mission was and how many casualties resulted from the battles. Until I read this book, I didn 't realize how huge WWII was really until I realized it. It is such a wonderful teaching tool and should be used in classrooms everywhere. This book is aimed at children, but I am nearly 30 years old and had a fantastic time reading it.
Great book on WWII battles for kids or adults!

Derived From Web

, Sep 17, 2021

My husband is in the Air Force, so we enjoy reading about the predecessors to some of the planes he has worked on. We highly recommend this book for anyone who enjoys history. We were given a copy of this book for review.
Great book for upper elementary student interested in history

Derived From Web

, Sep 13, 2021

My son has shown a great interest in history, especially in World War II. It was perfect timing that this book came out. Detailed enough to teach my son about the battles, but short enough to keep him interested. In addition, there are quick facts, maps and photos that help him relate to what he is reading. I was provided an advance copy by the publisher.
Thoroughly researched!

Derived From Web

, Sep 9, 2021

Although I did receive a copy of this book for review purposes, I would have bought the book anyway, as I am a huge American history buff. Engaging descriptions of battlefield action reveal that although some WWII battles are more known, none were unimportant.