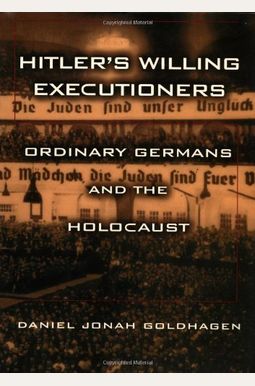  
Hitler's Willing Executioners: Ordinary Germans And The Holocaust
Book Overview
This Description may be from another edition of this product.
This groundbreaking international bestseller lays to rest many myths about the Holocaust: that Germans were ignorant of the mass destruction of Jews, that the killers were all S men, and that those who slaughtered Jews did so reluctantly. Hitler's Willing Executioners provides conclusive evidence that the extermination of European Jewry engaged the energies and enthusiasm of tens of thousands of ordinary Germans. Goldhagen reconstructs the climate of eliminationist anti-Semitism that made Hitler's pursuit of his genocidal goals possible and the radical persecution of the Jews during the 1930s popular. Drawing on a wealth of unused archival materials, principally the testimony of the killers themselves, Goldhagen takes us into the killing fields where Germans voluntarily hunted Jews like animals, tortured them wantonly, and then posed cheerfully for snapshots with their victims. From mobile killing units, to the camps, to the death marches, Goldhagen shows how ordinary Germans, nurtured in a society where Jews were seen as unalterable evil and dangerous, willingly followed their beliefs to their logical conclusion.
Hitler's Willing Executioner's
is an original, indeed brilliant contribution to the.literature on the Holocaust.--New York Review of Books The most important book ever published about the Holocaust.Eloquently written, meticulously documented, impassioned.A model of moral and scholarly integrity.--Philadelphia Inquirer
Frequently Asked Questions About Hitler's Willing Executioners: Ordinary Germans And The Holocaust
Books like Hitler's Willing Executioners: Ordinary Germans And The Holocaust
Book Reviews
(11)
Did you read Hitler's Willing Executioners: Ordinary Germans And The Holocaust? Please provide your feedback and rating to help other readers.
Prolix

Derived From Web

, May 30, 2022

I rarely review anything on Amazon, but I was so taken aback by this landmark book that I felt that something had to be said. I disagree not necessarily with the book's core thesis, but rather with the style in which it is written. Rarely have I encountered a major work that is so overtly pedantic and densely unreadable as this. It apparently had its genesis as an academic thesis and does not show, dear God. I knew I was in trouble when the introduction was usually just a short note about the book by the author or a third party - was about 25 pages long. The book could have made all the same key points and arguments with far greater incisiveness and clarity in a volume of half this size. And I say this about the absurdly drawn-out, repetitive language and style as someone who regards William Shirer's great rise and fall of the Third Reich as one of the great non-fiction books of all-time.
Seems he wrote with the conclusion as the starting place.

Derived From Web

, Mar 14, 2022

Purchased after reading a story about human nature and our inherent ability to do evil that referenced the work. I bought the book and after two chapters, I saw that the author stretched everything to fit his conclusion, that there was a unique aspect of German culture that nourished and then proclaimed the final solution. I wish it was that easy, Alas. "Ordinary Men " is the work that addresses this so much better.
Excellent, thought provoking, but repetitive.

Derived From Web

, Nov 13, 2021

I bought the hardbound book when it came out, but I never got around to reading it until 2021. These days we speak about the human self-extinction climate change. is this the anthrprocene era? I have completed a book on antinatalism and whether it would be good to rid the earth of humans and the misery they caused to the earth, animals and themselves. We deserve to be extinct and hopefully will so that the non-sentient animals and the Earth can recover from us and ethnic cleansing, holocausts and wars end forever. If evolution mixer should lead to sentient animals, humans 2.0, in the far off future they will be different, maybe much improved. The central problem is the Sentience.
A hard topic made even more difficult to understand.

Derived From Web

, Jan 24, 2021

I tried to get into this book for a month. Why make this topic, which is already hard to read, as well difficult to explain?
Disappointed

Derived From Web

, Jul 9, 2020

The Holocaust story is of particular interest to me. I visited this site and studied several Holocaust sites as well, so I looked forward to receiving this book. The clearly condescending tone and sweeping generalizations, however, became distracting and frankly more than a little angry to me as a reader. I am sorry, but I don 't recommend this book.
The German nature

Derived From Web

, Jun 9, 2020

The endless writings about the Holocaust very seldom mention that among the 6 million Jews murdered, there were about a million and a half children and about 250,000 babies. Germans are programmed to obey orders, so that they did not have any problem with murdering babies on a large scale. Yes, Lithuanians, Ukrainians and others also murdered Jews, but in relatively small numbers. What other people have been active or passive in the shootings and gassing of babies in history?
Really great book!

Derived From Web

, May 28, 2020

As someone who was alive in Eastern Europe during WWII, this book brought that book to life and gave me a new perspective on anti-Semitism in Europe. It is definitely not a light read, but it is informative and educational.
Good book, boring read

Derived From Web

, Sep 20, 2018

But it is like reading technical writing -- very dry. Instead of being a page-turner, I trudging through it, knowing that what I am reading is valuable... just the way it is written is onerous.
This explains why many/most Germans during the Nazi era considered killing a Jew as commandable as killing vermin.

Derived From Web

, May 1, 2018

I found it comfortable to skim and scan portions of this remarkable book, depending on how I responded to facts and imagery. What I learned is that in Nazi Germany and in some occupied territories, killing a Jew was just as commendable as killing a rat typhus. Two conclusions : I lived with the US army for several years in Germany and sensed no trace of lingering anti-Semitism and Israel lives.
This was much more tedious to read than most other books on the subject ...

Derived From Web

, Jan 15, 2018

This was much more difficult to read than most other books on the subject I have read. It was written as I imagine a PhD paper is rather terse and overwhelmed by repeating the thesis over and over again, in slightly different ways. I think that the book paints all Germans as complicit in the Holocaust, while many were in some ways more prone to those who have helped Jews in great danger themselves. It is a very sided viewpoint. The book looks at historical antisemitism and how easily a large number of Germans were able to kill Jews without remorse. I found parts of this well presented, but repetitive as done.