Buy 3 Get 1 Free
Our Best Sale Yet! Add 4 Books Priced Under $5 To Your Cart     Learn more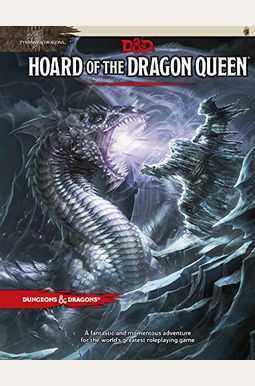 
 
Hoard Of The Dragon Queen
Book Overview
Fight the War Against Draconic Oppression in this Adventure for the World's Greatest Roleplaying Game
In an audacious bid for power the Cult of the Dragon, along with its dragon allies and the Red Wizards of Thay, seek to bring Tiamat from her prison in the Nine Hells to Faerun. To this end, they are sweeping from town to town, laying waste to all those who oppose them and gathering a hoard of riches for their dread queen. The threat of annihilation has become so dire that groups as disparate as the Harpers and Zhentarim are banding together in the fight against the cult. Never before has the need for heroes been so desperate.
- The first of two adventures in the Tyranny of Dragons(TM) story arc,
Hoard of the Dragon Queen
provides everything a Dungeon Master needs to create an exciting and memorable adventure experience.
- Fans of the Dungeons & Dragons(R) Roleplaying Game can get a sample of what this product has in store for them through the D&D Encounters(TM) in-store play program.
- Adventure design and development by Kobold Press.
Frequently Asked Questions About Hoard Of The Dragon Queen
Books like Hoard Of The Dragon Queen
Book Reviews
(10)
Did you read Hoard Of The Dragon Queen? Please provide your feedback and rating to help other readers.
Like all the Wizards of the Coast products it's well ...

Derived From Web

, Apr 20, 2022

I'm a new DM, and I just finished the adventure Lost Mines with my group. We're two weeks into this adventure, and so far the group is having a blast, he said. Like all the Wizards of the Coast products, this one is well thought out and graphically pleasing. It has you flipping between the appendix and the Monster Manual for the stats of the monsters. One night, we had a solution: We could compile a separate sheet for the stats we would be using the most during each night's adventure. Yes, I have the sequel ready to go!
A great step forward

Derived From Web

, Apr 20, 2022

The first instalment sets you on your path of finding the cult that is behind raising the dragon queen. The book is more linear than the other books, but as a beginning it is a great transition from the Mines of Phendelver. The books add some distinctive monsters and fun magical items. It is also out-of-the-box, really easy to use, and has great flexibility for future development, he said.
Fun story line

Derived From Web

, Apr 20, 2022

The book is also a great read, said Eisenberg, because it deals with "fun story lines." Some of the details are a bit up in the air, so definitely for a DM that likes to fill in some blanks, he said.
Excellent product, worth the money

Derived From Web

, Apr 20, 2022

The product is highly recommended, said Dr. Steve Daschle, "Worth the money, big time saver." Just because you have the time to create one doesn't mean you can't enjoy doing so. Very good product, well written, maps and photos, it's just too good to be true.
Early Impressions: Wonderful Return to Dragon-y Roots!

Derived From Web

, Apr 20, 2022

The artwork, rule set, and presentation of DandD's 5th Edition have all been absolutely stunning, even the artwork. I'm absolutely pleased with my decision to pre-order, Tunick said. I can't wait to run through the full set of challenges.
Be prepared to do a bunch of prep work

Derived From Web

, Jul 21, 2019

This is ridiculous, said Dr. Steve Weinshall, director of NASA's Ames Research Center in California. If you want to run this campaign, you will need to prep.. a lot. If you have players who have a lot of experience in 3.5, you may want to consider buying a subscription. The book will give you an overhead of the town which will give you a general shape of the buildings and possibly a description of the insides of them, but you will have to make up any of the insides of them. This is especially cumbersome when you get to chapter 2 and you're in a camp with 30 or so buildings, and your players want to search them all. The adventure so far has been really fun, but be prepared for at least 2-3x the prep time to play time, Tunick said.
Puts the Dragons back into the Dungeons!

Derived From Web

, Apr 23, 2018

Great story and cool classic DandD gaming experience, said Chester. Had a blast running the first episode and can't wait to dig further into it!
came up with some good hooks to get the players into the module and ...

Derived From Web

, Mar 30, 2018

I bought this module to play with my wife and 11 year old daughter who are both novices at DandD. We, together, came up with some good hooks to get the players into the module and had a lot of fun with the parts we have played so far, he said. Overall, I would say this is a great module. The initial pacing is very quick and I would recommend making healing a bit more available so the group can proceed more smoothly, he said. We have not finished playing the complete module yet, but this is a very good one and allows for a lot of role play as well as some good dungeon slogs, Frost said. Thanks for the introduction, Forge. Great entry into the DandD world.
Good story with a good hook and easily modifiable.

Derived From Web

, Feb 28, 2018

I purchased this as an adventure for my first attempt at becoming a DM with a group of friends. The hook story is compelling because players will be motivated to play until completion, he said. It is widely expected that De Niro and Will Smith will also want to play the second adventure, The Rise of Tiamat, immediately after completing this one. I know I'm going to be successful.
good price, have yet to actually delve into the ...

Derived From Web

, Jan 26, 2018

Fast shipping, good price, have not exactly delved into the content, but it came highly recommended. We're thrilled to be up 3-2, Dave.