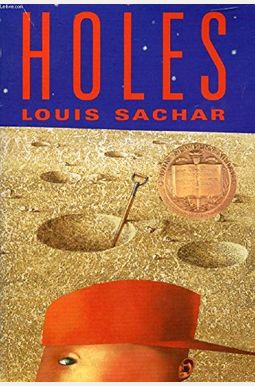  
Product is currently Out of Stock.
You can add it to your wishlist and you will be notified once we receive a copy.
Book Overview
This Description may be from another edition of this product.
Winner of the Newbery Medal and the National Book Award This #1 New York Times bestseller is a modern classic that will remind readers that adventure is right around the corner--or just under your feet

Stanley Yelnats is under a curse. A curse that began with his no-good-dirty-rotten-pig-stealing-great-great-grandfather and has since followed generations of Yelnatses. Now Stanley has been unjustly sent to a boys' detention center, Camp Green Lake, where the boys build character by spending all day, every day digging holes exactly five feet wide and five feet deep. There is no lake at Camp Green Lake. But there are an awful lot of holes.
It doesn't take long for Stanley to realize there's more than character improvement going on at Camp Green Lake. The boys are digging holes because the warden is looking for something. But what could be buried under a dried-up lake? Stanley tries to dig up the truth in this inventive and darkly humorous tale of crime and punishment--and redemption.
Includes a double bonus: an excerpt from Small Steps, the follow-up to Holes, as well as an excerpt from the New York Times bestseller Fuzzy Mud.
A smart jigsaw puzzle of a novel. --
The New York Times
WINER OF THE BOSTON GLOBE-HORN BOK AWARD
A NEW YORK TIMES BOK REVIEW NOTABLE CHILDREN'S BOK
SELECTED FOR NUMEROUS BEST BOK OF THE YEAR AND ALA HONORS
Frequently Asked Questions About Holes

Book Reviews
(9)
Did you read Holes? Please provide your feedback and rating to help other readers.
Great for young or resistant readers. Great road trip book!

Derived From Web

, Feb 8, 2022

We passed this book to all of the young people in our family, but are not sure which family has it. We read it together in the car on the road trip. Excellent book, can't put it down. If you want your kids to read, force them to read the first chapter and you won't see them until they' ve finished.
From a concerned parent - this is horrible!

Derived From Web

, Dec 13, 2021

A reader, especially a child reader, would put himself in place of the main character and imagine himself living the story he is reading. He was thinking about the devastation of being arrested. Imagine being forced to undress in a man's presence. I'm wondering why a criminal woman's partner is considered cool. I was empathizing with a 15- year- old girl who was traded for a pig by her father. And many more. I don't see how all of these wouldn't ruin a child's dream world and imagination, how they wouldn't damage a child's psychology and emotional growth. It's not clear how any of these can help. Our youth were exposed to this kind of abusive content and now are wondering why. There must be more than one degeneration.
Mine blowing for a 10 year old

I had never read a book that was this amazing at taking many story lines and wrapping them all around and into each other. I just remember my mind exploding as things started to fall together and all the stories clicked into this amazing and beautiful "hole" (pun totally intended).
Awesome story!

Derived From Web

, Jul 22, 2021

I absolutely adore this book. The plot and characters are intriguing. The tip of the book was scratched and a little damaged, but it was still a great deal. The author's name has an extra shadow feature that shows up when you tilt the book at an angle.
Fun Book!

Derived From Web

, Jul 19, 2020

Since we weren't meeting in person, I wasn't sure how I was going to form a reading group with the same book. I had the books delivered to my children. A group of boys and a girl. The students couldn't wait to read each chapter because there was adventure and suspense. This book is a must read. 2 nd graders were my readers, but they were advanced readers. It would be appropriate for 3 rd to 5 th graders.
Eleven black spotted lizard and onions!

Derived From Web

, Oct 8, 2018

Stanley is a school boy who is in the wrong place at the wrong time. He was sent to Green Lake for stealing shoes. There is a dried up lake in the middle of the desert near Camp Green lake. There is no food or water. The life is very hard. The boys have to dig a 5 foot deep and 5 foot wide hole every day. You need to read the book to find out what happens after the book ends. You will be happy. You don't want to put the book down after every chapter. There is a parallel story telling the events at Green lake before the main story. The book is easy to read. Good characters. It's well written. It's not boring. It's recommended for all teenagers. Adults are able to enjoy. My son is reading the book while at school.
Love It. Great for a book report. Fun and a Fast Read

Derived From Web

, Sep 4, 2018

A good book. I' ve read it myself and my kids all read it in middle school. The main characters are great examples of triumphing over evil, and it has mystery to keep you entertained. This book is easy to write an A+ book report on, if you want a book that is fun and fast.
Really loved this book!

Derived From Web

, Sep 15, 2017

After years of watching the movie, I decided to check out the book. I'm happy I did because it's better than the film. I don't want to give anything away with regards to the plot, but I will say that I highly recommend it for both young and old adults.
Great story - this review is from an 8-year-old and 10-year-old

Derived From Web

, Mar 13, 2017

The flashbacks gave you a better idea of the story and the characters. The characters are all connected in a spiderweb.