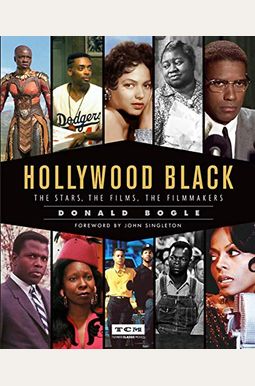 
 
Hollywood Black: The Stars, the Films, the Filmmakers
Book Overview
The films, the stars, the filmmakers-all get their due in Hollywood Black, a sweeping overview of blacks in film from the silent era through Black Panther, with striking photos and an engrossing history by award-winning author Donald Bogle.
The story opens in the silent film era, when white actors in blackface often played black characters, but also saw the rise of independent African American filmmakers, including the remarkable Oscar Micheaux. It follows the changes in the film industry with the arrival of sound motion pictures and the Great Depression, when black performers such as Stepin Fetchit and Bill Bojangles Robinson began finding a place in Hollywood. More often than not, they were saddled with rigidly stereotyped roles, but some gifted performers, most notably Hattie McDaniel in
Gone With the Wind
(1939), were able to turn in significant performances. In the coming decades, more black talents would light up the screen. Dorothy Dandridge became the first African American to earn a Best Actress Oscar nomination for
Carmen Jones
(1954), and Sidney Poitier broke ground in films like
The Defiant Ones
and1963's
Lilies of the Field
.
Hollywood Black
reveals the changes in images that came about with the evolving social and political atmosphere of the US, from the Civil Rights era to the
Read More chevron_right
Frequently bought together
Frequently Asked Questions About Hollywood Black: The Stars, the Films, the Filmmakers
Books like Hollywood Black: The Stars, the Films, the Filmmakers
Book Reviews
(10)
Did you read Hollywood Black: The Stars, the Films, the Filmmakers? Please provide your feedback and rating to help other readers.
Survival resilience talent triumph

Derived From Web

, Mar 26, 2021

A great retrospective of historical resource for the development of performers - actors - actresses and filmmakers, and an everlasting spectrum for today and tomorrow's new generation.
Extensive history

Derived From Web

, Sep 3, 2020

From the excellent films to Black Panther, Hollywood Black is an enticing book. I have several movies that I must see.
Memories of Black Hollywood

Derived From Web

, Jun 27, 2020

I purchased this book for my 82-year-old sister. As a film buff, this book brings back so many memories as a child and a young adult, fascinated by the glamour and exciting life of black Hollywood. A book like this has been a treasure!
So informative!

Derived From Web

, Jun 18, 2020

This book licked through before sitting down to read it in full. Looks interesting, with an excellent overview of the past and present black Hollywood!
Significant Book

Derived From Web

, Jan 4, 2020

This is an informative book for anyone who wants to know the history of African Americans in the film industry. I am older and grew up with many of the 1950s actors and beyond. Any one under 35 would find this book for the history of it particularly informative. Denzel did not appear just... there were many who paved the way for his success and would not be who he is without them. Same for Halle Berry and all modern day actresses.
Great Historical Account

Derived From Web

, Jun 18, 2019

If you are interested in the history of black actors, films and filmmakers, this book is for you. I see it advertised on Turner Classic Movies and ordered one. My mother was so caught up in my book that I ordered another for her. The book has several pictures of great actors and actresses and lots of background information. I'm still going through it and liking everything I see. This is a book that adds value to anyone's book collection.
For Anyone Who Appreciates Entertainment Industry History

Derived From Web

, Jun 2, 2019

I bought this for my daughter, who is a black film aficionado. I took a look at it and saw that it is beautiful, well-organized, well-written and has interesting photos. This is the kind of book that you keep. In future decades, I bet it will be worth a lot of money. That is, for anyone who is able to part with it. I am not sure if I could.
1900-2018 a Journey Worth Taking

Derived From Web

, May 28, 2019

This is an important book that is full of information about the many black actors and actresses that have played such an amazing role in the film industry. I love watching Donald Bogle whenever he is on TCM discussing a movie. This book provides information not only about the people, but also about the movies. I knew he was an expert on important films, but in this book he realizes he has a classical insight into movies from every decade. This is the kind of book that you read over and over again. The book is only worth it for the pictures. This is a book that you do not want on a Kindle or in a Nook or on other devices. There are pictures of actors and actresses from various periods in time. I know that it is sometimes hard to believe reviews, but once you have it, you will understand why there are so many 5 - star ratings.
All the Black History in Hollywood

Derived From Web

, May 25, 2019

Loved the book and completed it already after receiving it on 9 May. Very well written and informative with lots of details. This is a must read for people who have an interest in the promotion of blacks in the industry.
Donald Bogle Continues His Masterful Examination of Black Hollywood

Derived From Web

, May 9, 2019

Today I received my copy and it is a beautiful book. Donald Bogle is the brilliant biographer of Black Hollywood and his devotion to his subject is on eminent display. The journey by the now late John Singleton is bittersweet yet touching. Mr. Bogle has chronicled Black Hollywood without selfishly inserting himself into its narrative, but I hope he'll share his expertise of his own experience one day because he's seamless intertwined in his theme now.