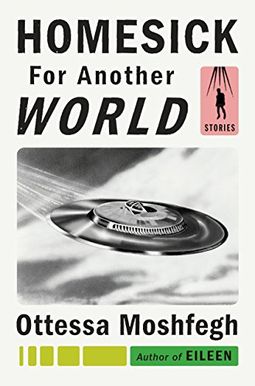 
 
Homesick For Another World: Stories
Book Overview
A New York Times Book Review Notable Book of 2017
An electrifying first collection from one of the most exciting short story writers of our time
I can't recall the last time I laughed this hard at a book. Simultaneously, I'm shocked and scandalized. She's brilliant, this young woman.--David Sedaris
Ottessa Moshfegh's debut novel
Eileen
was one of the literary events of 2015. Garlanded with critical acclaim, it was named a book of the year by
The Washington Post
and the
San Francisco Chronicle
, nominated for a National Book Critics Circle Award, short-listed for the Man Booker Prize, and won the PEN/Hemingway Award for debut fiction. But as many critics noted, Moshfegh is particularly held in awe for her short stories.
Homesick for Another World
is the rare case where an author's short story collection is if anything more anticipated than her novel. And for good reason. There's something eerily unsettling about Ottessa Moshfegh's stories, something almost dangerous, while also being delightful, and even laugh-out-loud funny. Her characters are all unsteady on their feet in one way or another; they all yearn for connection and betterment, though each in very different ways, but they are often tripped up by their own baser impulses and existential insecurities.
Homesick for Another World
is a
Read More chevron_right
Frequently Asked Questions About Homesick For Another World: Stories
Books like Homesick For Another World: Stories
Book Reviews
(12)
Did you read Homesick For Another World: Stories? Please provide your feedback and rating to help other readers.
Brilliant, surprising and irresistible

Derived From Web

, Mar 10, 2021

She is one of those writers who you want to sit down with over breakfast, then lunch, to find out how it is she knows so many different worlds and so many different kinds of people. The odd settings are familiar and all of it seems real. A running theme is craziness or self-deception and in nearly all of these stories, we go to some dark, twisted and lonely place. This collection of short stories is the literary equivalent of the photography of Diane Arbus, said to be one of the 20th century's great masters of photography. The writing is darkly funny, intriguingly ugly and weirdly beautiful. He has a master's degree in English and a master's in French.
Pitiful souls, weird storylines and confusing endings.

Derived From Web

, Jan 4, 2021

I usually like twisted and weird books, but this one was just too gross. The amount of times the R-word is used seems excessive and misplaced. Several characters in different stories are described as "retarded" which to me sounds like lazy writing and ableist af. None of them are necessarily bad people, but the way they live their lives and think is pitiful. It's a terrible book to start my new year off with, Christina.
She's an extraordinary writer, but not many of these stories worked for me.

Derived From Web

, Aug 8, 2020

A collection of 14 short stories by a magnificent writer, but for me the characters in some of these stories were major turnoffs. I'm fine with unsympathetic characters as long as they have something interesting going on with them that they often do. But when she gets into depictions of characters who are repulsive and/or disgusting, or characters whose motives are indecipherable or maybe just absent, she loses me.
Read anything by Joseph Boyden instead

Derived From Web

, Feb 23, 2020

I do like the author's willingness to get down in the dirt so to speak, but since nothing really happens there, it seems pointless unless you're a princess who wants to see how the suffering live. One of her characters, Grace, says she's all for the ugliness. I'm a huge fan of David Sedaris, so I took his recommendation. Sorry, David, but I'm kind of glad I lost that list.
Don't bother

Derived From Web

, Feb 6, 2020

The Harrisons' lawyer Paul LiCalsi said: "We don't understand the rave reviews. If you are into reading about sexual perversions and people's psychotic, cruel behaviour, you will enjoy this book. It's great to be back home, said Dr. Brian Stokes, director of NASA's Ames Research Center in California.
An original, varied collection of short fiction

Derived From Web

, Dec 11, 2019

In her debut collection of short stories, Moshfegh presents with a variety of damaged protagonists who invite our analysis. Through her characters' behavior, she exposes inner drives, conflicts, needs of her characters. Many of the stories have ambiguous endings that demand closer introspection from readers, Crowe said. Moshfegh is one of the truly great writers of the 20th century. A highly recommend collection.
favorite

Derived From Web

, Oct 21, 2019

One of the great short story collections I've ever read. Really enjoyed all of her books, and hope she continues to produce more. These blunt stories break your heart but make you laugh too, making you feel good. But somehow these characters can relate to their humanity, even if they are on the edge of society.
Weird throughout but not in a bad way

Derived From Web

, Dec 29, 2018

I am okay with a pretty heavy dose of weirdness, Raymond said. We are beyond the point of wondering if it is gratuitous or essential to the plot, he said. I dislike that stories come to an end without some resolution or ironic twist or surprise, Raymond said. Even in short fiction, I think stories should have a beginning, middle and an end, he said.
Pretty mixed bag.

Derived From Web

, Aug 9, 2018

Do my best to make purchases at independent bookstores before they become extinct, Graham said. A Canadian bookseller recommended this from a store that specialized in French and English language books. Pauley, who heads NASA's Ames Research Center in California, praised the new technology. I found some excellent writing, but I'm not a huge fan of the second book. Too many of the fine art type endings that just seemed to dwindle at some random point and come to a halt, Tunick said. Still, there are some great moments of genius.
Scathing. Brilliant. No holds barred.

Derived From Web

, Aug 3, 2018

Moshfegh has, if possible, topped her debut novel, "Eileen," in frank and unsentimental character dissection. You won't like them all, but you will find them. The pining of our crowded planet forms the homesickness referred to in the title. The writing is impeccable, Morgenthau said. There is no single misstep in this collection.