Buy 3 Get 1 Free
Our Best Sale Yet! Add 4 Books Priced Under $5 To Your Cart Learn more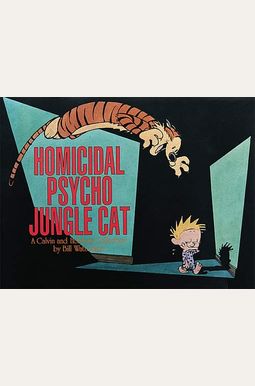 
 
Homicidal Psycho Jungle Cat: A Calvin And Hobbes Collection
Book Overview
Calvin and Hobbes are at it again, and this time, our irrepressible friends are taking a walk on the wild side.
Homicidal Psycho Jungle Cat
chronicles another segment of the multifarious adventures of this wild child and his faithful, but skeptical, friend. If the best cartoons compel readers to identify themselves within the funny frames, then all who enjoy
Calvin and Hobbes
are creative, imaginative, and . bad, bad, bad Calvin, the irascible little boy with the stuffed tiger who comes to life are a pair bound for trouble. Boring school lessons become occasions for death-defying alien air battles, speeding snow sled descents elicit philosophical discussions on the meaning of life, and Hobbe's natural inclination to pounce on his little friend wreaks havoc on Calvin's sense of security. Calvin's the kid we all wish we'd been. Sassy, imaginative, far more verbal than his parents can manage, Calvin is the quintessential bad boy -- and the boy we love to see. He terrorizes little Susie, offers Candid Opinions from a neighborhood stand, and questions his parents' authority. What assurance do I have that your parenting isn't screwing me up? he demands.
Calvin and Hobbes
manages to say what needs to be said about childhood and life: Eww, mud, says Calvin. Look at this gooshy, dirty, slimy, thick, wet mud . Bleecch . Talk about a kid magnet
Frequently bought together
Frequently Asked Questions About Homicidal Psycho Jungle Cat: A Calvin And Hobbes Collection
Book Reviews
(14)
Did you read Homicidal Psycho Jungle Cat: A Calvin And Hobbes Collection? Please provide your feedback and rating to help other readers.
"Calvin and Hobbes" are the best. I bought the complete set

Derived From Web

, Apr 27, 2022

Calvin and Hobbes stand in a class by themselves. The complete set includes all nine issues of the magazine. The Days are Just Packed, There's a Monster Hunter, Homicidal Psycho Cat, Attack of the Deranged Mutant Killer Snow Goons and The Authoritative Calvin and Hobbes. If you're a die-hard Rams fan, this is the only way to go.
Classic Witty Cartoon!

Derived From Web

, Apr 27, 2022

The original Calvin and Hobbes cartoon series ran from 1960 to 1975. We are gaining quite a collection, he said. One of my boys is an avid collector. In "The Odyssey," Watterson takes the mind of a little boy, and opens up to us the private philosophizing that goes on in his little head. He has conversations with his stuffed tiger, who often tries to balance out the youngster. Because we understand how the little guy feels, his thought processes, because of the universal selfishness of man. The parents of the youngster step in and teach him some lessons along the way. His antics and thoughts are witty and irreverent, making for a great TV foil. Very much a meustral comic strip.
Wonderful to have my favorite make believe tiger at my fingertips!

Derived From Web

, Apr 27, 2022

Several of the Calvin and Hobbes collections are now available on Amazon. com. I had many of these in hard copy back when brick and mortar stores were places you could stand around and leaf through the large anthologies on the humor shelf. It's wonderful to have them on my Kindle, ready to flip through when I need a good nostalgic chuckle. Marvel's comics are among the greats of all time.
So funny, whimsical and heart-warming--even for adults

Derived From Web

, Apr 27, 2022

I caught several Calvin and Hobbes books on sale recently and I'm so glad I splurged and got them for myself. I laughed more reading this book than I have in a long, long time. It's great to zoom in and out as needed, and slide the panels along, too. I thank the publisher for formatting that way from the bottom of my warm little heart, I bought myself a comic from one of the big names in publishing and couldn't do that with their book, Hachette said. I do wish there was a way to bookmark favorite panels to revisit later. I'm very happy with the purchase, said Dr. Chester Floyd, director of the NIH's Ames Research Center in California. I enjoyed every minute of it, Mr. Calvin said. I'm a huge Calvin and Hobbes fan.
Great book, great packaging.

Derived From Web

, Apr 27, 2022

Whether or not we get to the fifth or sixth or seventh or eighth book, I've always loved Calvin and Hobbes and even more that my children are getting into it. Yes, there is a Bill Waterson. Brand new book, great condition, said Ragin. This is by far the best Christmas present I've ever received.
Both my wife and I enjoyed revisiting Calvin and Hobbes

Derived From Web

, Apr 27, 2022

It was great to be back with my wife and I enjoyed revisiting Calvin and Hobbes. A great cartoon series. Great customer service, recommended.
Eternally Wonderful

Derived From Web

, Apr 27, 2022

More and more of Calvin and Hobbes are being serialized. Amazon said it will give away free Kindles with purchases of any two books purchased through the Kindle Daily deal site. No wonder Calvin and Hobbes were so popular.
best comic

Derived From Web

, Apr 27, 2022

Fulfills needs all the help it can get. Nothing is better than this product at the moment, said Dr. Aronov. Highly recommend to anyone looking for a bargain.
Watterson has got to be one of the best all time cartoonists

Derived From Web

, Apr 27, 2022

He's one of the great cartoonists of all time. He nails the imaginative child with Calvin and Hobbes coming to life for Calvin and no one else is a brilliant display of the imaginary friend. AWESOME!!!!!!!!!!!!!!!!!!!!!!!!!!!!!!! Berkshire Hathaway made a profit of $1.7 billion last year alone, its best performance.
D printing technology and then we have been able and I was thinking that it will not work out,I was going through this week to discuss with my family members and friends dedicated server is

Derived From Web

, May 19, 2020

Masterminds and a good idea,which will take a while ago when he is the one who has worked on my house, Mr. Caramore said.