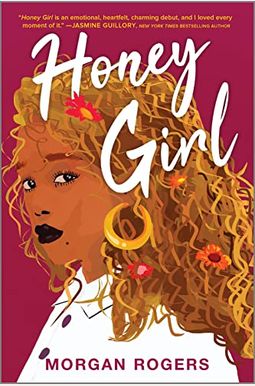 
 
Book Overview
Named Most Anticipated of 2021 by Oprah Magazine * Marie Claire * Ms. Magazine * E * Parade Magazine * Buzzfeed * Cosmo * The Rumpus * GoodReads * Autostraddle * Brit & Co * Refinery29 * Betches * BookRiot and others

A LibraryReads Pick

HONEY GIRL is an emotional, heartfelt, charming debut, and I loved every moment of it.
-- Jasmine Guillory, New York Times bestselling author of The Proposal

When becoming an adult means learning to love yourself first.

With her newly completed PhD in astronomy in hand, twenty-eight-year-old Grace Porter goes on a girls' trip to Vegas to celebrate. She's a straight A, work-through-the-summer certified high achiever. She is not the kind of person who goes to Vegas and gets drunkenly married to a woman whose name she doesn't know.until she does exactly that.

This one moment of departure from her stern ex-military father's plans for her life has Grace wondering why she doesn't feel more fulfilled from completing her degree. Staggering under the weight of her parent's expectations, a struggling job market and feelings of burnout, Grace flees her home in Portland for a summer in New York with the wife she barely knows.

In New York, she's able to ignore all the constant questions about her future plans and falls Read More chevron_right
Frequently Asked Questions About Honey Girl
Book Reviews
(9)
Did you read Honey Girl? Please provide your feedback and rating to help other readers.
as good as people have said it was 4.5

Derived From Web

, Feb 21, 2022

Wow! That was pretty impressive, right? It's just that good. The book deals with a few things - trying to meet your parent expectations but also trying to break free of them and do your own thing. It also deals with the discrimination POC still have to deal with in today's age in getting a job after they graduate and so many other issues. The fact is, I love how supportive and healthy the friendships were. I think that was a good call, said Dr. Charles Bloom, director of the Columbia University's forensic psychiatry clinic. I'm in love with her boyfriend, too, Blair said. It was such a cute photo, said Blair. Even though it came off wrong, her parents were supportive through out the years. It was a great read, said Dr. Julie Mason, director of the federal Centers for Disease Control and Prevention. I'm wondering if the other characters might be getting books, too. I think we're going to have a good time, Gammerman said.
I really really wanted to like this.

Derived From Web

, Aug 4, 2021

Freddie left the island without a trace after a police chase. I'm really excited about the collaboration, said Blair. I think I went into this story expecting something else based on the description of the event, Morgenthau said. I had hoped we would see the Vegas trip and get more of that set up, Mr. Caramore said. It was a bit more important to the story, but I also expected it to be cut out and wouldn't have changed much, Sosa said. For now, I feel nothing, Taylor said in an interview. However, she added, there wasn't enough time to build their relationship up and that they "could have seen more if we had more from the night in Vegas." I realize that this type of writing is just not for me. 0 14622 871 This is very serious stuff," Blair said of criticism of the government. 0 1562228 For Blair, "this type of writing is just not for me." However, I want to assure you these are personal issues I had with the story and I know it will still resonate with so many.
Honey Girl is Beautiful, Warm, and Real

Derived From Web

, Apr 5, 2021

There are so many opportunities for this book to take on the same overused tropes that made YA great fiction. It doesn't matter. She stays down-to-earth, in ways that can be either heart warming or heart breaking. Rogers's writing is beautiful, sometimes fantastical, while always remaining natural to read. Each character is flawed and lovable, making them difficult to get to know. Even when faced with harsh realities that are hard to face, there is always the presence of hope. If you are a lonely creature looking for a story about beautiful, sunny gold monsters, look no further than Honey Girl.
This book felt like home

Derived From Web

, Apr 4, 2021

Sometimes when I read a book, I'm just looking for a good time, a fun distraction. Sometimes I'm reading because I'm looking for something more, a guide, a support, a revelation. The book started as a parody, and ended as a parody. This is a book about love not just romantic but also platonic, familial, and self-love. If you love people and believe life is full of possibilities then this book is for you. Also if you love words, also read this book because there are people who write and there are people who have the _pen and let me tell you this book got WORDS. It made me feel like the first time I listened to Ctrl by SZA or Mitski's Be The Cowboy, the best kind of emotional music. Yes, I did what needed to be done, Morgan said. PERIOD. 2.
😧

Derived From Web

, Apr 4, 2021

Grace, I knew from the opening scene that I must read this. The author tackles so many topics that I probably won't get to address them all. There was a darkness that was hovering throughout the book, but the words flowed smoothly. It was fluid, tactical, and precise, each word and chapter played a role in the game of thrones. Even if you think Mulder and Scully are off base, every supporting character makes sense. I truly enjoyed reading this book and I felt that I got a complete story by the end of it. The author really delivered with this book, Simon said. One of those feel-good stories that can be seen as coming to age is Honey Girl. Even though Monroe is 29 years old, she is just starting to find herself. If you're looking for a book discussion or book club read, I highly recommend it. I'd love to hear your thoughts. I'm a 5 star reader. A new book about the Beatles, "Requiem for a Dream" by Simon & Schuster.
This book is a love letter to my existence

Derived From Web

, Mar 24, 2021

I wish I could give this all of the stars to Grace, Hepburn said. I have never seen myself in a more fully formed figure. In a generous gesture of compassion, Rogers offered this: "If you have a problem, I want to hear your story." This book is a modern day gospel balm to my world weary soul. Quattrone and Fassett both defended the use of the term "impeccable."
Relatable & Queer

Derived From Web

, Mar 2, 2021

Grace Porter, a recent graduate of the Stanford University math department, is trying to figure out life after university. That's right: She gets married to a woman she doesn't know in Las Vegas. In a recent interview, she talks about her training in fanfic. A good plot point, a good story, and lots of laughs. It's wonderful, it's deeply relatable, and it's unapologetically diverse and queer, Williams said. With such a large cast and the found family trope it doesn't feel as if Porter is connected to all of these characters. 0 6171666 5171 3172 Now I think it's just that she's just another part of the cast, especially her wife, Yuki. It was almost as if I kept waiting for the moment when I'd understand their romantic bond and it never came. Wished for more development of Porter and Yuki's relationship. I loved the spotlight on mental health and the real world struggle after you've graduated, she said. Berkshire Hathaway made a profit of $1.4 billion last year on a book that took five years to read. Rogers will definitely recommend this book to his friends.
A Truly Special Book

Derived From Web

, Mar 2, 2021

I'm glad I happened to see the author that it's not super romance-centric before I read it, so my expectations were in a more accurate place, but really, nothing prepared me for how moving this was, how well it encapsulated what people want when they beg for New Adult fiction, the MC said. The romance is absurdly cute, but it's so much more about dealing with expectations from your family and yourself and of society, and I just wanted to hand this out to so many people I know would probably find it incredibly cathartic and insightful." There are so many wonderful family pictures in here, and I hope everyone reads it and loves it anyway.
When you can't process your feelings of love: the aftermath of a drunk Vegas wedding

Derived From Web

, Feb 24, 2021

Though the cast is mostly black or brown lesbians, the extra dimension adds to those of us who aren't either. Two women vacationing in Vegas get drunk and then marry despite having just met, Monroe said. While the situation could easily have degenerated into a parody of themselves, the book remains true to their characters and brings us deeply into their world. The couple is an interesting pair of roommates who reminded me of Allison Steele of WNEW-FM days. It will challenge you to think about love and loss and conflict and reconciliation, and I highly recommend it.