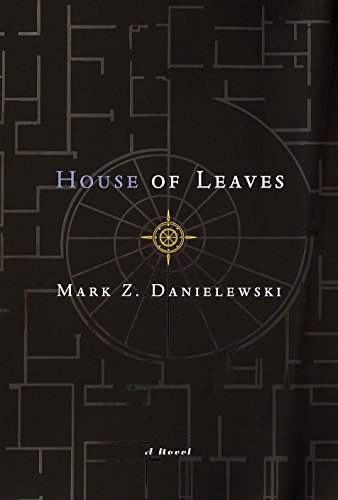  
House of Leaves: The Remastered, Full-Color Edition
Book Overview
This Description may be from another edition of this product.
A novelistic mosaic that simultaneously reads like a thriller and like a strange, dreamlike excursion into the subconscious. --The New York Times
Years ago, when
House of Leaves
was first being passed around, it was nothing more than a badly bundled heap of paper, parts of which would occasionally surface on the Internet. No one could have anticipated the small but devoted following this terrifying story would soon command. Starting with an odd assortment of marginalized youth -- musicians, tattoo artists, programmers, strippers, environmentalists, and adrenaline junkies -- the book eventually made its way into the hands of older generations, who not only found themselves in those strangely arranged pages but also discovered a way back into the lives of their estranged children. Now this astonishing novel is made available in book form, complete with the original colored words, vertical footnotes, and second and third appendices. The story remains unchanged, focusing on a young family that moves into a small home on Ash Tree Lane where they discover something is terribly wrong: their house is bigger on the inside than it is on the outside. Of course, neither Pulitzer Prize-winning photojournalist Will Navidson nor his companion Karen Green was prepared to face
Read More chevron_right
Frequently bought together
Frequently Asked Questions About House of Leaves: The Remastered, Full-Color Edition
Books like House of Leaves: The Remastered, Full-Color Edition
What should you read after House of Leaves: The Remastered, Full-Color Edition Book? Here is a list of books to read if you read and loved House of Leaves: The Remastered, Full-Color Edition
Book Reviews
(10)
Did you read House of Leaves: The Remastered, Full-Color Edition? Please provide your feedback and rating to help other readers.
This is not for you.

Derived From Web

, Apr 20, 2022

This is the greatest work of fiction I have ever read. I bought two copies of Stephen King and Anne Rice in the last few years and gave them to my aunt and brother who were both fans of the author. Since I got a hold of it, I've been looking for something else like that. I think it needs to be a movie. If I had my way, I would like to see Darren Aronofsky direct it. The book is not easy to read but it is worth the effort. It is like the maze in the house that is bigger on the inside. It's amazing!
Existence? What?

Derived From Web

, Apr 20, 2022

A friend suggested that I buy this book. Steven Hall's, The Raw Shark Text, has a modern take on layout and formatting. Drawing in the reader to the feeling off the page is what they do in House of Leaves. There is a part of me that thinks this is a ruse to get an emotional response to the story that the writers should do on their own, but also a part of me that thinks everything is up for grabs. Mark Danielwski's novel makes you suspend your sense of rational existence because it's exciting, thought provoking and makes you question your existence. A banquet that will keep you coming back days, weeks, months and even years after you've read House of Leaves is a good way to keep reading.
Worth reading.

Derived From Web

, Apr 20, 2022

This book is profound in so many ways. There are places where the prose is beautiful. Overall, it's too much. It's not the kind of book you can't put down. I wanted to take it down many times. Maybe the intent was there. It's worth the read and is like a piece of art. I've read this and it wasn't scary.
Evocative, emotional, immersive. Highly recommend!

Derived From Web

, Mar 8, 2022

The novel is one of a kind. It isn't worth describing the plot because so much of the enjoyment comes from the incredible meeting of style and substance, as well as Mark Z. Danielewsi. You are already curious about it if you are looking at this page. You will not regret it if you pull the Trigger.
A great gift

Derived From Web

, Sep 6, 2021

I bought this for my partner who loves it. He is a writer and everything about this book is very exciting to him. Since I bought it, he's been reading it and telling me how much he loves it and what a great gift it was. It's a good idea to recommend to anyone with a lot of curiosity towards mysteries and puzzles.
Literally unreadable Kindle edition

Derived From Web

, Feb 7, 2021

This is not a review of House Of Leaves as a book or work of fiction, only a review of the ebook edition. I don't know if a non-print version of this book would work, but the Amazon edition didn't even try. It's a raw, unformatted text dump with no account for the unique style of the book. Totally unreadable.
Update: Tried but Just Couldn't Finish Reading this Book!

Derived From Web

, Sep 8, 2020

The idea of a book is something I like. The presentation is creative. I think it is a little distractive. I was expecting it to be a page turner, but am struggling to get through the first couple chapters. I will update this review when I have read the whole book. Update! I was unable to finish the book. I didn't know how to read it or what was happening. I'm usually very patient, but I don't have enough patience to read this book.
How the the hell is this rated so high?

Derived From Web

, Jul 20, 2020

How did this book get a 5 star rating? I have been reading for a long time. Couldn't make it to page 100 I hated the setup. Don't tell multiple stories by chapters. There is no need to tell a story in the footnotes. The house story seemed interesting but the rest was boring. It made me sleep faster than my old books. I had to tell myself that it wasn't worth the stress to read this book.
Run.

Derived From Web

, Jun 13, 2020

Many were fooled by the stellar reviews for this book. The author seems to have no knowledge of the vocabulary he uses and just strings together the most complicated, bloated, self important sentences he can. I like reading. I have many tattoos. I could not make it to page 100. I have a strong aversion to the destruction of books and contemplated leaving it on a bench somewhere, but I could not allow it to happen to someone else.
If you like terrifying novels, this one is for you.

Derived From Web

, Apr 6, 2017

House of Leaves was recommended to me by a friend and I have to say, it is incredible. If you like suspense, horror, and nightmares about books, then this is for you. The story will affect you in many different ways. You can buy this book. You need to get the one that's full color. Read the whole thing. You should not flip through the book before you start reading. If you get dizzy halfway through, that means you're really liking Danielewski's work. The book is the most entertaining I have ever read. It was a pleasure to read. I'm going to be mad at you for not having this book in your cart.