Cyber Week Deals
Cyber Monday Deals are Here! Save 20% on All Books Under $10 - Code CYBERBOOK Learn more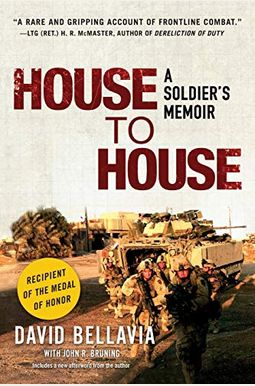 
 
House To House: An Epic Memoir Of War
Book Overview
This Description may be from another edition of this product.
THE CLASIC SOLDIER'S MEMOIR FROM MEDAL OF HONOR RECIPIENT STAF SERGEANT DAVID BELAVIA
A rare and gripping account of frontline combat.--LTG (Ret.) H.R. McMaster, author of Dereliction of Duty
They used to say that the real war will never get in the books. Here it does, stunningly. --Thomas E. Ricks, author of Fiasco: The American Military Adventure in Iraq and Making the Corps
To read this book is to know intimately the daily grind and danger of men at war.--Anthony Swofford, New York Times bestselling author of Jarhead
One of the great heroes of the Iraq War, Staff Sergeant David Bellavia captures the brutal action and raw intensity of leading his Third Platoon, Alpha Company, into a lethally choreographed kill zone: the booby-trapped, explosive-laden houses of Fallujah's militant insurgents. Bringing to searing life the terrifying intimacy of hand-to-hand infantry combat, this stunning war memoir features an indelibly drawn cast of characters, not all of whom would make it out alive, as well as the chilling account of the singular courage that earned Bellavia the Medal of Honor: Entering one house alone, he used every weapon at his disposal in the fight of his life against America's most implacable enemy. Bellavia has written an unforgettable story of triumph, tragedy, and the resilience of the human spirit.
Frequently bought together
Frequently Asked Questions About House To House: An Epic Memoir Of War
Books like House To House: An Epic Memoir Of War
Book Reviews
(15)
Did you read House To House: An Epic Memoir Of War? Please provide your feedback and rating to help other readers.
Top notch combat non fiction

Derived From Web

, Apr 27, 2022

I believe that The Passages are one of the most honest portrayals of combat that I have read. Compared with several books I have read, the vocabulary, action, thoughts expressed and visual description of the action seem genuine. I'm a radio talk show host in the western New York area. Now that I know him well, I will always feel that I know so much more about him. While David's combat descriptions are superb, it is the last few chapters in which I will most fully appreciate the effects of war on his family that gripped me the most. This is a must read for anyone who enjoys crime fiction.
Almost made me go back into Army (and the Infantry)

Derived From Web

, Apr 27, 2022

The book does not romanticize war or the life of an infantryman. It doesn't make you seem glamorous, Bruno told the judge. If you think this book will pull you in, you are wrong. It will hold your hand and you will not want to leave. It's just that you will feel fear. When you feel him beating his chest, you will feel like he has triumphed. If you think you can catch a glimpse of the future, his one on one fight will have you at the edge of your seat.
An excellent retelling of life and death as it happened

Derived From Web

, Apr 27, 2022

This is not a literary achievement that would earn a Pulitzer prize by any stretch of the imagination, but what it is, is a first person account of the in the dirt, blood and guts laced with profanity of an Army grunts life in battle. Sgt. Bellavia is articulate and colorful using the language of the men performing the extraordinary in combat. A great retelling of life and death as it happened.
Best modern warfare book

Derived From Web

, Aug 20, 2021

Best war story ever told. A great story, great narrative, Raymond said. Audiobook is very well done indeed.
An Unexpectedly Transparent Glimpse of War

Derived From Web

, Jul 7, 2021

I don't gravitate toward war stories or violence in general. 0 3171616 This is not to say I don't think about war stories or violence in general. However, when I saw an article about Staff Sergeant Bellevia receiving the Medal of Honor, I was curious about his service and decided to order his book. I willingly admit to experiencing the war in Iraq as random news blurbs and news coverage of casualties. 0 968171 This is not the first time I have been a victim of "random news blurbs and news coverage of casualties." If you think about it, reading this book is probably the most in depth understanding you will ever get of what it was like for our soldiers over there.
Where does this kind of Courage come from?

Derived From Web

, May 30, 2021

It's another book I also read on Amazon. com. I'm hoping they make a movie out of it, Mr. Rule told the judge. I read a long time ago and I thought it would make a very good movie, and it did make a good movie, Sosa said. If you like military stories in about and honor then you'll love the book current, I don't think I would have had the courage to do what this Soldier did. Courage is not found in me, Mr. Shelby said. It's a rare breed, Tunick said.
Do not miss this stirring true story of modern warfare

Derived From Web

, Oct 17, 2019

It's great to be still sending copies to friends and family. Based on the success of the first two films, "The Great War" stands in a class by itself. This important read was first published in The New Republic. My wife and I were privileged to attend the ceremony in which author, and now Medal of Honor recipient, David Bellavia received the keys to the city of Niagara Falls. And, even if Dean's speech was short, it was stirring, intelligent and sometimes humorous. I bought a second copy which he autographed for a photo. Do not miss the chance to meet this remarkable man, Beckham said in a statement.
God bless our soldiers!

Derived From Web

, Sep 16, 2019

Yes, we'll written. Really good work, said Blair. My son's unit was with this man's unit in Iraq at the time, Mrs. Ridge said. In Iraq, the Lord's soldiers are called to duty day after day.
A Must Read for Military Historians

Derived From Web

, Sep 13, 2019

This book is a must read for all military historians. If you want a realistic depiction of what combat leaders and Soldiers deal with when they go to war, then this is the book for you. I found this book extremely difficult to put down and found myself remembering and relating to my previous combat tours with the author. This book is very powerful and this leader is a perfect example of the heroes we have that wear the uniform, he said.
DUTY FIRST!

Derived From Web

, Sep 10, 2019

The 3rd Armored Cavalry Regiment, based in Fort Carson, Colo., has two sets of combat Ram Rods. I served in the old 1-16th Infantry during the Korean War. It's the best novel on urban warfare since Run Between the Rain Drops." Close call. Only a handful of Special Forces units operate in the field. Constant contact with customers and suppliers. The Seals, Delta could not keep up this tempo of constant house to house combat. Before that the term was used by the infantry soldier, for whom the infant soldier was born. She was also a passionate New York City girl who performed in the best spirit of the BRO. This is why the rest of the team has a job, it's just part of the job. Because of that, he was assigned to the 3rd Armored Cavalry Regiment, based in Fort Carson, Colo. He was highly public in his first major combat assignment. Ram trucks are a dime a dozen, right? Marvel's "Iron Man" and "The Hulk" are battling it out on the big screen. Call it the best sniper rifle ever made.