Cyber Week Deals
Cyber Monday Deals are Here! Save 20% on All Books Under $10 - Code CYBERBOOK Learn more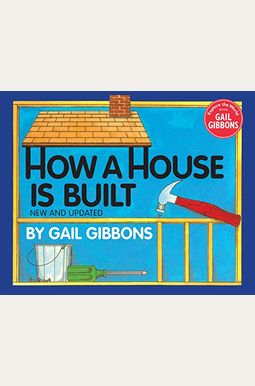 
 
Book Overview
This Description may be from another edition of this product.
Houses are built with many different materials, and in many shapes and sizes.

Step by step, this picture book explains how homes are built--from the architect's plans through the arrival of a happy family. The many processes of construction are explained with simple language and bright, clear illustrations, perfect for kids starting to wonder about how the world around them works.
Many different careers--including carpenters, plumbers, electricians, and landscapers--are introduced, each doing their part to bring the picture wood-frame house to life. A great read for kids who love construction sites, or who can't get enough of
Building a House
by Byron Barton. According to
The Washington Post
, Gail Gibbons has taught more preschoolers and early readers about the world than any other children's writer-illustrator. Ms. Gibbons is the author of more than 100 books for young readers, including the bestselling titles
From Seed to Plant
and
Monarch Butterfly
. Her many honors include the Washington Post/Childrens Book Fuild Nonfiction Award and the NSTA Outstanding Science Trade Book Award.
Frequently bought together
Frequently Asked Questions About How A House Is Built
Book Reviews
(11)
Did you read How A House Is Built? Please provide your feedback and rating to help other readers.
Very good

Derived From Web

, May 30, 2022

Very good explanation and extremely detailed drawings of a construction project and the intricacies of building, each page showing a close up of a part of the project and work vehicles. It is similar to a Where's Waldo format from years ago and our 2.5 year old grandson enjoys showing me a funny part like a banana peel dropped in the road, a worker tripping over the paint bucket or one that is dangling precariously while working.
The perfect amount of information

Derived From Web

, May 30, 2022

Since my daughter began to ask why and how so much more these days, I have found myself in what I consider the difficult position of reducing my wordiness to give explanations. I read daily to my daughter and have started to include some non-fiction to address this. This book and others by the author are a great solution for connecting with young readers and those who are not yet reading. I find so many other non-fiction books by children too wordy and too confusing to follow. Such books distract from their original purpose and my daughter is easily distracted. She chooses Gibbon's books over and over and gets excited about being able to explain the process in her own way, that is the ultimate test.
Not exactly riveting, yet still a very wonderful book for the younger crowd..

Derived From Web

, May 30, 2022

An 8 year old may find the style a bit simple, but the words and definitions of the workers involved will be enough to suit their fancy. However, I can see this book as an excellent resource for a family to read together with the smaller kiddos if they are building or renovating a house. Also, the budding builders will find this a lot of fun and I'm sure there will be a segment of children who read this over and over again. JTG is a joint venture between JTG and a number of other companies.
more detail thn expected!

Derived From Web

, Jul 8, 2020

The book had more detail than expected. It even mentioned when the wires and the plumbing goes in. I think this is a perfect intro for K-4th graders on how a house is constructed because it explains it accurately without too much detail. We use this book when we perform a unit of social science on construction. I add the number of words to make reading aloud faster for the Kindergartners.
Excellent book for kids interested in how houses are built!

Derived From Web

, Jun 21, 2020

I bought this two years ago for my grandson and he loved it. He is now 7-12 years old and still loves it! It provides the step-by-step information about building a house with the right amount of detail and explanation to get young builders busy with cardboard boxes, blocks, Playmobil, Duplos, stuff in the garage and whatever else they need to build a form, install plumbing, drywall -- you name it! I have not found another book like this and I am so glad we found this. Highly recommended for kids who are interested in exactly how a house is built. We now know!
Great detail

Derived From Web

, Apr 24, 2020

My son reads this book several times a week! It has a great detail. My son is very interested in building a house one day and this book helped him understand how much work goes into it.
A must for all homes of tradesmen

Derived From Web

, Feb 10, 2020

I bought this book twice... My husband is a carpenter and I bought it for him to read to our boys. He actually commented on how thorough and accurate the book is and touched on how every different professional plays a role in the construction of a house. So, for him to be impressed, says a lot. After that, I knew it would make a great gift for my brother to read as a Christmas gift to his little boy. That night, my sister in law text me that her brothers were over and had commented on how great the book was in talking about how every professional has their role. Architects, plumbers, electricians, and the list goes on. Very educational but cute book and a must have in all households with tradesmen.
I three-year-old is obsessed with this book

Derived From Web

, Jan 9, 2019

She is learning vocabulary words and is fascinated by the process of building a house. Initially, I thought it was quite dry and it is not my favorite story of bedtime, but she wants it over and over again! I bought it to use for my construction module in my Pre K class, so I hope they love it as much!
Great book

Derived From Web

, Aug 14, 2018

Bought this for my old grandson of 6 12, who loves building things. He really enjoyed seeing the process that goes into building a house, things he hadn 't realized were part of the process. He has been back to this book several times and he tells others how a house is built. A great book at a good price.
Ok if you're not try8ng to learn from it

Derived From Web

, May 12, 2018

Here they have some structural and architectural issues, especially identifying technical items like spotlights and columns. However, nice illustrations are shown.