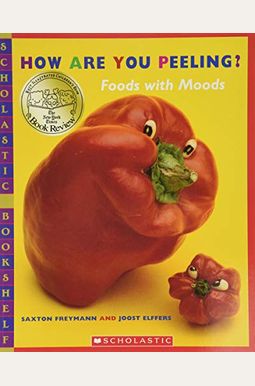 
 
How Are You Peeling?: Food with Moods
Book Overview
Let Scholastic Bookshelf be your guide through the whole range of your child's experiences-laugh with them, learn with them, read with them
Eight classic, best-selling titles are available now
Category: Feelings
Amused? Confused? Frustrated? Surprised? Try these feelings on for size. This is a book that asks all the right questions. And leaves you feeling great no matter what the answers are Who'd have dreamed that produce could be so expressive, so charming, so lively and so funny?.Freymann and.Elffers have created sweet and feisty little beings with feelings, passions, fears and an emotional range that is, well, organic.-The New York Times Book Review
Frequently bought together
Frequently Asked Questions About How Are You Peeling?: Food with Moods
Books like How Are You Peeling?: Food with Moods
Book Reviews
(16)
Did you read How Are You Peeling?: Food with Moods? Please provide your feedback and rating to help other readers.
They've loved them. The photos are colorful and playful

Derived From Web

, May 24, 2022

I ordered these books for the kindergarten classes I work with. They loved them. The photos are emotional and playful, and they teach colorful concepts effectively. The language is simple, but engaging, with plenty of opportunity to expand children's understanding.
Ok book - poor construction

Derived From Web

, May 24, 2022

I love this book, but I don 't love it. The first thing I noticed is that the book is rather low in quality. When I buy my children's books I buy hardcover because I want them to last. The pages in this book are very thin like a magazine, the pictures in the book are very creative and I like them, but the accompanying words don 't have a lot of content, and this book does not really help with the conversation about feelings.
Excellent, bright, funny, vibrant book

Derived From Web

, May 24, 2022

These are truly challenging vegetables and my kids love them. We started with Dr. Pompo. The wonderful thing about this is that his vegetables are almost challenging - they have almost Halloweenly bright faces and expressions, but set against the dark backgrounds and light verses come out as extremely popular stories with my 3 and 4 year old. It is a great way of introducing your children to vegetables, we play with our vegetables like they do in this, making faces on them and making conversations with them, it is a great introduction to play. I would really recommend that you enjoy the rest of these books and get them with your children!
Fascinating but a little startling at first

Derived From Web

, May 24, 2022

Kinda is scared of all the weird faces of the fruit. But the story was a little over her head with the content so that I would read this for an older child. But we do enjoy the artwork and the faces, but I would not recommend the story for 2s. Lots of colors - the vegetables and fruit were bold and bright and really neat! I love strawberry kissing!
Charming & fun!

Derived From Web

, May 24, 2022

I've been looking for this book for a while, as I thought it would be a fun book to show my three-year-old son about different feelings. I liked the book a lot ''. It is very funny and creative. My only complaint is that the paper is very thin and he easily crumples the pages -- and maybe there are too many peppers ), but for the price I wouldn 't let those small complaints stand in your way -- a great addition to the pre-school library!
Excellent book, poorly made

Derived From Web

, May 24, 2022

Peeling : is an exceptional book, four stars for creativity. Adult art alone will entertain both child and adult. The problem is that this book is made very cheaply ; it is, in my view, below one star for durability because of the inferior binding. My child admires this book and we are on the second. The first fell apart in a short time and had to be replaced. The second is currently confused, but not yet garbage.
Our Library cant keep it on the Shelves!

Derived From Web

, May 24, 2022

This is a really cool book, especially for pre-readers or for early readers. Babies and children love Expression here is an incredible range of expression out of a handful of vegetables. It's like being at the first time seeing Jim Henson's muppets. I have to buy one of these for myself, since I tested it first out of the library last year, it has really become popular and now I have a hard time finding it! This is a simple idea of a beautiful rendering.
Priceless pictures...but terribly fragile

Derived From Web

, May 24, 2022

I purchased this book and I love it for my children, 3 years old and 18 months old. They love the pictures, and who wouldn t? It gives meaning to the word good and it's message is as valuable as well. The one and only thing I don 't like about this book is that the construction of it is not very clever. We had it for only 2 months and my daughter accidentally fell on it and all but 3 of the wards came out. But for someone who has younger children or wants to give it simply as a gift... it is adorable, I must trust you that you will love it, and if you buy it for a toddler, keep it in safe place, away from little hands.
Love this book

Derived From Web

, Feb 15, 2022

This book is loved. Helps children to understand their feelings and to communicate them. But aside from that, it is an incredibly cute book.
Childhood Memory

Derived From Web

, Oct 22, 2021

It is the book that you always found in the library, but never knew where it came from. Still a classic 25 years later.