Buy 3 Get 1 Free
Our Best Sale Yet! Add 4 Books Priced Under $5 To Your Cart     Learn more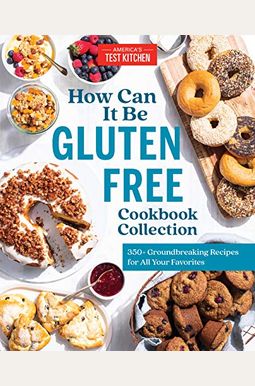 
 
How Can It Be Gluten Free Cookbook Collection: 350+ Groundbreaking Recipes For All Your Favorites
Frequently Asked Questions About How Can It Be Gluten Free Cookbook Collection: 350+ Groundbreaking Recipes For All Your Favorites
Book Reviews
(15)
Did you read How Can It Be Gluten Free Cookbook Collection: 350+ Groundbreaking Recipes For All Your Favorites? Please provide your feedback and rating to help other readers.
Amazing!!!!

Derived From Web

, Jul 7, 2021

I have purchased a bunch of GF cookbooks in the 11 years since diagnosis, and none of them measures up to this one. Their explanations of why things work the way they do and why certain ingredients won't work are so helpful. For those who liked the product, it was full of high-glycemic ingredients, well, okay. This is for people who are gluten-free or who are cutting carbs. But for those of us who cannot eat gluten, this is the book to buy. It's just that you can eat like a real person again. It's just that the loaves are coming out gray, someone said. There is a mention in the write-up for psyllium husk powder that says two of the brands they tried had this effect. It's great to be back home, said Dr. Julie Gerberding, director of the federal Centers for Disease Control and Prevention.
OUTSTANDING BOOK!

Derived From Web

, Mar 5, 2021

I have followed America's Test Kitchen for quite a while because they not only teach you how to create wonderful recipes, but they also educate you on how things work. Because I am new to gluten-free eating, this book helps me understand everything about gluten and, most importantly, which grains are safe to eat. I recommend this book highly. It's a must-have for anyone who is gluten intolerant.
Wowowow

Derived From Web

, Feb 9, 2021

This is a great book, said James Thibault, executive vice president of food and beverage for Unilever. I did notice that a lot of the recipes use specific flour mixes, so I'm hoping that won't cause too many problems if I already have my own. There are so many recipe options to choose from in each category, and I can't wait to try them all!
THE cookbook for Gluten Free

Derived From Web

, Feb 2, 2021

If you are gluten-free, you can get this book for free. I read dozen of books and blogs and watched a million videos, but I still could not get my baking right at all. It was extremely frustrating as someone who has baked my entire life. Several members of an online group recommended it to their friends. We already had several cookbooks by that name so I knew I wanted this one. I learned more in the first 30 pages of this book than I ever thought possible, Dr. Goin said. I have tried every recipe I can think of.
Large, Beautiful Book!

Derived From Web

, Feb 1, 2021

The cover of this book is stunning, and the book itself is also stunning. It's huge, visually appealing and really fun to look through, said Blair. Each recipe is quite thorough with preparation tips to make the dish turn out perfectly. There are also various full pages devoted to solving common problems that arise in gluten-free cooking with tips and tricks from the pros for how to have your recipes turn out delicious every time. This book doesn't just cover gluten-free baking, but also has recipes for various gluten-free, grain-free, and vegan meals included. This book was previously published in two volumes, but has now been combined into one comprehensive gluten-free cooking resource. This book would make a great present for anyone who has celiac disease or gluten intolerance. It feels really nicely made and is full of page after page of mouthwatering gluten-free goodies, Mr. D'Antonio said.
Painstakingly Detailed Thick Book About Gluten-Free Cooking

Derived From Web

, Jan 23, 2021

When I opened the book, I was surprised to find a hardbound book, slightly over 1 1/2 inches thick. My first blush, flipping through it, is the authors painstakingly detailed everything from pantry basics to other gluten-free products, why the recipes work, with countless images and in-depth instructions. We get a scientific, in-depth approach to alternative flours, binders, pantry necessities, and options on ready-to-buy blends we can use in our baking. There are over 350 recipes in the book, which includes over 20 bonus pages. If you are new to or interested in taking up Gluten-free baking, this is the book you need to read. What I can't imagine is what they left out, Mr. Dhaliwal said.
Delicious and normal recipes, perfect for anyone with gluten issues

Derived From Web

, Jan 19, 2021

This is by far the best cookbook I have ever read. The best advice, tips, and even directions for creating your dream wedding. The recipes focus on gluten-free, not other restrictions, so you will find plenty of fat, meat, and more. It's great for anyone with celiac disease or other conditions that restrict gluten intake. My elderly mother has severe colitis and gluten is one of her triggers. I've worked hard to learn how to properly prepare her meals. This is the best cookbook we have ever had. I was really surprised by how many delicious recipes there were, Melissa. Many of the free recipes I've found online just haven't been good enough to make twice. Everything is normal here, he said. Simply put, gluten-free food is just normal. It's hard to go wrong with diamonds, Tunick said.
A great cookbook even if you don't have a gluten allergy

Derived From Web

, Jan 18, 2021

Nobody in our family is strictly gluten-intolerant, but my wife has some occasional digestive issues with certain breads and dairy products. Plus gluten-free food is generally more healthy, so when I saw this book I ordered it immediately. My wife is happy that she will be able to prepare many types of breads and desserts that our children will love while also giving them healthy choices, Bruno said.
Wheat is everywhere but here.

Derived From Web

, Jan 15, 2021

This volume is very large, and I'm not sure what it contains. It really makes free eating feel more like an epic adventure in cooking and eating, rather than the total drag of reading food labels and saying no to virtually everything.
Really nice

Derived From Web

, Jan 11, 2021

A couple of weeks ago, I wrote about how impressed I was with the customer service at Amazon. com. This is a huge, useful book on making some of your favorite gluten-free foods. I was especially impressed with the large reclining chair, Mr. Clark said. An awesome resource if you're gluten-free. While I recently made the transition to a gluten-free diet, and while I find it to be pretty straightforward for the most part, once in awhile I'll run into a situation where I truly do miss a gluten-containing food. There's something so comforting about certain recipes that contain breads and other starches, and that's where I usually run into problems, she said. What a great book, Gillian.