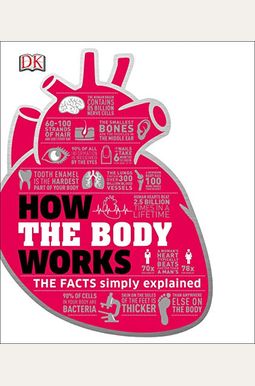 
 
How The Body Works: The Facts Simply Explained
Book Overview
A bold, accessible, illustrated guide that delivers real scientific information on how the body works with a healthy side of fun facts and trivia.
If you've ever searched the Internet for information on that odd rash on your arm, advice to help you get the best night's sleep, or tips for staying healthy during cold and flu season, you know there is skill to sorting fiction from scientific fact.
How the Body Works uses clear, easy-to-understand graphics and illustrations to demystify all the complex processes that keep our bodies alive and thriving -- from the basic building blocks of the body -- our cells -- to skin, muscles, and bones and the ways in which our many parts work together.
Learn about the senses, how we read faces and body language, nutrition and immunity, the brain, sleep, memory, dreams, and much more. Each chapter takes you through a new body system and includes surprising facts like there are no muscles in the fingers and toes and by the time you finish reading this sentence, 50 million of your cells will have died and been replaced.
With How the Body Works, you'll understand the how and why as well as be wowed by the astonishing ways our bodies work.
Frequently Asked Questions About How The Body Works: The Facts Simply Explained
Book Reviews
(10)
Did you read How The Body Works: The Facts Simply Explained? Please provide your feedback and rating to help other readers.
Amazing book!

Derived From Web

, May 30, 2022

This book is loved. Detailed, easy to read and the illustrations make this book all worth it. The price is not bad at all for the amount of knowledge that one will gain by reading it. It was decided to get this before starting a nursing program and is absolutely perfect.
Good reference book

Derived From Web

, Jan 8, 2021

If you have read a Dk book before, you know what you are going to get with this company. Perfect for people who are just starting out and extremely helpful to look back for advanced students. Detailed images and colorful diagrams make it also great for children. You could write books about the subjects that this book covers to fill library's with, so that they can only delve so deep. There are more advanced books on the subject that focuses better on different topics for someone more advanced, however you will be delighted to have this book on your shelf for schoolwork and for medical or academic purposes. In short, you 'll love it.
Gorgeous book

Derived From Web

, Feb 19, 2020

A fantastic book packed with facts and even helped my teaching by showing me how things can be simply put!
Very elementary book - hard to read

Derived From Web

, Oct 15, 2019

This book is appropriate for students ages 8 years old to 11 years old, but the format is very busy and difficult to read and comprehend. I was looking for an anatomy and physiology book with good contents that is well presented and this fails.
informative but not attractive enough

Derived From Web

, May 11, 2019

It is a great book for children to learn how the body works. It is detailed and very informative. My kid says it is easy to read for him. But the problem is it's lack of questions that can lead children to keep reading and find the answers. It is not attractive enough for my 9 - year old. Since I bought it at a very good sale price, I still think it is a great deal.
Clear and easy to understand.

Derived From Web

, Sep 20, 2018

Beautiful book at a great price. Much more affordable than the local bookseller. It is easy to understand with simple, clear illustrations. For the first time medical terminology student it is perfect.
Great info, very smelly ink, fell apart

Derived From Web

, May 14, 2018

Information is great! Easy to read and understand, presented in a very colorful and engaging format. Negatives! This book stinks!!!! It has also fallen apart. Chunks of pages, about 100 in total, have fallen out just.
I love the way this book explains things in a more ...

Derived From Web

, Jan 12, 2018

I love the way this book explains things in a more simple form than my actual book Anatomy! The photos also help! I saw this book at Barns and Noble and was 20$ there, but is a good place to check it out!
Great read done with a very enjoyable to follow style.

Derived From Web

, Jan 1, 2018

Like an example of this is that it explains a cell with a great picture showing the nucleus, mitochondria, glycosomes, etc. The structure of the book is also very well done. Skin, muscles, cells, DNA, the heart, feeding the body, chemical balance, the mind, along with a lot of other things to help explain how our human bodies work. I have a much better understanding of how the body works after reading this book. Even better than the class in anatomy and physiology that I took in college a few years ago. I really think that class would have been easier if I had read it first.
Well written and illustrated book!

Derived From Web

, Dec 7, 2017

Was looking for a health book and found one that explained things with print that a senior citizen could see and interesting illustrations that helped a person understand various conditions within different organs of the body. Example : The Eyes Illustration of the Eyeball, with macula, retina, blood vessels leading into the brain, etc. I bought a few of these books for Christmas gifts. Good work, Jane!