Buy 3 Get 1 Free
Our Best Sale Yet! Add 4 Books Priced Under $5 To Your Cart Learn more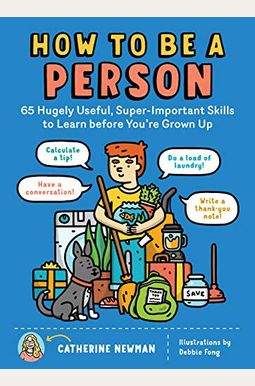 
 
How To Be A Person: 65 Hugely Useful, Super-Important Skills To Learn Before You're Grown Up
Book Overview
For the kid who leaves a wet towel wadded up on the floor or forgets to put a new roll on the toilet-paper thingy, humorous writer and etiquette columnist Catherine Newman has created the ultimate guidebook to becoming a person whom everyone will like being around more. Jam-packed with tips, tricks, and skills -- all illustrated in an irresistible graphic novel-style -- this book shows kids just how easy it is to free themselves from parental nagging and become more dependable -- and they'll like themselves better, too They'll learn how to deal with dirty rooms, care for pets and cactuses, stick up for somebody, and fold a T-shirt. They'll even get a crash course on using the kitchen (including how to turn a 33-cent package of ramen into dinner) and a boot camp for lending a hand outside the house (mowing, shoveling, and fixing something loose has never been easier). This handbook to becoming beyond helpful promises that every kid can be a valued and valuable member of the grown-up world.

Frequently Asked Questions About How To Be A Person: 65 Hugely Useful, Super-Important Skills To Learn Before You're Grown Up
Books like How To Be A Person: 65 Hugely Useful, Super-Important Skills To Learn Before You're Grown Up
Book Reviews
(7)
Did you read How To Be A Person: 65 Hugely Useful, Super-Important Skills To Learn Before You're Grown Up? Please provide your feedback and rating to help other readers.
Picture book for small children

Derived From Web

, Nov 19, 2021

This book was referenced in an adult magazine as a GOOD READMUST HAVE for adults but I think they missed their target audience which I missed and is clearly written in the tagline, skills to learn before you're grown up.
Great book

Derived From Web

, Jul 31, 2020

I ordered copies of this book for my three younger grandchildren. It's just too vell-done and appealing to be missed. The youngest really took it, excitedly telling and showing me what she is learning, Mrs. O'Neill said. She's one of the most curious children I've known, Mr. Dhaliwal said. One may not use it at all, and another may use it as a reference. It is worth it to me to have given the books to all three, he said. I wish I had had had it for our children when they were preteens and teenagers.
Buy it! Great tips and lessons, with humor

Derived From Web

, Jul 9, 2020

After cracking this book open and reading for a while, my 11 year old came and asked me if it was okay to clean the bathrooms. This book for tweens and pre-teens is great because advice from someone else lands a lot better than advice from a parent, especially if that someone else is the witty, thoughtful Catherine Newman. Cool graphics and useful tips make this a great present. It's also a book to go back to when a kid is bored. I'm not sure how many are left, but I'm practicing knots.
I love this book!

Derived From Web

, Jun 1, 2020

One of the reasons I fell in love with Catherine was because she was a big fan of mine. She has a very good reputation, and I really enjoy reading her blog. This book is so good, even if Rowling had added some sleight of hand. For many years I've been giving the book How Unbored as a gift, but now I think it's going to be replaced by to Be a Person! It's a great book, I would have loved it as a kid. I'm really pleased with the book, said Dr. Goin. Each entry is just a few pages, and you can read the whole thing through, or just look for relevant topics when you need them. Basic skills are so readily available, even for those with no prior training. But she has all the most important details - and doesn't even have to lift a finger. Young readers should enjoy this book, even if they were not huge fans of Harry Potter. It's just that good.
Important book- super appealing to kids

Derived From Web

, May 28, 2020

Just got my copy today, love it! Since the launch, over 5 friends have purchased t-shirts from me. A great book any time of the year but perfect timing as we go into summer with lots of time on our hands! Thanks to the cartoons and the layout, my son was super interested in reading it. What I love about this book is that he is into it and wants to read it and learn the things that are in there, too, McBride said. The book is a great read.
Perfect timing for all the teens growing up in quarantine!

Derived From Web

, May 26, 2020

I don't know how she does it but somehow Catherine Newman always writes EXACTLY what I need to parent my children. So the timing couldn't be more perfect to publish this - as I'm sheltering in place as a Full-time working single parent with a 12yo and 15yo who need some adult STAT skills! I plan to leave this out where they can see it, if they pick their heads out of their screens, he said.
Entertaining AND Educational!

Derived From Web

, May 26, 2020

Fantastic, helpful, funny, clever book that I enjoyed to cover before handing it to my 12 year old. Definitely buying more copies to give to my nieces and nephews. This book was entertaining but really well-written with easy to follow instructions, said Dr. Julie Mason, a specialist in pediatric neurosurgery at Boston Children's Hospital. It's going to be an excellent book to keep handy, Mr. Dhaliwal said.