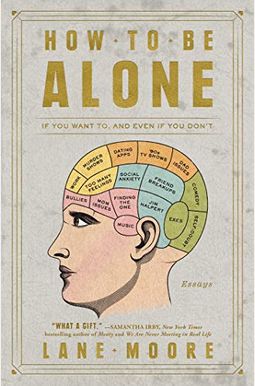 
 
How to Be Alone: If You Want To, and Even If You Don't
Book Overview
The former Sex & Relationships Editor for Cosmopolitan and host of the wildly popular comedy show Tinder Live with Lane Moore presents her poignant, funny, and deeply moving first book.
Lane Moore is a rare performer who is as impressive onstage--whether hosting her iconic show
Tinder Live
or being the enigmatic front woman of It Was Romance--as she is on the page, as both a former writer for
The Onion
and an award-winning sex and relationships editor for
Cosmopolitan
. But her story has had its obstacles, including being her own parent, living in her car as a teenager, and moving to New York City to pursue her dreams. Through it all, she looked to movies, TV, and music as the family and support systems she never had. From spending the holidays alone to having better stranger luck than with those closest to her to feeling like the last hopeless romantic on earth, Lane reveals her powerful and entertaining journey in all its candor, anxiety, and ultimate acceptance--with humor always her bolstering force and greatest gift.
How to Be Alone
is a must-read for anyone whose childhood still feels unresolved, who spends more time pretending to have friends online than feeling close to anyone in real life, who tries to have genuine, deep conversations in a roomful of people who would
rather you not
. Above all, it's a book for anyone who desperately wants to feel less alone and a little more connected through reading her words.
Frequently bought together
Frequently Asked Questions About How to Be Alone: If You Want To, and Even If You Don't
Books like How to Be Alone: If You Want To, and Even If You Don't
Book Reviews
(16)
Did you read How to Be Alone: If You Want To, and Even If You Don't? Please provide your feedback and rating to help other readers.
Not what I hoped

Derived From Web

, Mar 1, 2021

I am not exactly what I expected, but I don 't recommend this book for men, since the author likes to go on tangents complaining or making negative generalizations about them. If this was advertised specifically for women, I wouldn t care, but I thought I would connect with this book, since it is basically advertised toward lonely people, but I found myself feeling like I have wasted my time.
The only option is to cry, and you don't know whether its from laughter or pain

Derived From Web

, Apr 16, 2020

I loved so much this book God. I received it about a month after it came out, but it took me a while to read because Lane did such a good job of hitting me right where I felt most pain, tenderness, and care. She has a way of telling a story about her life that activates your empathy and makes you realizes that so many of the things we say to each other are unhealthy to those who don 't have perfect lives. I related to so much of her story and it resulted in me breaking up Beats to rethink so many aspects of my own psyche. Seriously ''. My housemate would regularly hear me laughing from the living room at 2 : 00 am because I found a little bit of humor in her writing on Everett or meeting her dog for the first time. It is fascinating that this book is called How to Be Alone, but it made me realize how I am not alone. Lane thanks a lot.
The title does not reflect the content

Derived From Web

, Jun 8, 2019

80% of the book was still waiting for tips on how to be alone. Instead, all I got was stories from the authors'life, sprinkled with anger towards parents, men, and society, which is totally fair and justified, but that is not why I bought the book. The content is limited, with extremely shallow, if any referencing to other psychological research on the topic. It feels like reading the confused thoughts of a mature teenager, not the angry advice of someone who has found a solution to the problem. In the language of Wisdom, there is long use of parenthesis with excessive sentences diverting attention.
Everyone should read

Derived From Web

, Mar 13, 2019

It touched many things that is wrong in how our culture makes us feel alone, with love and laughter. The title could be a bit misleading, but if you love it alone, you will feel a little less so if you read this book. For the people who complain about how it does not offer any advice on how to behave alone, make your own advice. We all have dfferent ways of living, our beliefs, our comfort and intimacy levels, etc. What are you waiting for orders from someone else? Part of living is figuring things out and not following orders of other people. The only complaint I had with the book is that it appears to be whinny and Whoah is me as if her life is the worst most difficult life ever lived. You never know true desperation as a third word child in a lonely orphan country - city of slum starving physically and emotionally. So, just so much crying in this book, got old really quickly. Besides that, i recommend this book to anyone who feels alone.
can you return books on Amazon?

Derived From Web

, Feb 23, 2019

I could not get into this, found it funny and would not recommend it.
My alone was better before this book.

Derived From Web

, Feb 16, 2019

From what the author wrote, I received absolutely nothing of value.
So much ugly-crying

Derived From Web

, Feb 1, 2019

This is exactly the book that I needed to read, especially after a dark year of finding myself alone. This is not a someday my prince book -- it is a book for someone who never felt real love or belonging and will find some degree of peace with it. It will help you appreciate what good connections you have even if it is just small kindnesses with strangers.
A book full of vulnerability and heart.

Derived From Web

, Jan 27, 2019

Heart-wrenching, gorgeous, well-written, reflective and packed with pop culture and musical goodness. What happens when you have literally nothing in life? Lane Moore pours her heart onto the pages of this book and will hopefully help you feel either less alone or stronger as you are or both. , ''
Effin' Wonderful (no sarcasm)

Derived From Web

, Jan 16, 2019

How To Be Alone fills this role wonderfully, especially for anyone who grew up without reliable support. I am so glad that Lane isn 't my best friend forever, but I am so glad that she wrote it and that I read it. One day I will write a book like this and send it to Lane and attach a note that says just Thank you '', but secretly I mean It's fine if I want to be around somebody and nobody is around ''. We are all good : Aces, Baby!
If you normally can't relate to anything...

Derived From Web

, Jan 15, 2019

I love this book and the soul behind the book, Lane Moore. This is the first book I read where I finally feel like someone is telling my story, that story of having a family not bludgeoned on illicit drugs, but wildy neglectful, painfully disinterested and forever haunting me by their absence, while they're somewhere out there still alive. This is a book for you if you can 't identify with mugs that say : If you weren 't my mother, I would choose you as my best friend, and Home Goods banners with quotes like Family is Everything and most holidays are painful on top of your normal base pain. This is for those of us who don 't fit in typical categories.