Buy 3 Get 1 Free
Our Best Sale Yet! Add 4 Books Priced Under $5 To Your Cart Learn more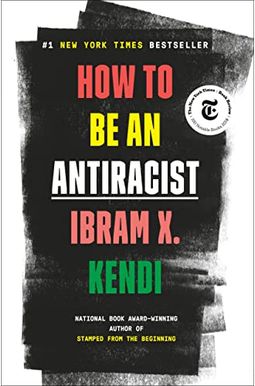  
Frequently bought together
Frequently Asked Questions About How To Be An Antiracist
Books like How To Be An Antiracist
Book Reviews
(9)
Did you read How To Be An Antiracist? Please provide your feedback and rating to help other readers.
A great read. A broad topic with an immersive point of view.

Derived From Web

, Nov 13, 2021

I've read many of the reviews before buying this book. I have some thoughts, although I'm not done. Others claim that the work is not superficial. It is written in the same tradition as academic papers, but with the benefit of personal experience. The critics didn't approach the material with any intention of learning something that would make them uncomfortable. This is not for light of heart, enjoyment in an entertaining way. This is crucial and necessary. Growth can be painful, but it doesn't mean that it's not the right thing. I'm ready to finish this book.
Assertions and Assumptions, not Rational Analysis

Derived From Web

, Jul 6, 2021

One must become a member of the left wing of the Democratic Party in order to be an anti-racist according to the book. Kendi's story was well told and interesting. I agree that racism is a plague on the nation, and that something must be done. I believe that Dr King had a better approach than Kendi did, and that it was more in accord with the nature of our democratic republic.
Sounds good as a headline but problematic with the details

Derived From Web

, Sep 15, 2020

It works best at the helicopter level of analyses. The first 13 pages of the book are pretty good, but the rest of the book is anti-racist and supports racial segregation. Communism can make people equal despite its history. I do not think so. capitalism and liberal democracy are good. If you read it, you can decide for yourself.
Wish there was any truth/evidence here

Derived From Web

, Jun 7, 2020

You'll lose me when you present surveys as facts. This is not true because you feel a certain way. There are a lot of arguments and shoddy research. This was made easy by a fact check. It's a complete political work but a smart guy. I was hoping for another Thomas Sowell but found an author with a clear political bias and no evidence to back it up.
Disappointing

Derived From Web

, Oct 30, 2019

Not sure who this was written for. It's not intended for an audience that knows much about history or how to make an argument. It feels like it was intended to be a sermon. The style of the argument and the way it is presented diminish the message, which is important to the U.S. Kendi has a good goal, but not a very compelling way to get there.
Never Lose Hope

Derived From Web

, Oct 27, 2019

To appreciate this book, you have to open your mind to the idea that some of your beliefs about racism may be wrong. It is time to read and reflect on the ideas presented with an attitude of honest self evaluation after having done the first step. Kendi is not trying to convince people to agree with everything he says, but to convince them to change racist policies. Kendi thinks that eliminating racist policies is worth promoting. The odds of success are long, but not trying is. The best parts of the book are not in the words on the pages, but in the personal reflection and action. If you read it all, you will know if you are antiracist or racist.
Left in the dark

Derived From Web

, Oct 16, 2019

I was surprised by the positive reviews. I didn't think it was well written. The author uses the words racist and antiracist in defining antiracist. In fifth grade, I was told that I couldn't use the word equal in a definition of equality. A lot of words are used to describe something to the point of tedium. He told us that the doctor who did his colonoscopy was black. He should describe her in a different way. Isn't that racist and sexist? The book didn't answer the question of how to be an antiracist for me. I will try to treat each person as a unique and beloved child of God.
Unparalleled guide for those troubled by racial inequality but aren't sure what to do about it

Derived From Web

, Aug 15, 2019

A white man from an affluent family. This is one of the best books I have read. Kendi's writing is thought provoking and illuminating. White Americans who are troubled by racial inequality should read this book, even if they don't know what to do. This book will benefit people with an interest in politics, philanthropy, social justice, and other topics related to building a better and more just world.
boring

Derived From Web

, Aug 14, 2019

It's a one-sided account and it's not well written. People look away from blatant racism like affirmative action. There are a lot of examples. I got it from the library and am glad I didn't purchase it. Save your money and go to the library.