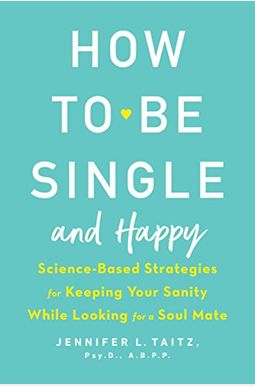  
How To Be Single And Happy: Science-Based Strategies For Keeping Your Sanity While Looking For A Soul Mate
Book Overview
Single, less stressed, and free
If you're tired of swiping through dating apps, ghosting, and hearing well-meaning questions about why you're still single, it's hard not to feel less-than because you haven't found your soul mate. Until now.
How to Be Single and Happy
is an empowering, compassionate guide to stop overanalyzing romantic encounters, get over regrets or guilt about past relationships, and identify what you want and need in a partner. But this isn't just another dating book. Drawing on her extensive expertise as a clinical psychologist, as well as the latest research, hundreds of patient interviews, and key principles in positive psychology, Dr. Jennifer Taitz challenges the most common myths about women and love (like the advice to play hard to get). And while she teaches how to skillfully date, she'll also help you cultivate the mindset, values, and connections that ensure you'll live your best, happiest life, whether single or coupled up.
Frequently Asked Questions About How To Be Single And Happy: Science-Based Strategies For Keeping Your Sanity While Looking For A Soul Mate
Books like How To Be Single And Happy: Science-Based Strategies For Keeping Your Sanity While Looking For A Soul Mate
Book Reviews
(8)
Did you read How To Be Single And Happy: Science-Based Strategies For Keeping Your Sanity While Looking For A Soul Mate? Please provide your feedback and rating to help other readers.
Seems to be more geared towards Women

Derived From Web

, Jan 7, 2021

I am an average joe that has been working on myself during the pandemic after going through a breakup after being with my girlfriend for 5.5 years. This book does have good advice, but a lot of the author's stories seem to revolve around women, which is fine. A lot of the problems that women experience when they feel lonely are the same as for men. I've, however, liked to see more of her male client perspectives '' and their viewpoint. I have not seen many reviews mention this before, so for any guys looking to purchase this book, be aware that this is geared more towards a female perspective. There is about half a chapter dedicated to when women should freeze their eggs ''. Overall, it has good tips for practicing mindfulness and other DBT related exercises.
A book for anyone who feels a bit lost, single or not.

Derived From Web

, Aug 5, 2020

Here there is so much helpful information about how to be present and mindful and live in the now, rather than driving yourself crazy over the "would bes" or "should have beens" or the "might have beens", I have never met so many pages in a book before! Now pass this and then read it to a friend. You will not be sorry.
Not Just For Single People! But This Book!

Derived From Web

, Jan 13, 2020

I loved this book so much and immediately began using the tips. The title is though too narrow in scope. As a single person, I am glad I found it, but I want others to find it too. This is not about finding a partner, but learning how to feel fulfilled on your own, which may or may not make you more interesting when they come along, but will definitely make you feel as if you're contributing to society and achieving goals. It wasn't until the last few pages that the author mentions her friend Cory read a draft and said, this book is not for single people, but for people who want to live a better life. I agree wholeheartedly! I recently read another book on being single and there were no actionable steps in the book, just a bunch of whining. I have highlighted the heck out of this book and read it again for reinforcement of concepts.
You don't even need to be single to read this self-help gem

Derived From Web

, Nov 12, 2018

This was the right book for me at the right time. While the title says how to be happy, it was more of a how to let go of the issues that keep you back and be a happy book for me. I found myself '' in just about every single one of the author's clients described in this book. Issue after issue and I tried some of her techniques and have found myself kicking some of the bad habits and senseless thought processes that have kept me back for years. And I felt not a lot of those related to finding a partner, but finding peace within myself and projecting a positive outlook. I just entered a negative relationship and I can not express the peace I feel knowing that I didn 't bring many of those self-doubts and spiraling new issues into this relationship with me. I would definitely recommend this book if you are trying to figure out why you can not seem to get out of the rut you are in.
I never write reviews this long

Derived From Web

, Sep 26, 2018

This book is awesome! I have always thought of myself as a critical person and that is why I was hesitant about buying this book. After reading some pages, I realized that the stories and examples were relatable to my life, and the science behind it made me give it more credit. I also think that the practices shared by Jennifer can be used in more life aspects, not only in coping with being single. I really recommend this book for those who feel the need to find a purpose in life, or look for one. Not like the book gives it to you, but helps you to find what your life may be missing for yourself.
Thought it would be better

Derived From Web

, Aug 7, 2018

I was very optimistic, but I thought the premise was happy while single. Instead, the author seemed to imply that we need to find some ways to be happy while waiting for that perfect person. It seems like each clt is encouraged to use dating apps, but not to take things too seriously as they live their life. We are often told if the clt is dating later, which I think she views as a success. Yes, of course, she tells us stories about what she did to get her husband and how wonderful he is and their relationship.
The type of reassuring, uplifting advice you'd get if your mother, sister or best friend were also certified therapist.

Derived From Web

, Jul 23, 2018

I could go so far as to say that this is probably the best self-help book I have come across, and I tend to read a lot of them as someone who is very interested in oriental psychology, human religions and spirituality. The author has done a fantastic job in resolving your fears with regards to each nugget of advice she does and anticipatively anticipates them for you. It is almost like she's able to read your thoughts as you go through the chapters. She also resists the urge to water concepts in an attempt to cater to the mass-market consumer of self-help books on the subject. Her treatment of the reader as an intellectual equal is truly laudable, because I have gained so much from her writing. In my approach to life, I feel lighter, more confident and more purposeful. Can 't wait to read her next book!
Building a Life Worth Living, Whatever Your Relationship Status

Derived From Web

, May 30, 2018

The focus of this really useful new book is not about how to meet your soulmate. Instead, Dr. Jennifer Taitz guides readers through the process of building a life that matters, whether they are in a relationship or not. Dr. Taitz uses the principles of DBT, along with other evidence-based treatment models, to help single people lead a stable, fulfilling and meaningful lives in the face of often intense societal pressures, to believe that it is impossible to be happy without being in a romantic relationship. I had already recommended this book to single friends and clients and exhibited it prominently in my own psychotherapy office.