Buy 3 Get 1 Free
Our Best Sale Yet! Add 4 Books Priced Under $5 To Your Cart     Learn more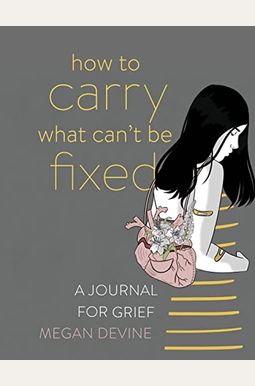  
How To Carry What Can't Be Fixed: A Journal For Grief
Book Overview
An illustrated journal for meeting grief with honesty and kindness--honoring loss, rather than packing it away
With her breakout book
It's OK That You're Not OK,
Megan Devine struck a chord with thousands of readers through her honest, validating approach to grief. In her same direct, no-platitudes style, she now offers
How to Carry What Can't Be Fixed
--a journal filled with unique, creative ways to open a dialogue with grief itself. Being allowed to tell the truth about your grief is an incredibly powerful act, she says. This journal enables you to tell your whole story, without the need to tack on a happy ending where there isn't one. Grief is a natural response to death and loss--it's not an illness to be cured or a problem to be fixed. This workbook contains no clich s, timetables, or checklists of stages to get through; it won't help you move past or put your loss behind you. Instead, you'll find encouragement, self-care exercises, and daily tools, including: - Writing prompts to help you honor your pain and heartbreak
- On-the-spot practices for tough situations--like grocery store trips, the sleepless nights, and being the awkward guest
- The art of healthy distraction and self-care
- What you can do when you worry that moving on means letting go of love
- Practical advice for fielding the dreaded How are you doing?
Read More chevron_right
Frequently Asked Questions About How To Carry What Can't Be Fixed: A Journal For Grief
Book Reviews
(14)
Did you read How To Carry What Can't Be Fixed: A Journal For Grief? Please provide your feedback and rating to help other readers.
I differ from the other reviews

Derived From Web

, Dec 24, 2021

My husband died months ago very suddenly. I read all rave reviews, I couldn t wait to get this guided journal. I have not only been disappointed, I feel mildly insulted by it. I heartedly went into it ''. These flowers-didn 't see the point beyond providing a distraction, but I colored. Make a collage, write a map, make no all over two pages. When was I going to learn how to carry my grief exactly? If the design of the prompt to make up a grief mentor a fairy godmother of grief '' was to insult my intelligence and finally to awaken my ire, it worked. I'm supposed to learn to carry my grief from a sprinkling of tinkerbelle fairy dust? I hardly think so '', I think so. If you want to distract yourself with inane projects, mapping, collaging, coloring, making things up and pretending, then go for it. Go to it for it. Otherwise, trust me, save your money.
Finally! A guide to grief

Derived From Web

, Nov 21, 2021

To be lost and alone in sorrow is an absolute hell on the Earth. I've shed several times before and simply doing the first few exercises in this book led me along this lonely path gently and gave me some relief and hope. Our society does not know what is to do with grief so it throws it just in the closet and shuts it away. FINALLY, this author has had the courage and foresight to provide some sort of framework to lead us through lost souls. It is very important to take the time to deal with grief and keep it... not push it aside or stuff it with food, booze, shopping and other avoidance tactics. I highly recommend this book and taking time to do work '' - the only way out is through.
Hard but helpful

Derived From Web

, Jul 28, 2021

Someone reviewing this said that they would not recommend it for someone in early grief. I disagree ''. I found it helpful, though difficult ''. I am still working my way through the journal, taking my time with it. My recommendation is to do what she suggests - do what helps you. Yes, it is hard, but that is because the grief is hard! Don 't avoid this just because it is early on your journey. You know just never what is going to help you.
A beautiful conduit for grief and caring for yourself inside of it.

Derived From Web

, Jul 20, 2021

About this journal there are so many things to love. In addition to helping you understand your physical body, take care of it, and honor your grief, it is full of truly useful tools, tips and exercises for daily life as a grieving person - from taking care of your physical body to navigating an everyday world that no longer makes sense to helping the people close to you better understand what you actually need from them and how they can truly support you. This feels like an essential companion for anyone who is dealing with loss. There is simply nothing else like it.
Best tool to work with my grief!!!

Derived From Web

, Jul 7, 2021

Media could not be loaded. After reading her book, I wanted to read more, and this is it. My husband died a year and a half ago and I read many grief books seeking peace of mind. I bought this wonderful guided grief journal since day one it came out and is the best thing I have done in my grief journey. It feels like having a personal daily talk with Megan herself, whom I have come to respect very much as a grief counselor. I am an artsy person and appreciate all the different approaches and endless possibilities of working in the magazine. The quality of the paper is just perfect for whatever medium you choose to work with, either with pencils, pens or markers. The ink does not bleed through the page or bleed through the paper. And if you are not an artsy person, it's OK! You don 't need to be to complete the exercises. It's just that I happen to be and is a great way for me to work with my feelings.
How to get through the most uncomfortable moments of your life

Derived From Web

, Jun 14, 2021

This is an outstanding book on Grief and Loss and the rollercoaster of emotions that come with them. I HIGHLY recommend this book to anyone who feels like they have grief that they can not contain. This book is chockfull of advice on how to get through certain prickly moments in the aftermath of grief. It is also written in a way that is generalized if your grief isn 't specific to losing someone. I felt pretty uncomfortable picking up a traditional book workbook on trauma or grief, but this book felt so approachable and real. Each day I refer to some of its exercises literally.
A must have journal for your grief tool kit!

Derived From Web

, May 27, 2021

The first book I ordered when my son died was Megan Devine's It's Okay That You're Not Okay. The title itself spoke to me. Other books offered steps to self-healing and "getting over it ". Even early in my grief, I knew that it wasn 't how it worked. I feel the same way about Megan's new grief journal, How To Carry What Can 't Be Fixed. First of all, I love how substantial this book feels - it is truly something to be carried. The pages themselves are of high quality stock and that really matters when you write like a journal in a book! The illustrations are striking and the quotations are appropriate and timely. This journal offers different and approachable ways to engage with your grief. It is also a great way to share and engage with others in your life who are also grieving. Pro tip : Get the book spiral bound at your local print shop for like $5-10!
This journal gives me hope

Derived From Web

, May 26, 2021

I read Megan's book, It's Okay Not to be Okay, and I thought it was the most helpful resource for me after my boyfriend's passing. Once I saw that she came out with a journal, I pre-ordered it right away. It came a few days ago and I have been doing a journal prompt everyday and I already know that this journal will be my anchor. During grief, you often feel hopeless and feel like you're on this crazy emotional rollercoaster. Using this journal as a guide to not only make you realize that you are not alone, but also helps me to place my grief on a piece of paper. This journal forces you to acknowledge how you feel, which I found to be an amazing guide through this life - shattering event, traumatizing loss I have experienced. I recommend this book to anyone who is grieving. Megan, thank you for this amazing journal, you have no idea how big an impact you made in my life.
We all face grief sometime. This helps.

Derived From Web

, May 25, 2021

This interactive journal is so beautiful, accessible, and important. When we are grieving, it is often overwhelming to try to digest a whole book. With Megan Devine's thoughtful and well-researched work, we can now try a new taste, chew a morsel, try a new spice on some aspect of our grief process with the variety of prompts and exercises offered in this volume. It is a comfort and a tool I am happy to have on my table with my colored pencils, scissors and tissues, to explore as I am ready. This journal provides us with new ways of addressing grief personally and in our culture has the promise of much healing and empathetic understanding and this journal gives us so many ways to try it out.
My grief companion

Derived From Web

, May 25, 2021

Eventually, there is a resource that tells the truth about grief. In a society that wants you to rush through your grief, Megan Devine's journaling exercises give you permission to feel whatever it is that you are feeling for as long as you want or need. My books have become my constant companions. With this book, you don 't feel quite as alone, like a good friend who can read your mind and soothe your soul at the same time.