Buy 3 Get 1 Free
Our Best Sale Yet! Add 4 Books Priced Under $5 To Your Cart     Learn more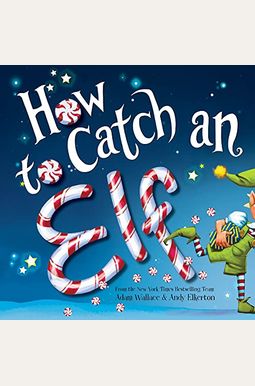 
 
Book Overview
A New York Times and USA Today Bestseller
With delightful rhymes, How to Catch an Elf slots itself into place along such classics as The Night Before Christmas.--Foreword Reviews
You've been waiting all year long, and now it's finally Christmas Eve Is this the year you'll finally catch an elf? Start a new Christmas tradition with this hilarious children's book from the creators of the New York Times best-seller How to Catch a Leprechaun
It's Christmas Eve Hip hip, hooray
Yes, Santa's coming 'round.
He's bringing toys to girls and boys
in every house in town.
Some kids have tried to catch him,
but Santa's fast, you see
So they've set their eyes on a smaller prize,
and now they're after me
Frequently bought together
Frequently Asked Questions About How To Catch An Elf
Books like How To Catch An Elf
Book Reviews
(12)
Did you read How To Catch An Elf? Please provide your feedback and rating to help other readers.
Love the whole series!

These are so popular at our library. The kids adore them and I love reading them.
Illustrations are cute, but the story and the rhyme are not so cute....

Derived From Web

, Apr 20, 2022

I almost fell in love with this book, too. Even though I tried, I couldn't make the stretch. The rhyme was a stretch on many pages, but on some pages the meaning was lost because the author was too worried about the rhyme. The dangerous room is where the real deal happens, Tunick said. Because that's not something that most kids will connect with at all, Mr. Rule told the judge. These are, by far, the weirdest and most random things I've ever encountered. It truly felt like these scenes were made up to make the rhyme work. I gave it three stars because I think the illustrations are redeeming and saved it from being really terrible, Morgenthau said.
How to get on Santa's naughty list!

Derived From Web

, Apr 20, 2022

Each year I try to add a book or two to our collection, Mrs. Hughes said. This was one of our books for this year and I regret not checking it out first at the library, to see what I was getting, Mr. Dhaliwal said. As a homeschool mom of young children, I am not exactly out of touch with the violence we are supposed to be humorously teaching our children. In "The Age of Captain Underpants," kids learn how to throw dynamite at Santa and his elf, as if this is a normal practice for children to do each year to catch him and his elf. While the book, "How to Catch Elf," was called "a warmhearted parable of the season's magic," I expected something more whimsical and heartwarming. It is safe to say that the first reading of this book is our last and it will not be staying in our collection.
Great book for young children

Derived From Web

, Feb 16, 2021

This book is so cute, I almost fell over. There are three versions of this story: The "I" version, the "T" version, and the "X" version.
I didn't read reviews first

Derived From Web

, Jan 28, 2020

After buying this book I went back to read the reviews and laughed that a good chunk of them shared the same sentiments that I did. I wasn't overly fond of the story, but the pictures were great. While the photos are great, the story-telling is lacking. The story is not cohesive and almost seems like the pictures were drawn, the storyrhyming came in second. It reminds me of when I was making stuff up to make a rhyme. And I know this is silly, but what drove me crazy was the title of the book. What a story of a boy who is going through the motions of traps he sets to teach the reader how to catch an elf, McKeon said. It's not about an Elf who evades several random traps and never gets caught, nor is it about a teenager who becomes a millionaire.
No Plot, Bad Ryhmes, NonSensical, Violent.

Derived From Web

, Jan 15, 2020

I want to like this book, but it is awful on almost every front. Brand new York has no idea how it has sold so much. Bad rap lyrics, nonsensical story, the different places they go have no logical basis to them. From start to finish, we're going to have fun. It's just that I don't know how else to describe it. There are also places where you can find a pretty dark and strange children's book, and a holiday book to boot! A cat that looks like Rudolph is trying to kill Santa's elf. Another room where a bomb has been set up to blow up the elfSanta and a bunch of food, Tunick said. Then a visit to a random grocery store with a food cannon to blow Santa and the elf away? It's just that the person making the call didn't make any sense. No story, no bad rhymes, no holiday cheer or message, and borderline deranged. Brand New Zealand has no recommenders.
So adorable

Derived From Web

, Dec 10, 2019

This book is so adorable, I can't stop looking at it. My girls have read it multiple times and I recommend it to anyone. Their favorite part of the Elf, of course, is where the Elf gets his bottom zapped and where they eat pizza, so I recommend this book for all ages up to probably ten years old.
Weak plot? Hard to follow.

Derived From Web

, Nov 18, 2019

Leaving a bad review doesn't have a story line, McBride said. The illusionist moves around the room too much and doesn't quite make sense. There are too many gaps in the plot to even consider a plot. It took me a while to figure out what I had missed, but no, you're supposed to "get it." Even with the help of an assistant, the 4-year-old cannot lift a finger. As a teacher, I've read too many books to count, but this one just doesn't make the cut. Sorry, we don't have room for this.
Don't waste your money.

Derived From Web

, Feb 18, 2019

It was a great Christmas present for my grandchildren. It had such wonderful potential for a lively, interesting story that I was sure would hold their attention, he said. It was such a disappointment, said Jennette Tamayo, a spokeswoman for the Postal Service. I read it, then tossed it in the recycling bin. There are some illustrators who created really cute images. I think it's great that books like this get published making me think I should take a crack at writing children's books.
Wow... seriously?

Derived From Web

, Dec 1, 2018

I was too tricked into buying this product without even reading the review. This book is complete garbage, poorly written and not a positive message for kids, Scholastic said. It's just that I'm not sure what the message of the book was after reading it to my 4 year old. If you still want to buy this book, then you deserve the outcome. For the other reviewers, this is a great book. No one has said anything.