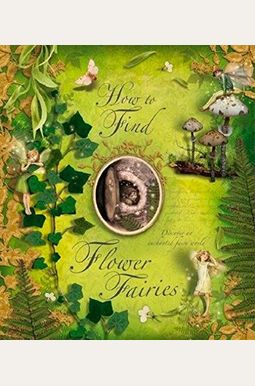 
 
How to Find Flower Fairies
Frequently bought together
Frequently Asked Questions About How to Find Flower Fairies
Book Reviews
(15)
Did you read How to Find Flower Fairies? Please provide your feedback and rating to help other readers.
Almost perfect!

Derived From Web

, Jun 3, 2022

Let me preface this by saying that this is one of the most beautiful books I have ever seen. For lots of things to look for and little surprises everywhere. Here is the reason for only 4 starts instead of 5. I have had 2 books in a row that both have issues with the pop-up on the last page. The corner of the pop-up camera slips out of the tab that holds it inside the book. The second has the same issue, and I took a lot of care in opening the page to make sure I was not tearing it myself. Instead of sending it back and hoping for a good copy, I'm just going to glue it myself. I think there is just one mistake in the production of that last page. In all, this is still an awesome purchase and I know my daughter and I will have lots of fun reading it together.
Best gift I ever bought

Derived From Web

, Jun 3, 2022

I bought this for my 92 year old mother. She was enchanted by the word-go. Brought back memories as she was really into Fairies as a child and had seen Cicely Barkers'illustrations as a child. This book has complex pop-up pages. No one does this anymore. Not very many books can make my mother's eyes wet.
What a BEAUTIFUL BOOK. I got this for my granddaughter's birthday

Derived From Web

, Jun 3, 2022

What is a BEAUTIFUL BOOK? I received this for my granddaughter's birthday. I've themed the birthday around Fairy Fairies and combined this book with others Flower Fairies Art and Activity Book, Fairy Wings and The Complete Book of Flower Fairies by Cicely Mary Barker. I also found cake decoration fairies as well. And Amazon has the story of Barker that we can watch as well. It is like a coffee table book, this size and this quality. It will be a delight to revisit this gift for years to come, and is definitely a keepsake to remind her of this birthday even when she grows old. Really delightful ''.
The magic leaps off each page

Derived From Web

, Jun 3, 2022

It is fire beyond words and ignites the imagination of any child. The quality is absolutely wonderful and the pop ups are quite intricate, so that it needs to be handled with care. I think this book would be great for ages 3-10. I have given this book to my niece for her 6th birthday and she absolutely adores it. All girls and even boys at the party completely gathered around admiring this magical gem. I shared some photos so that you can see the beauty as well as the size of the book.
AMAZING

Derived From Web

, Jun 3, 2022

This book is absolutely gorgeous, I have been looking at this book online for a long time and finally bought it, my daughter and I go through the pages very slowly looking at all the little details, checking out all the Faeries, this is a very well made book, lots of fun stuff hidden in the pages. We love it just.
Amazing Book

Derived From Web

, Jun 3, 2022

For Christmas I bought this book for my daughter. I was curious to see the book inside, so I took the wrapping off. This book is absolutely beautiful and I know that my daughter will love it. She loves pop ups and the colors are magnificent... it's like living inside the book.
This book is so pretty. We bought this book for our 6 year ...

Derived From Web

, Jun 3, 2022

We bought this book for our six-year-old daughter, but has become a family favorite. The pop-ups have so much beautiful detail that it really makes you feel as if you have been transported to a magical place. We all enjoy looking through the pages to find hidden footprints and small fairies.
A beautiful book. We are readers and have tons of ...

Derived From Web

, Jun 3, 2022

A wonderful book. We are readers and have a lot of books, but this is one of my own and my daughter's very favorites. The illustrations are absolutely amazing. This book is a must-have for nature and magic lovers!
Magickal

Derived From Web

, Oct 19, 2021

I am a grown-up adult with no children and I bought this beautiful work of art for myself. It is in perfect condition! Regardless, its cover price is worth the cover price for anyone seeking a short escape from our declining reality.
Disappointed

Derived From Web

, Jul 29, 2021

Though the pages were very similar in design and construction, they were all very intricate in the end. The fairies were very old fashioned, something you would see in a very old illustrated book. I did not see them as magical, but rather like ordinary people, dressed as fairies, and some were hard to find hidden in the masses of cutwork. The book had to be laid on a table to view some of the pages, and at the end the last page was the deal breaker. It would not open properly if it was forced.