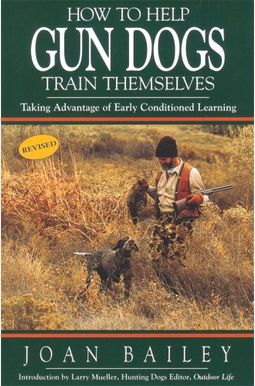 
 
How To Help Gun Dogs Train Themselves, Taking
Product is currently Out of Stock.
You can add it to your wishlist and you will be notified once we receive a copy.
Frequently Asked Questions About How To Help Gun Dogs Train Themselves, Taking
Book Reviews
(10)
Did you read How To Help Gun Dogs Train Themselves, Taking? Please provide your feedback and rating to help other readers.
Operant conditioning has made great strides since this book has been published

Derived From Web

, May 24, 2022

I'm sure that this book was at the forefront of the positive approach in dog training in 1993, but reading it now tends to date it. There are lots of mentions to the debunked alpha mentality and discussions of force retrieving are not my cup of tea. Since this book has been published, and while it is a good read, as the author has valuable experience, I would read it with caution if you are a free coach. Nevertheless, I enjoyed reading it.
I have seem a lot of dogs with excellent potential, and sadly

Derived From Web

, May 24, 2022

Because I have been hunting dogs all over the United States for the past 25 years, I have seen a lot of dogs with great potential and sadly, a lot of ownershandlers who would have excellent hunting dogs if they only read this book. It begins with a puppy on day one and no serious hunter should have a dog without also having this wonderfully readable book under their belt. This and the companion book How To Have The Best Trained Gun Dog, also by Joan Bailey, is a wonderful gift and the payback in having a wonderful canine companion is tenfold.
Training Methods of choice for me.

Derived From Web

, May 24, 2022

My deepest appreciation and thanks for your two books on Gun Dog training. I wish I would not have to edit my Amazon review down to 400 characters! I have read many Gun Dog books and your methods are the only approach that makes perfect sense to me. I get a French Brittany female pup from a breeder in Bismarck, North Dakota this spring, and thanks to you I now have a plan in place that I feel really good about.
A wonderful book for the pros to the regular joes

Derived From Web

, May 24, 2022

Buy this book as soon as you think about buying a new hunting dog! She will help you to make a good choice on your new dog, which will make your life easier in the long run. This authors - Teachings of lots of positives and direct but small negatives is a wonderful way to build any relationship, especially one with your new hunting buddy. Buy this book, read it and fallow what she says word for word and you will have a dog that will be reliable, loyal and obdient. The next book recommended by James Lamb Free is Training Your Retriever by Joan Bailey. He will teach you and your new hunting partner to be pros.
One of the BEST in early Gun Dog Training

Derived From Web

, Oct 20, 2021

Highly recommended reading this before bringing home your New Gun dog. It focuses on puppies up to 12 months old. The appendix gives you a time table of weekly training and skills that should be though. Easy to read, done in 3-4 days.
Its worth your time to read this

Derived From Web

, Apr 19, 2020

This is an old school perspective on the raising of a gun dog. There is a lot of newer information available online, but this is a good supplement. At the end of the day, you can not beat a good coach.
Great book. Buy this one!

Derived From Web

, Jan 7, 2020

Book is great! Helps you gain insight into positive conditional training. For the first year it will be good, but the process will be impactful for the dogs throughout their lives.
Insightful book for puppy owners

Derived From Web

, Dec 3, 2019

The book is easy to read and provides thoughts, insights and practical exercises for a new puppy to reduce the amount of formal training needed as the puppy is older. The only negative of the book is how content is arranged. I would prefer a step by step guide, but the content flows together. There is, however, a helpful teaching guide at the end that lists the skills on which you should work for each age. I highly recommend '' this book.
Best Book on Early Puppy Development

Derived From Web

, Dec 16, 2017

Since this is the first time we raise a working breed from a puppy, I felt it was a good idea to do some research on early development. Unlike other training methods that rely on positive and sometimes harsh reprimands, this book focuses on creating a positive and constructive dialogue between human and dog, built on mutual trust, love and affection. Even if the human goal is simply to raise a well-mannered family member and companion, this book is a must read. Both humans and dogs owe a debt of gratitude to Joan for committing her thoughts to writing and sharing them with the rest of us.
it is full of great information. I started used the principle concepts on ...

Derived From Web

, May 5, 2017

Though the book was written a few years ago, it is full of great information. I used the principle concepts on my pup when she arrived at 8 weeks old. She is now 3 months and we are still following the principles - all is well. I would recommend this book for anyone who has a dog.