Buy 3 Get 1 Free
Our Best Sale Yet! Add 4 Books Priced Under $5 To Your Cart Learn more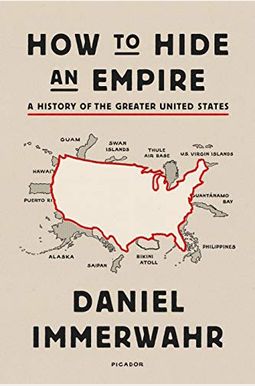 
 
How To Hide An Empire: A History Of The Greater United States
Book Overview
Named one of the ten best books of the year by the Chicago Tribune
A Publishers Weekly best book of 2019 A 2019 NPR Staff Pick

A pathbreaking history of the United States' overseas possessions and the true meaning of its empire
We are familiar with maps that outline all fifty states. And we are also familiar with the idea that the United States is an empire, exercising power around the world. But what about the actual territories--the islands, atolls, and archipelagos--this country has governed and inhabited? In
How to Hide an Empire
, Daniel Immerwahr tells the fascinating story of the United States outside the United States. In crackling, fast-paced prose, he reveals forgotten episodes that cast American history in a new light. We travel to the Guano Islands, where prospectors collected one of the nineteenth century's most valuable commodities, and the Philippines, site of the most destructive event on U.S. soil. In Puerto Rico, Immerwahr shows how U.S. doctors conducted grisly experiments they would never have conducted on the mainland and charts the emergence of independence fighters who would shoot up the U.S. Congress. In the years after World War I, Immerwahr notes, the United States moved away from colonialism. Instead, it put innovations in electronics, transportation, and culture to use, devising a
Read More chevron_right
Frequently bought together
Frequently Asked Questions About How To Hide An Empire: A History Of The Greater United States
Books like How To Hide An Empire: A History Of The Greater United States
Book Reviews
(10)
Did you read How To Hide An Empire: A History Of The Greater United States? Please provide your feedback and rating to help other readers.
A New Perspective on US History

Derived From Web

, Jun 25, 2021

This book offered little-known histories of the US colonization of the Philippines. The Institute said that most history books do not reveal all the facts. It's great to be back home, said Paul LiCalsi, director of the university's English department. Even if you're not a fan of Dr. Goin's book, it's a good read. Definitely recommend this product.
tightly written and thought provoking

Derived From Web

, May 6, 2021

Selling Power: The Untold Story of how America projected power abroad made for a well written and thought provoking book.
Excellent

Derived From Web

, Apr 3, 2021

An eye-opening account of the history of the United States, where racism rules supreme and central to its development.
Revisionism is alive and well

Derived From Web

, Jul 30, 2019

If you belong to the blame America first clan for all the world ills you will love this book. The United States is, by virtue of its founding, an aggressive imperialist nation. A nation that has thrived by mercillessly exploiting its possessions, and of course, brown, black and indigenous people in its geographical squatting area, the book focuses most of its ire at the treatment actually of Puerto Rico. The book reaches back into history to give some of the worst left wing propaganda that now permeates many of our campuses.
This is a stunning book, not to be missed.

Derived From Web

, Apr 9, 2019

If you finished Sapiens with the feeling your world view had been greatly enlarged, you're likely to have the same experience of engaging with your view of the US from reading this work. Like Sapiens, The Whole Nine Yards is an entirely enjoyable read, full of delightful surprises, future dinner party gems. You'll look at the US in new ways you never considered before. This is not a political book with an ax to grind or a single-party agenda, nor is it a book of autobiography. It's refreshingly insightful, beautifully written, and I recommend it to anyone. This is a gift I'll give to many a good friend, I've just started with my wife, Mr. Dhaliwal said. I have never met the author and I'm not planning to review this book.
More than just about territories, this book offers deep insights into globalization and humankind

Derived From Web

, Apr 8, 2019

A stunning work of political, historical and scientific scholarship. Indeed, many of the works by Dovetails are well-known and well-worth reading. Well-written, well-executed stories, should be on everyone's, especially policymakers, he said. If you're from one of the U.S. territories, like me, you will also find it fascinating and almost accurate. Only slightly noticed a flaw in the description of Puerto Rico's tax incentives, but otherwise this book is an important contribution to filling major gaps in the history of the Spanish-American War. Someday, it may be translated into Spanish, but this will be a challenging task, given the depth of the scholarship.
All over the board

Derived From Web

, Mar 3, 2019

The book is an easy read, as the author makes each part of it interesting in a relatable way. The book is also a difficult read, as the first half is a litany of mistreatment of non-whites in our territories by the U.S. government, most of the examples not well-known by those that study American history. Part two goes into a long discussion of how the U.S. English took over the world in almost all aspects of life. Instead of building an empire, he said, "you build a corporation around the principles of empire building." A very good read, but a little left-leaning.
Wonderful Read.

Derived From Web

, Mar 3, 2019

Through the prism of our past, we can learn about today's headlines with riveting stories from our past, many of which I had never heard before. It was a total mockery of justice, Byrne said on NBC's "Meet the Press."
How Hawaii, Alaska, Puerto Rico the Philippines and Guam Helped Build America and the Way WeThink about Being American

Derived From Web

, Mar 2, 2019

Very well written and enjoyable reading, this book is packed with fascinating information about how the United States of America came to be. It's so interesting that my husband actually welcomed my constant demands to listen to him as I read the best parts of the story.
Why So Sensitive?

Derived From Web

, Feb 26, 2019

It's exactly the kind of book that drives the My country, right or wrong crowd crazy. We're not putting such things behind us. The simple answer we've never fully grappled with these events in an honest and open way, Mr. Rule told the judge. Through the prism of ancient myth, this book does the nation a service by peering behind the curtain and facing the sobering truth of how we came to be what we are.