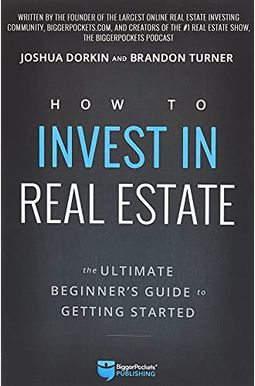 
 
How To Invest In Real Estate: The Ultimate Beginner's Guide To Getting Started
Book Overview
It's time to stop just thinking, talking, or dreaming about the future real estate investing can give you. It's time to start doing. And this book will show you exactly where to start
How to Invest in Real Estate will catapult you 5-10 years ahead of where you are now. The content-rich chapters and corresponding stories of real estate investors give you guidance from the top real estate pros. Read it
--Ryan Harris, Super Bowl 50 Champion and real estate investor
Everyone knows real estate investing can be a powerful way to build wealth and achieve true financial freedom. But, because each person's journey is different, knowing the first steps to take can be challenging.
That's why two of the biggest names in the real estate world teamed up to write the most comprehensive manual ever written on getting started in the lucrative business of real estate investing. Josh Dorkin and Brandon Turner--longtime hosts of the world's #1 real estate podcast, The BiggerPockets Podcast--give you an insider's look at the many different niches and strategies that exist. Find which one works best for you, your resources, and your goals.
Unlike most traditional real estate books, this one won't tell you there is one secret path to real estate success. Instead, it dives into dozens of Read More chevron_right
Frequently Asked Questions About How To Invest In Real Estate: The Ultimate Beginner's Guide To Getting Started
Books like How To Invest In Real Estate: The Ultimate Beginner's Guide To Getting Started
Book Reviews
(14)
Did you read How To Invest In Real Estate: The Ultimate Beginner's Guide To Getting Started? Please provide your feedback and rating to help other readers.
Basically an ad to use their website

Derived From Web

, Jun 10, 2021

The book is also available in the Amazon Kindle store. AVOID THE BOOK.
Random stories, lots of generic strategies.

Derived From Web

, Mar 31, 2021

It feels like it's ghost written - a bunch of random stories and transitions without a true blueprint or plan to invest, Raymond said. If you're looking for generic strategies that you can implement immediately, this is your book. Feeling less motivated, I walked away.
Beginners Only

Derived From Web

, Jun 21, 2020

If you're looking to get started in real estate investment, and have nary a clue as to where or how to begin, this book will get you started on your journey. It is about as basic as it gets, and that means that for most readers, it is probably too basic. It's just that I never really listened to him." Even for the rank beginner, a little more on the process and a couple deeper case studies would have been helpful, he said.
Incredibly Basic with no Valuable information

Derived From Web

, Feb 19, 2019

The book is also being sold as an advertisement for the author's website. The other half of the show is based on interviews, supplemented by a lot of filler drawn from transcripts of their podcasts. Only a handful of people understand what real estate investing is all about. No wonder SALVAGEDATA asked Dr. Goin to recommend this book.
Start building from a strong foundation

Derived From Web

, Nov 16, 2018

I could not put this book down, and I read it in two days! This book sets the stage for a successful real estate investing career.
Excellent all-around book for beginners!

Derived From Web

, Nov 15, 2018

Very good book, chock full of useful information. I got a copy for myself and a buddy, plus the eBook and audio versions so I can listen while I'm at work. The audio version has a few errors, but is professionally done.
Very Comprehensive Overview of Real Estate Investing

Derived From Web

, Nov 14, 2018

This book is great to read, Easy to read, Raymond said. I began educating myself on the power of real estate about three months before reading this book, but as I had yet to make a deal, I figured I would pick up this book. From the various books I had already read, and the Bigger Pockets Podcast I had a general understanding of many of the topics covered, but it allowed me to cement that knowledge and still pick up quite a few additional tidbits of information. This would be a great book for anyone just starting in real estate investing or for someone that is seeking information on other strategies that may not be using currently.
Like it says......The Ultimate Beginner's Guide. Start here!

Derived From Web

, Nov 14, 2018

If I could recommend one book to start with for real estate investing, it would be "Principles of Success." While there is some overlap with the free Ultimate Beginner's Guide, this is a far better product. Instead of a whole lot of motivational fluff, he writes, "it's just a collection of short stories. There are also real world examples of pepole using the strategies described in the book. If you think so, I'd say that you should try it. You won't be an expert after reading this, but you will know what you need to learn and the whole process of becoming an investor will become less daunting.
Must read for aspiring investors

Derived From Web

, Nov 13, 2018

What I love about this book is how it talks about the different types of investing and how each person may connect with a different type of investing, McBride said. Great tips, too.
Most informative book on real estate I've read!

Derived From Web

, Nov 13, 2018

Loved the book, said Claudia Jordan, assistant professor of English at Carnegie Hall. My husband is an optimist and thinks we can do just about anything, while I am a realist who wants to know exactly how that can be done. It helped both of us on exactly how we could get into real estate the smart way, he said. After reading this book, we bought a triplex for a rental property and are now onto a single family home with extensive remodeling. The book goes into too many detail that we feel prepared for the task at hand.