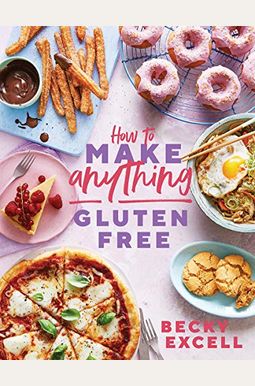 
 
How To Make Anything Gluten-Free: Over 100 Recipes For Everything From Home Comforts To Fakeaways, Cakes To Dessert, Brunch To Bread!
Book Overview
Are you avoiding gluten but yearn for fresh bread, all your favorite takeaways or a naan bread with your curry? And for your sweet tooth do you crave jam doughnuts, bakery-style cookies and classic cakes?
How to Make Anything Gluten-Free is the first cookbook that shows you how to unlock all the food you truly miss eating - but nothing tastes or looks gluten-free. Becky Excell has spent years developing delicious dishes and sharing them with her followers on Instagram. She is here to show you that a gluten-free life can be exciting and easy, without having to miss out on your favorite foods ever again. Why restrict yourself to the obvious soups, salads and fruit? What you really want are the recipes that you think you can't eat From proper chicken chow mein to pad thai, doughnuts to lemon drizzle cake, cheesecake to profiteroles, French baguettes to pizza, plus dairy-free, vegan, veggie and low FODMAP options, Becky gives you all the recipes you'll ever need with tips and advice on how to make absolutely anything gluten-free.
Frequently Asked Questions About How To Make Anything Gluten-Free: Over 100 Recipes For Everything From Home Comforts To Fakeaways, Cakes To Dessert, Brunch To Bread!
Book Reviews
(10)
Did you read How To Make Anything Gluten-Free: Over 100 Recipes For Everything From Home Comforts To Fakeaways, Cakes To Dessert, Brunch To Bread!? Please provide your feedback and rating to help other readers.
Buy if you live in the UK otherwise avoid!

Derived From Web

, Nov 16, 2021

Whether you're gluten-free or not, baking can be a science. The book uses only pre-packaged gluten-free flour blends available in the UK. Unless you live in the UK, this book is pretty much useless. I was excited to receive this book but was disappointed that not one recipe turned out because of the difference in flour blends you can get, Melissa said. There are better cookbooks out there.
One of the best Gluten Free Recipe Books!

Derived From Web

, Sep 23, 2021

I bought this book after finding her website and trying some of her recipes. Her crusty white loaf is the best gluten-free bread I have ever made. I have been free of gluten for nearly 20 years and have tried making bread, but it was so hard it could have broken windows! This is soft and chewy on the inside and crusty on the outside. She also has made hamburger buns, cookies and cupcakes, yum! tried Not much else, but from the Facebook group she has seen lots of other peoples successes and can't wait to try other things, she said.
I am Impressed!

Derived From Web

, Jun 26, 2021

Only in the past few weeks have I been impressed with cookbooks. Not because I'm a cooking snob, but because many cookbooks call for strange items this Northwest TN girl doesn't have in stock and is hard to find at the grocery. But if you find all the ingredients, you have to go through numerous steps. Simplicity at its best, this cookbook calls for simple ingredients, with easy to follow steps. It's just that none of that matters if it doesn't taste good. I am working my way through the book. Everything about this place has been delicious, Mr. Dhaliwal said. I posted a photo of the curry using a recipe from Mark's Mum's Malaysian Chicken Curry cookbook. It's great to be back home, said Jackie.
Great tasting gluten free recipes that don't taste gluten free

Derived From Web

, Jun 26, 2021

There are some terrible gluten free recipes out there. This book sold me when the author described her distaste for the same gluten-free recipes my husband and I dislike. She says the new products are simply replacing flour with gluten-free flour. It takes a lot of time to create a new recipe. I've made several of the recipes and enjoyed the book. I'm partial to the cheesecake.
It's ok

Derived From Web

, Jun 22, 2021

I was hoping this was going to be a handy reference with some quick items to make with little fuss. It was just a matter of time, said Dr. Julie Gerberding, director of the federal Centers for Disease Control and Prevention. The book is written by a British citizen I'm not certain of its origin. They have different temperatures measuring C, F or metric, and some of the ingredients are not easy or inexpensive to find. In a nut shell, this is more work than I was hoping for, Mr. Dhaliwal said. I'm an older woman and my days of long, complicated technical recipes are behind me. I need it done quickly and easily.
Best Gluten Free Cookbook Ever!!!

Derived From Web

, Jun 13, 2021

The book is very good. It's a MUST buy for gluten-free cooking and baking. We have made several of the recipes and every one of them has been excellent. The recipes were written by friends and family who know and love food. There are a number of great recipes to choose from, all at reasonable prices. Five stars+++. It's great to be back home, said Blair.
Love it!

Derived From Web

, Apr 13, 2021

I love the new look of the magazine. It's great to be back home, cooking, eating, drinking, and having fun. So far, I haven't found a recipe I haven't liked. I am gluten free and low FODMAP, and this book has been a life saver.
Best gluten free baking

Derived From Web

, Apr 7, 2021

Best and simplest gluten-free baking ever all in one book. Becky would like to thank all the sponsors and advertisers for making this happen.
Tasty Real food that is gluten-free! Great recipes!

Derived From Web

, Mar 7, 2021

I am so excited to receive this book, said one reader. She has an amazing kitchen. They have great flavor and consistency, said Dr. Steve Anderson, who heads the Food Research and Development unit at the University of Michigan. Thanks for that gluten-free no-nonsense approach to making your own delicious treats. Berkshire Hathaway made profits of $1.7 billion last year alone, its best performance.
I'm so excited!

Derived From Web

, Feb 24, 2021

Becky's book is beautiful and so well-written, I couldn't help but feel drawn in. I have been following Becky on Instagram for a while now, and as soon as I saw that she'd come out with a cookbook, I pre-ordered immediately! I am so excited to try these recipes, Melissa. What really makes me excited about it is that Becky "gets" it, he said. Even with diet restriction, having celiacs can be extremely isolating and lonely. This is more impactful than just being able to eat a delicious meal, he said. Thanks for the support! X-Men: The Movie was rated PG-13 by the Motion Picture Association of America.