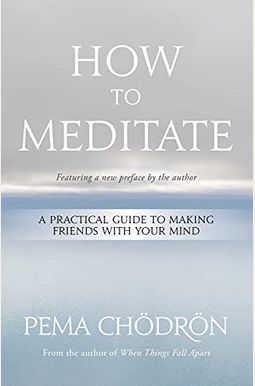  
How To Meditate: A Practical Guide To Making Friends With Your Mind
Book Overview
When something is bothering you--a person is bugging you, a situation is irritating you, or physical pain is troubling you--you must work with your mind, and that is done through meditation. Working with our mind is the only means through which we'll actually begin to feel happy and contented with the world that we live in. --Pema Ch dr n
Pema Ch dr n is treasured around the world for her unique ability to transmit teachings and practices that bring peace, understanding, and compassion into our lives. With
How to Meditate
, the American-born Tibetan Buddhist nun presents her first book exploring in depth what she considers the essentials for a lifelong practice. More and more people are beginning to recognize a profound inner longing for authenticity, connection, and aliveness. Meditation, Pema explains, gives us a golden key to address this yearning. This step-by-step guide shows readers how to honestly meet and openly relate with the mind, embrace the fullness of our experience, and live in a wholehearted way as we discover: - The basics of meditation, from getting settled and the six points of posture to working with your breath and cultivating an attitude of unconditional friendliness
- The Seven Delights--how moments of difficulty can become doorways to awakening and love
-
Shamatha
(or calm abiding), the art of stabilizing the
Read More chevron_right
Frequently Asked Questions About How To Meditate: A Practical Guide To Making Friends With Your Mind
Book Reviews
(15)
Did you read How To Meditate: A Practical Guide To Making Friends With Your Mind? Please provide your feedback and rating to help other readers.
One of the best books on meditation

Derived From Web

, May 27, 2022

Few people have explained the process of meditation as detailed and from a practical acceptance of the difficulties of quieting the mind. Most people who talk about meditation explain only the logistics of meditation, such as when, where and how long to meditate. She then encourages the meditator to accept it, not force it to change, and suggests ways to work towards a settling calm when the mind is ready.
What I love is that Chodron is so down to earth and ...

Derived From Web

, May 27, 2022

I use this book as my guide for a meditation class I teach. What I love is that Chodron is so accessible and relatable and presents the approach to meditation in a way that is very down to earth. There is so much mystery surrounding meditation - how do I do it? What should I feel? Should I try to shut all my thoughts off? Why don 't I see bright colors and flashing lights? Her approach and language bring us all down to Earth, letting us know that we can let go of some of those lofty expectations about what we should feel when meditating. I highly recommend it for anyone who is beginning a meditation practice.
Very practical approach to begin the spiritual and meditation path.

Derived From Web

, May 27, 2022

I am far from being an avid reader, but this book is so well written that I couldn t stop reading until I realized I had finished reading the last word. Exceptional clarity of the human emotions and expressions of our minds, easy to internalize the concepts and bring them into practice. Cannot thank the author enough, as this book made a real difference in my meditation practice, which I have been doing for years.
Common sense guidance for the average human being. (LOVE IT!)

Derived From Web

, May 27, 2022

This book is really helping me to make the most of meditation. It is such a relief to learn that I don 't have to meditate perfectly to benefit from it. Be Who You Are Just Where You Are. Beg your heart and just be...
Pena Chodron is a world treasure.

Derived From Web

, May 27, 2022

This is a readable and concise overview of meditation and pathology. Reading it will inspire you to read her other, more targeted books.
Best introduction to Buddhist/Shambhala/meditation out there

Derived From Web

, May 27, 2022

There is the best introduction to Buddhist shambhalameditation. Xx You will not be disappointed. So written clearly and honestly.
Keeps you moving forward

Derived From Web

, May 27, 2022

Keeps saying much of the same thing, however in different ways. This helps so that a person can see and understand many different ways. Definitely a book to which the book can be returned.
want to a good starting point into the realm meditation and understand why

Derived From Web

, Jan 10, 2022

I love this book ''. I can remember being in my 20s and lying in bed, tensing each muscle, from toes to the brows and trying to relax in a state of relaxation to let go and meditate and not knowing what was supposed to happen. This book not only explained what meditation is and how to do it, but also explained why and how to get to the place known as Enlightenment. I highly recommend this book to anyone looking for direction to get started in meditation.
This is the one!

Derived From Web

, Oct 19, 2021

If you buy only one book on meditation on how to meditate, this is the one you get! I am reading a lot of books on meditation to prepare for a class I would like to give. I think that this book really gives usable instructions on how to develop a personal meditation practice. Her books are well written, personal, highly readable, and easily understood. When I read or listen to her, I feel as though she is speaking personally to me. Here you can't go wrong.
A must-read for understanding meditation

Derived From Web

, May 18, 2021

If the practice of meditation seems daunting, this book is for you. There is no easy run this and your meditation practice will click into place '' if anyone promises to you that, do the hills. Instead, this book warmly explains meditation, what it can and can not do for us, and offers a few ways to start a practice. Reading this book felt like a long warm hug.