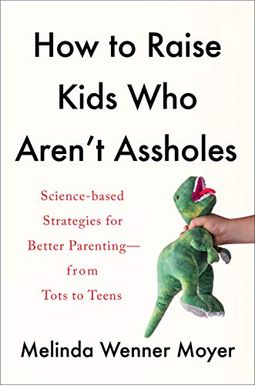  
How To Raise Kids Who Aren't Assholes: Science-Based Strategies For Better Parenting--From Tots To Teens
Book Overview
How to Raise Kids Who Aren't Assholes is a clear, actionable, sometimes humorous (but always science-based) guide for parents on how to shape their kids into honest, kind, generous, confident, independent, and resilient people.who just might save the world one day.
As an award-winning science journalist, Melinda Wenner Moyer was regularly asked to investigate and address all kinds of parenting questions: how to potty train, when and whether to get vaccines, and how to help kids sleep through the night. But as Melinda's children grew, she found that one huge area was ignored in the realm of parenting advice: how do we make sure our kids don't grow up to be assholes? On social media, in the news, and from the highest levels of government, kids are increasingly getting the message that being selfish, obnoxious and cruel is okay. Hate crimes among children and teens are rising, while compassion among teens has been dropping. We know, of course, that young people have the capacity for great empathy, resilience, and action, and we all want to bring up kids who will help build a better tomorrow. But how do we actually do this? How do we raise children who are kind, considerate, and ethical inside and outside the home, who will grow into adults committed to making the world a better place?
How to Raise Kids Who Aren't Assholes
is a deeply researched,
Read More chevron_right
Frequently Asked Questions About How To Raise Kids Who Aren't Assholes: Science-Based Strategies For Better Parenting--From Tots To Teens
Book Reviews
(5)
Did you read How To Raise Kids Who Aren't Assholes: Science-Based Strategies For Better Parenting--From Tots To Teens? Please provide your feedback and rating to help other readers.
Who raised these A$$Holes?

Derived From Web

, Oct 9, 2021

Over the last few years I would watch the news and then say to my husband who is raising these A$$Holes? I thought a book about how to raise them would give me some insight into who raised them DID. This insight is provided by the book DID. It is very well written and I would also recommend it to parents who want to raise thoughtful, hard-working and successful children.
Disappointing

Derived From Web

, Sep 12, 2021

I am a big fan of supporting parenting, such as Emily Oster's books, so I decided to try this. '' It felt, however, like another book written by a parent who thinks his way is right and tries to justify it in some studies. It was not deeply grounded '' in the research. I like books in which the author discusses research that has changed their approach. This is more like research, used to justify the approach in which the author already believed. It feels a little weak and a little biased. In addition, there are so many better parenting books out there that offer radical discoveries and insight.
just the first 10 pages changed how I parent

Derived From Web

, Jul 23, 2021

I knew that this book would be transformative for how I parent when the first few pages -- which discussed, among many other things, why it is important to let your kids work out their own disputes -- changed my parenting and later my children's behavior, unlocking some uncomfortable truths about patterns they had fallen into in the process. Melinda is a smart, measured thinker and writer, and I can think of very few people on the Earth whose I trust as much when it comes to evidence-based parenting evaluated with empathy and good judgment. Classic was destined to be a classic.
All parents should read this book! (And you'll have fun doing it!)

Derived From Web

, Jul 21, 2021

This book is fantastic! Any childhood behavioral or character issue you can think of, she covers -- and her writing is easy to read, funny and relatable. Here there is nothing sanctimonious or preachy. I have already started to apply some of the lessons here with my own children, and the results are impressive! From now on, this is definitely going to be my go-to handbook for parenting!
A fantastic and essential parenting book.

Derived From Web

, Jul 20, 2021

This book by Melinda Wenner Moyer is a must-read for just about anyone who interacts with children. There are over a million parenting books out there that teach us all the things we need to do for a baby and a toddler, but nothing about what to do from then on! How to make sure the respectable pillars of society.... Melinda does an insane amount of research and shows in this book. She cites evidence-based studies and she also interviewed a ton of experts in child psychology and development. Even for topics such as sexism, misogynies, racism and other subjects, she pointed out to some research and gave excellent tips that I will definitely use with my children. Overall, a valuable read...