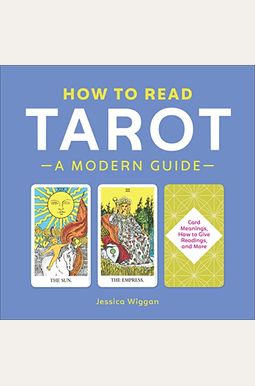 
 
How to Read Tarot: A Modern Guide
Book Overview
Your future is in the cards
Where is my career going? When will I find love? What does fate have in store for me? The tarot cards hold the answers to these questions and more. Unlock your destiny with How to Read Tarot, a jargon-free beginner guide to tarot cards and modern readings. Inside, you'll find tarot card essentials every beginner needs to:
Prepare yourself to be open to what the universe wants to communicate through the tarot cards.
Interpret the tarot cards with card meanings and tips for interpreting different spreads.
Perform readings and give real-time analysis of yourself and others.
Based on Rider-Waite, one of the most iconic tarot decks, How to Read Tarot helps you get to know each card in depth as you learn about the major and minor arcana, and the court cards. You'll also find step-by-step instructions and tarot deck spread examples, so you can quickly and confidently start your first readings.
Develop your skills, and your gift, with the help of How to Read Tarot.
Frequently bought together
Frequently Asked Questions About How to Read Tarot: A Modern Guide
Book Reviews
(12)
Did you read How to Read Tarot: A Modern Guide? Please provide your feedback and rating to help other readers.
Amazing!

Derived From Web

, Aug 17, 2021

I'm not a professional reader. This book is perfect for those who love traditional mixed knowledge with Jessica's inution of each card. McCartney, who died Sunday, said: "There is a certain softness to love that is just too precious."
Super Easy for newbies!

Derived From Web

, Mar 11, 2021

I'm not even a tarot reader, so this book really helped break it down. The only thing that was confusing at first is that some decks call the pentacles coins, and it took me a while to figure that out. Overall this is great for those just starting out, McBride said.
Jess knows best!

Derived From Web

, Nov 26, 2020

Just about everything about this book is wrong. Jessica breaks down the meaning of each card thoroughly and explains both the upright and reverse meaning of the card. Even for those who are not so advanced, Williams makes it very understandable for anyone starting to get straight to the point and not add too much "fluff" to the meanings behind the cards. However if you want a deeper understanding on usage of the cards together and an even deeper explanation of the cards herself the sacred tarot circle school is amazing for that and she has live classes weekly dedicated to specifically talking about tarot! I have absolutely learned a lot from Jess and am truly grateful not just for this book but the time and attention she puts into her role as a teacher of tarot! Home Forums General Motors What's new?
So educational!

Derived From Web

, Apr 6, 2020

What a waste of time! As I began my journey into the magick of Tarot, I was immediately struck by how easy it was to understand.
Enjoyed the book!

Derived From Web

, Mar 22, 2020

The book is broken down into sections so you begin to read it fairly easily with great pictures. By the time you read the book you'll have a quick reference guide.
very helpful

Derived From Web

, Feb 20, 2020

Thanks for the help!!!!!!!!! I love the description of the card and how you can interpret those cards in different readings. He also loved the different ways in which spreads were made. i can't wait to learn more! Thanks for the tip.
Great resource for reading

Derived From Web

, Oct 10, 2019

The book is very well written and I love how it is laid out. Easy to understand, great for a beginner or seasoned reader.
Amazing book with irreplaceable information.

Derived From Web

, Sep 20, 2019

I've been watching this book for a long time and having this book is like having her wisdom with me during my own readings. Each card has its own intuitive and practical meaning. I highly recommend this book to anyone who has ever wanted to learn more about magic.
Clear, concise descriptions of the cards

Derived From Web

, Sep 10, 2019

I really like the book. As a novice reader, I think that it's a very great resource to use to understand the cards in several different ways, such as general, love, personal, spiritual, and reversed, he said. Of course, using your intuition when reading cards is key, but this is still a great guide if you get stuck or need additional knowledge. If you're learning tarot or need a refresher, this book is for you.
Easy to learn tarot

Derived From Web

, Sep 9, 2019

I'm a huge fan of tarot, and I'm applying myself to learning to read the cards. This book has several things I like, such as the fact that each card has a quote of what it is saying, like "World card" or "American flag." She also has a short explanation of the card, what it could mean regarding LOVE, CAREERWORK,PERSONALSPRITUAL or if it shows up reversed. There are colored pictures of the cards based on the Rider-Waite Tarot deck on the page she is discussing. In addition, she has included tarot cards and quick reference charts.