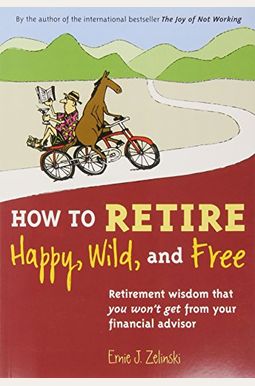 
 
How To Retire Happy, Wild, And Free: Retirement Wisdom That You Won't Get From Your Financial Advisor
Book Overview
How to Retire Happy, Wild, and Free offers inspirational advice on how to enjoy life to its fullest. The key to achieving an active and satisfying retirement involves a great deal more than having adequate financial resources; it also encompasses all other aspects of life interesting leisure activities, creative pursuits, physical well-being, mental well-being, and solid social support. World-class author and innovator Ernie J. Zelinski guides you to: Gain courage to take early retirement; in fact, the earlier the better. Put money in proper perspective so that you don't need a million dollars to retire. Generate purpose in your retirement life with meaningful creative pursuits. Follow your dreams instead of someone else's. Take charge of your mental, physical, and spiritual health. Better envision you retirement goals including where you want to live. Above all, make your retirement years the best time of your life. What sets this retirement book apart from all the others is its holistic approach to the fears, hopes, and dreams that people have about retirement. This international bestseller (over 110,000 copies sold in its first edition) goes way beyond the numbers that is often the main focus of retirement planning in most retirement books. There are many ingredients of a happy retirement and several retirement planning tools that help retirees plan for their retirement Read More chevron_right
Frequently Asked Questions About How To Retire Happy, Wild, And Free: Retirement Wisdom That You Won't Get From Your Financial Advisor
Books like How To Retire Happy, Wild, And Free: Retirement Wisdom That You Won't Get From Your Financial Advisor
Book Reviews
(15)
Did you read How To Retire Happy, Wild, And Free: Retirement Wisdom That You Won't Get From Your Financial Advisor? Please provide your feedback and rating to help other readers.
Zelinski has a great accessibility so the book is very readable

Derived From Web

, Apr 20, 2022

I encountered the book accidentally and at a very timely moment, ahead of my'retirement age,'" he said. The book is, in fact, its lack of focus on traditional financial planning that really turns that on its head. Rather it brings together a very broad range of issues more related to the development of the whole person, and this was just what I was looking for, he said. While the book has been around a long time, it remains highly relevant today. The book is very readable, said Dr. Zelinski. However, I must admit that not every section is relevant to every person. But that doesn't make a blind bit of difference - there is ample information about what inspires us all to do better, he said. I have found a path of investigation, motivation, contemplation and serious planning to escape from the traditional notions of retirement.
Taking a break from hard work

Derived From Web

, Apr 20, 2022

I finished reading your book How to retire Happy, Wild and Free. It gave me the push I needed to quit my job and realize that working hard isn't the best for anybody, he said. nan Thanks so much for the book! Teresa Giudice and Russell Hinds were married in August 2004.
Great phrases and common sense guidance

Derived From Web

, Apr 20, 2022

It was a mental challenge to say the least. The book provided the psychological input I needed to overcome my thinking of whether I was doing the right thing by retiring at 62. Now I am able to focus on my next adventures with an open mind, without the guilt of thinking I am too young to retire. Great guidance, Mr. Rule told us.
This is a fun read. I still will probably work into my ...

Derived From Web

, Apr 20, 2022

This is a great read, Gillian. Even if I get to 69, I still think I'll probably work into the 40s. Even so, there is a lot of great insights, good humor, and tons of excellent quotes from numerous well-known writers and others, much of which has found its way into my daily journals. I think often of retirement, but with a lot of different perspective now.
Wow

Fantastic unconventional retirement book that addresses many topics not related to money.
It's Ok, but not really noteworthy

Derived From Web

, Mar 12, 2021

Our biking and travel group used this book to have a multi-week Zoom discussion as we all get into retirement. What he spends an entire chapter on could be said in a short pamphlet, he said. This book is ok if you are one who doesn't want to retire and need to be persuaded. 0 1462228 This book is ok if you are one who doesn't want to retire and need to be persuaded. It does an acceptable jhob there, it's just a matter of time, Coyne said. But it is very wordy and full of quotes from people I dont really take as my guides in life. Amazon's Kindle and Audible versions both carry the book. I've bought a lot of books on Kindle. The book is, in fact, a big dissapointment.
Best retirement book out there.

Derived From Web

, Feb 15, 2020

One of the best books on how to really prepare for retirement. Practical and humorous, Byrne said. I've read all the biographies. It was mostly a case of the boys not needing any help after this one.
Very preachy and repetitive

Derived From Web

, May 9, 2019

I retired 3 years ago and did a lot of reading to determine when I could retire and how to prepare myself for retirement, he said. It was recommended to me by a friend who was retiring and wanted to give my children a good education. It is very preachy about what you should do in retirement, and basically gives the same information over and over and over again, well, you get it. Two articles I read on the Internet were better written and more informative than this book. It has you won't get from your financial advisor because it doesn't have financial guidance, Sosa said. I admit I only read half of it and it may have gotten better, but after reading the same material reworded several times I decided I had better things to do in retirement.
Retirement

Derived From Web

, Jun 2, 2018

Yes, I disagree with some of the things in this book. The second time around, he contradicts himself a couple of times. He also includes a lot of resources for further exploration and letters and e-mails he has received from readers. I retired a few years ago due to company downsizing. During my job search, I discovered that age discrimination is alive and well in the form of beingoverqualified for the job. The county unemployment office confirmed that the teen was out of work. Even if an employer tells you that you are over qualified, it is hard to prove age discrimination. I started saving for my dream retirement in my 20s. Mr. Kennedy, 60, said he was delighted to be back home. I am very active in the American Legion, enjoy ice skating, reading and puzzles, and have a good sense of humor. But retirement has its challenges that help keep my head in the game of life, he said.
If you're old enough to retire, you already know this.

Derived From Web

, May 2, 2018

It's a good review of what you should know if you're nearing retirement, Thibault said. But it's always a good idea to review these things to ensure you're putting them into practice. I'm sure I'll be reading it over and over again. The author has a history of overstating points. It could be a book, roughly the same as "The Daschle Diaries," with slightly less space. Verbose is the French word for "tomorrow."