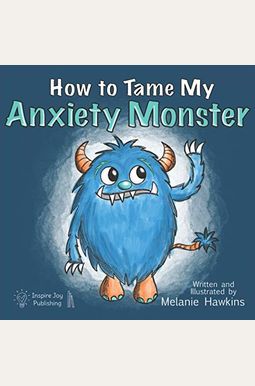 
 
How To Tame My Anxiety Monster
Frequently Asked Questions About How To Tame My Anxiety Monster
Book Reviews
(9)
Did you read How To Tame My Anxiety Monster? Please provide your feedback and rating to help other readers.
Mixed feelings, not for toddlers

Derived From Web

, Dec 11, 2021

My 3yos - Doctor recommended books about anxiety for controlling anxiety issues. I asked and this one was recommended by some mother friends. While reading it, it really did not resonate with me. It is definitely beyond toddler comprehension, I am not sure if it would be effective for older children. I think I am looking for a book talking about what makes us feel anxious and what to do with these feelings from a toddler perspective. I think that calling it a monster sends the wrong message or detracts from the important message.
A great message for kids and people with anxiety of all ages!

Derived From Web

, Oct 28, 2021

This book has a great message in it : anxiety can be manageable! The story is well-written and uses the imagery of a monster as anxiety in a way that is understandable and relatable for children. And the illustrations are super cute, the text complimenting nicely. I even sent a copy to my college-aged daughter, who suffers from anxiety!
Great for children with anxiety

Derived From Web

, Aug 24, 2021

I loved this story ''. My daughter suffers from anxiety and it was so nice to have a book that can normalize it and not make it look like something that has made her different. It was nice to have a story teach children about acknowledging their anxiety and learning how to deal and understand it.
A very helpful story for all children

Derived From Web

, Apr 30, 2021

I wished I had something like this when I was a kid. I have a lot of anxiety issues. This is a great book that helps children understand why they feel anxious and what to do with their emotions. I like that it also talks about how other adults and people have their own anxiety monster and may be different, but there are different ways in which everyone can tame their anxiety - affect monster. A really beautiful and simple story. I also love the illustrations.
Amazing book for explaining anxiety to young children!

Derived From Web

, Mar 7, 2021

As a parent and a mental health professional, I love everything about this book! The author does a wonderful job of making the complex topic of anxiety relatable and engaging. I love that the book goes into detail, providing practical ideas and strategies for dealing with anxiety. The illustrations are really quite lovely, as well! , I actually bought this book for a project for work to read over Zoom, and then used it in a giveaway. The winning family received this book as well as a few other books related to mental health of children. In general, an excellent book.
Helpful for understanding anxiety

Derived From Web

, Jan 19, 2021

How to tame my anxiety monster uses practical language to help children better understand the what, why and how of anxiety while also offering simple tips to control the condition.
A needed and very beautiful book

Derived From Web

, Jul 29, 2020

It is so important that children not only learn about themselves, but also have that little monster anxiety buried within them. It feels so good if you can talk to someone that understands you, can be such a game changer for your own life. I think the way Melanie Hawkins tells this story is so open-minded. If you learn to know your monster, you can make him less scary and in fact very helpful. The most beautiful illustrations in the book are amazing and make the narrative so clear to understand.
Teaching About Anxiety

Derived From Web

, Jun 29, 2020

This book will be a wonderful addition to any primary Junior teacher's classroom. The author does a wonderful job at explaining anxiety and dealing with how it affects us. The author's end includes methods to identify anxiety in children and will be very helpful to parents and teachers.
Teach them about anxiety early

Derived From Web

, Jun 26, 2020

I wish someone told me about anxiety when I was a kid or teen, since I was really struggling with my own monster for many years. And I am so glad that our children won 't be alone against these monsters, as parents are here for them to help with books like this. We read it with my daughter, she is 7 the other day and I asked her if she feels like that too, and she said that she sometimes feels like that too, so we talked a lot about it and I am sure she will talk more. It is really a helpful book and I am happy that we have it!