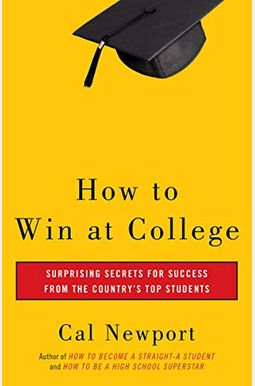  
How To Win At College: Simple Rules For Success From Star Students
Book Overview
The only guide to getting ahead once you've gotten in--proven strategies for making the most of your college years, based on winning secrets from the country's most successful students
What does it take to be a standout student? How can you make the most of your college years--graduate with honors, choose exciting activities, build a head-turning resume, and gain access to the best post-college opportunities? Based on interviews with star students at universities nationwide, from Harvard to the University of Arizona, How to Win at College presents seventy-five simple rules that will rocket you to the top of the class. These college-tested--and often surprising--strategies include:
- Don't do all your reading
- Drop classes every term
- Become a club president
- Care about your grades, Ignore your GPA
- Never pull an all-nighter
- Take three days to write a paper
- Always be working on a grand project
- Do one thing better than anyone else you know
Proving that success has little to do with being a genius workaholic, and everything to do with playing the game, How to Win at College is the must-have guide for making the most of these four important years--and getting an edge on life after graduation.
Frequently Asked Questions About How To Win At College: Simple Rules For Success From Star Students
Books like How To Win At College: Simple Rules For Success From Star Students
Book Reviews
(12)
Did you read How To Win At College: Simple Rules For Success From Star Students? Please provide your feedback and rating to help other readers.
Wise Advice for the College-Bound Student

Derived From Web

, Jun 3, 2022

I read this book after reading Newport's other study guide, How to Become a Straight A student, and was looking forward to more of his easy to understand, quickly read nuggets of wisdom. Although I found the advice in his previous book to be more helpful, I did some nifty words of advice that I will use in my upcoming semester. In these short chapters, there are ideas to help the student better utilize their time by minimizing distractions and knowing exactly what to listen for in a lecture. By far my favorite and most memorable line from this book is A good analogy '', that writing is to a college student what shooting hoops is to a basketball player. Indeed, Wise advice is wise. I would recommend this book to high school and college students alike. The chapters are good and jam packed with short advice.
It's an alright book

Derived From Web

, Jun 3, 2022

Kindle Edition Let's start by saying that this book is very short. For example, the might show as Th he, etc. The table of contents also had repeated lines, letters, brackets and other errors. I read it as I skipped the entire book. The examples shown in the book description are pretty much how it goes. It seems very practical to stay organized, plan ahead, work when you are assigned, etc. This book covers mainly social issues, I would recommend The Naked Roommate And 107 other issues you might run into in college if you are looking for the academic aspect of college life.
A quick read that was worth every penny

Derived From Web

, Jun 3, 2022

After taking 2 years off to high school to find myself, I return to school next month. I needed some tips and guidelines to help me get back on track, and this was exactly what I needed. I can't apply every single one of them because some of the tips are more targeted to university students, but for most of them it was full of juicy tid bits on how to get through exams, studying, organizing your time and a whole lot more. Of all the 5 books I have so far bought from Amazon, this is the first book I felt compelled to write a review. Awesome! )
Some real gems inside these pages

Derived From Web

, Jun 3, 2022

If your degree won't listen to them, buy them the book so that they can see the real gems inside these pages for themselves. If you are a high school graduate and anxious about college, get a copy and see how success is made. If you are a college student about to grab another semester, run this to get yourself out of failure! Not every bit of How to Win applies to each student, but lots of common sense suggestions are in this book, and even a helpful tip of might be enough to help a student out. This book is for anyone who wants to win at college!
Loved it!

Derived From Web

, Jun 3, 2022

I am in my sophomore and I will probably use these tips in my remaining years in college. I would recommend it to anyone.
Not as good as his other book

Derived From Web

, Jun 3, 2022

This is a good advice, but most of it is obvious. Balanced procrastination, more self-care, difficult extracurricular activities, challenging priorities, etc... Unfortunately, I am a non-traditional student in my senior year, so that half of this stuff does not apply. Some of it is downright important or just not weird. For example, I don 't think that my college success has a lot to do with what I read in the newspaper. Basically, study his other book, on learning skills. The best of this material is in his other book.
it did not look like the picture

Derived From Web

, Jun 3, 2022

When I received the book it did not look like the picture. i received the yellow cover version and i am hoping it is the same. Not yet certain, but came in excellent quality for the price.
great buy

Derived From Web

, Jun 3, 2022

Wow, packaging was spectacular! It was sent in a timely fasion, which I actually appreciate the most! Love This Book ''.
Very good book for HS Senior or College Freshman!

Derived From Web

, Jun 3, 2022

Book of the Great Book! Highly recommended for any high school senior or future minded junior or college freshman or sophomore.
Bland common sense stuff

Derived From Web

, Sep 12, 2021

I really don 't understand why so many people like this author and I am not the type to complain about books. The writing is basic, bland and common sense. It is not worth the money to read. There are plenty of people at schools to learn how to prepare yourself to succeed at college.