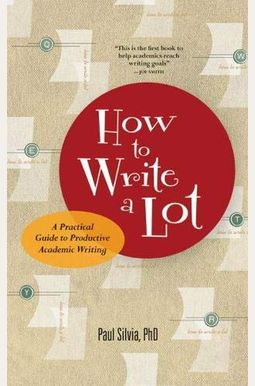 
 
How to Write a Lot: A Practical Guide to Productive Academic Writing
Book Overview
In this practical, light-hearted, and encouraging book, Paul J. Silvia explains that writing productively does not require innate skills or special traits but specific tactics and actions. Drawing on examples from his own field of psychology, he shows readers how to overcome motivational roadblocks and become prolific without sacrificing evenings, weekends, and vacations. After describing strategies for writing productively, the author gives detailed advice from the trenches on how to write, submit, revise, and resubmit articles, how to improve writing quality, and how to write and publish academic work.
Frequently bought together
Frequently Asked Questions About How to Write a Lot: A Practical Guide to Productive Academic Writing
Books like How to Write a Lot: A Practical Guide to Productive Academic Writing
Book Reviews
(14)
Did you read How to Write a Lot: A Practical Guide to Productive Academic Writing? Please provide your feedback and rating to help other readers.
Hi, I'm Chris and I'm a binge writer.

Derived From Web

, May 9, 2022

Hi, I'm Chris and I'm a binge writer. I'm currently reading it and it makes sense. I'd like to be able to read the figures in 2. The dice appear so small I doubt there is a number, perhaps below 1. If I'm reading a Kindle book on a Kindle reader I expect to be able to read all the figures, tables, and data related to that book. A magnification setting would be appropriate for such devices as the Apple Watch. A long press with your finger brings up a magnifier of the specific words you are looking at so you can edit. I would also like to request more academic writing suggestions for Applied Linguistics. My program was weak so I need to learn how to do it properly. Please advise if you have any book recommendations or website recommendations. To get started, I recommend Writing Under Pressure by Sanford Kaye. Thanks in advance for your interest in a follow-up call.
Opposite of an Academic

Derived From Web

, May 9, 2022

Not only did I not have a professor but I hated all mine. This book, however, really goes into the psychology of procrastination and how to address it. I'm still trudging through it, evidently because of problems with my impulse control.
you probably need this

Derived From Web

, May 9, 2022

If you only took half the advice, your writing would improve. Addresses how to write clear, succinct, and powerful essays. While geared toward the writer's own field of publishing, most of the suggestions can be applied to any academic area.
helpful and concise

Derived From Web

, May 9, 2022

The book is both genuinely helpful and fun to read. It's concise, it's perfect airplane book, and written in a punchy, understated way." The main idea behind the book is that there is nothing mystical about writing. It's about time to write the same way you would time to teach, setting concrete goals for each day and more abstract ones over the long term, and measuring the progress to these goals by writing the amount done in a SPSS spreadsheet. There are some nice chapters devoted to style, journal and book writing. Very enjoyable.
Practical and Helpful

Derived From Web

, May 9, 2022

I almost finished my PhD when I read this book. It is a practical and helpful tool, Gillian said. No super innovative information is found within these pages. Gentle reminders of how to get things done effectively.
Great book!

Derived From Web

, May 9, 2022

I think this is a great book for one who wants to overcome the binge writing that plagues most of us academic writers, Raymond said. Practical research and tips on how to be a more prolific writer are included in this book. I can't recommend this book enough to those who want to get over the typical specious barriers that we think prevent us from writing, Raymond said.
Suggests a simple method for writing more, which works for everyone

Derived From Web

, May 9, 2022

Just like your teacher, you can schedule your writing just like your class. You wouldn't meet during your class, make writing time sacred and devote it furthering your research, not scheduling or administrative work. The book goes into much more depth and argues this point persuasively, very well written, and helpful.
very engaging, full of good advice

Derived From Web

, May 9, 2022

It's a wonderful book for academic writers which emphasizes so many things I believe are very important for us to not wait for inspiration, make a plan and stick to it, he said. Academic writing is not a creative activity for which you need a muse. It's just that you need to get it done. If you're a binge writer, you need to read this book.
As a creative writer there's only a few nuggets

Derived From Web

, Mar 28, 2021

I wasn't impressed with the amount of money that the book had to offer. Most of the contents are focused on prose and scheduling. The book suggests that it might have a secret behind writing beyond standard word counts, but unfortunately it only tells you how to schedule, track, and consistently write. There isn't enough to say whether it's a worthwhile investment. It is quite short, so it might be good to skim through on a rainy day, he said.
Helps if writing is a part of your full time academic JOB

Derived From Web

, Mar 12, 2021

The book is very easy to read, and I enjoyed the story. It's just that the rest is just mechanical. If you are a graduate student going part-time or a Ph.D. candidate, and you work full time, then having a daily or semi-daily two-hour writing practice is not possible. The book is written by and about people who are full-time academics who can literally take 8-10 hours a day for writing. If you have to tuck writing your research in somewhere else, it is less helpful. If you find writing productively difficult after 8 hrs at a job, your brain is pickled and getting up earlier than you already do is not an option. But, I did use some ideas and found it helpful. Worth buying, for me.