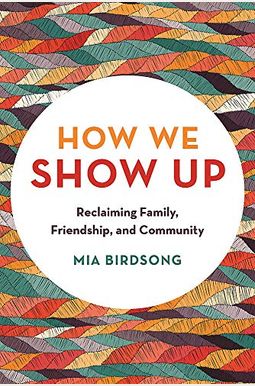 
 
How We Show Up: Reclaiming Family, Friendship, And Community
Book Overview
A provocative, essential guide to cultivating community and solidarity, from an activist, community organizer, and thought leader whose viral TED talk has been viewed more than 1.5 million times.
From Occupy to Black Lives Matter to the various marches and protests, we have had some powerful moments over the last decade that have galvanized and created new, but brief, feelings of community. Many of us, however, haven't figured out how to spark that feeling on our own, or how to build on or sustain those moments. We are longing for a kind of sugar-borrowing and stoop-sitting closeness we imagine existed in the 50s.
In How We Show Up, community visionary Mia Birdsong delivers a compelling, timely understanding of what true, authentic family and community can look like -- outside of the 2-parent, 2.5 kids norm we all have in our heads. Today we have more single parents, couples who raise children outside of marriage, and more people growing older alone. Tackling topics like creating safe spaces, creativity in community, raising children in community, and more, How We Show Up is the antidote to the social fractures we face in our nation today. By sharing stories and actionable advice, and taking cues from marginalized communities -- people of color, women, the LGBTQ movement -- Mia Birdsong offers us the blueprint we need to build true community wherever we are.
Frequently bought together
Frequently Asked Questions About How We Show Up: Reclaiming Family, Friendship, And Community
Book Reviews
(7)
Did you read How We Show Up: Reclaiming Family, Friendship, And Community? Please provide your feedback and rating to help other readers.
Excellent read

Derived From Web

, Jan 12, 2022

My therapist recommended this book and has helped me create and hold my boundaries with my family.
Not what I expected?

Derived From Web

, Dec 23, 2021

I see this book as a good read for people who like to talk about oppression, white supremacy, a male and woman creating family and how it is not good for anyone. I thought this was a family-centric and community support book ''. Here are some good nuggets, but you basically have to skip every other page or every couple of pages to get these. If you are looking for a book on building genuine connections with others, this isn 't it.
Checking myself on how I show up

Derived From Web

, Mar 20, 2021

The book is inspirational.
Much-needed rebuke of individualism and isolation

Derived From Web

, Nov 10, 2020

I love this book so much that I am a few friends in a book study. It is a much-needed reframing of how many of us currently live and the possibilities when we examine the world through a new lens.
the art of showing up is the art of our times

Derived From Web

, Jun 27, 2020

This book relies on a wide range of fundamental, imaginative expertise to make real for us what it means to build community, value and become intentional about friendship, to create a family life that is not weighed by the burden of needing to meet our every need, but a radical center. It re-imagines together safety, health, vulnerability, support, and so many other fundamental parts of our human lives. A must read for everyone, but especially those of us who have been less socialized with interdependent practices and conjured by the American dream delusion of rugged individualism.
Inspiring Read !

Derived From Web

, Jun 26, 2020

A very inclusive book about building and how to maintain an inclusive community. It shows how far from the true community many of us have come following the American Dream and its stereotypical goals of two parents, two cars and a fence around this nuclear family. It highlights action pints through personal stories, while also informing on societal issues in a more academic way. Very inspiring!
Unlike anything I've ever read

Derived From Web

, Jun 25, 2020

I love this book and I recommend it to everyone I know. For me, creating family has necessitated Blazing my own trail and the story Ms. Birdsong tells of others who have also found meaning and connection outside the culture's boundaries, affirming and inspiring.