Buy 3 Get 1 Free
Our Best Sale Yet! Add 4 Books Priced Under $5 To Your Cart     Learn more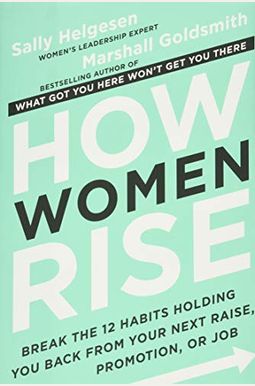 
 
How Women Rise: Break The 12 Habits Holding You Back From Your Next Raise, Promotion, Or Job
Book Overview
Ready to take the next step in your career . . . but not sure what's holding you back? Read on.
Leadership expert Sally Helgesen and bestselling leadership coach Marshall Goldsmith have trained thousands of high achievers--men and women--to reach even greater heights. Again and again, they see that women face specific and
different
roadblocks from men as they advance in the workplace. In fact, the very habits that helped women early in their careers can hinder them as they move up. Simply put, what got you here won't get you there . . . and you might not even realize your blind spots until it's too late.
Are you great with the details?
To rise, you need to do less and delegate more.
Are you a team player?
To advance, you need to take credit as easily as you share it.
Are you a star networker?
Leaders know a network is no good unless you know how to use it. Sally and Marshall identify the 12 habits that hold women back as they seek to advance, showing them
why
what worked for them in the past might actually be sabotaging their future success. Building on Marshall's classic best seller
What Got You Here Won't Get You There
, their new book
How Women Rise
is essential reading for any woman who is ready to advance to the next level.
Frequently bought together
Frequently Asked Questions About How Women Rise: Break The 12 Habits Holding You Back From Your Next Raise, Promotion, Or Job
Books like How Women Rise: Break The 12 Habits Holding You Back From Your Next Raise, Promotion, Or Job
Book Reviews
(10)
Did you read How Women Rise: Break The 12 Habits Holding You Back From Your Next Raise, Promotion, Or Job? Please provide your feedback and rating to help other readers.
SECRETS TO SUCCESS FOR WOMEN LEADERS

Derived From Web

, Mar 14, 2021

With their insights into the behaviors and habits that cause women to fall or stumble in their careers, Sally Helgesen and Marshall Goldsmith get to the heart of what holds women back. This book is an excellent book for women but I also recommend it for men who want to see their women colleagues and their subordinates excel. It provides a common basis for understanding each other by defining and explaining 12 self-defeating behaviors that are more common in women than in men. I wish I had this book 40 years ago, when I entered the workforce for the first time. I have seen myself again, and again in the stories that the authors tell. This is a wonderful book for those who train women to view giving a gift to their mentor : that is what I am doing!
Concise, practical, relevant and valuable read!

Derived From Web

, Feb 11, 2019

This book is a must read for any women trying to become professionally successful. The authors did a wonderful job organizing the content in a clear concise manor. The 12 habits are adequately explained and examples are relevant. I highly recommend this book for any woman who wants to manage their own affairs efficiently and effectively, so that they can progress personally and professionally. I am 10 years into my profession in the accounting field, and I am 10 years into my profession in the accounting field. I am currently in middle management trying to break barriers in a male dominated industry. So many of the 12 habits are relevant to me, so many of the 12 habits are relevant to me. I am grateful that I came across this book! Worth every penny : I share it with EVERYONE I know, and I know it with EVERYONE.
Identifying the problem is half the problem

Derived From Web

, Dec 11, 2018

A new manager recommended this book to me the moment she realized I had overcommitted myself to low-return projects. It was like a mirror in a mirror. The author gives plenty of caveats that offset the fact that these books can come across as sexist and I had no qualms about recommending it to my husband and other men I know who have a lot of the same hang-ups. I feel like this has given me a really great start on re-establishing my work life in a more productive direction.
Best book in years about Women today working in Organizations

Derived From Web

, Oct 9, 2018

This book will do for women what Marshall Goldsmith's mega best-selling book did for men when he wrote What Got You Here. Won't Get You There, Won't Get You There. Two days after the book came out, I had devoured it and started using the 12 habits that keep women in my work in front of groups. It is a hit with women who nod their heads and men who have also nodded their head for other reasons. Anyone who wants to help women soften their habits that are actually grounded in the skills that make them better leaders than men overall, should read this book. A classic! A classic!
Unconscious bias has to be addressed

Derived From Web

, Sep 15, 2018

This is a very easy read, but I found that the cures for the bad habits they identified might just lead to something else that my managers would not like. There is a reason they call it the double binde. I would have liked it if they had addressed the hidden gender bias that underlies the double bind, but early on they said they wouldn 't do that because they wanted to identify behaviors within their control. But how much control have I exercised if I have evoked a different reason that I am not qualified or likable. Seems like there has to be a way to address unconscious bias.
An essential read

Derived From Web

, Jun 2, 2018

Finally, a book that identifies the common pitfalls that keep women back from achieving the level of success they desire. I enjoyed the combination of the authors'writing styles and experience to make the points. A tapestry of ideas to live and act on are threaded throughout the entire time. I love the idea of what is rooted behind me is also rooted in a strength that has served me in a point in time and may serve me again with a few tweaks.
Real World Advice From Two Experts

Derived From Web

, May 29, 2018

This is a practical book that will help both men and women advance in their careers. It is also a good tool for coaches to help their clients succeed. All 12 habits are important and are based on fact. Habit 10, for example, is the habit of speaking too much. The authors state that women speak an average of 20,000 words a day, while men typically speak about 7,000 words a day. This chapter discusses the problem of overcommunicating, which is particularly detrimental when presenting or meeting with executives. This chapter is worth the price of the book alone if it raises awareness and helps women understand the importance of being concise. Another habit is Habit 9 - Minimizing, that is, making yourself small and not taking ownership of your space, thereby undermining your ability to project authority. It puts a dent in your credibility. It puts a dent in your credibility. I plan to give this book as a gift of knowledge to some of my clients.
A Powerful Book...For BOTH Sexes!

Derived From Web

, Apr 25, 2018

This is SUCH a worthy message, especially for women, but surprisingly surprisingly so for men as well. If you're female, you'll find powerful coaching on clear self-management that positions you to advance in your career. The guidelines focus on behaviors that are fully under your control, with a focus on 12 key habits that women need to guard in the work environment. How women rise spells subtle but potent tendencies that women display that work to their disadvantage. You need to be aware of these inclinations, yet typically they go undiscovered. Sally and Marshall bring them to the forefront of your consciousness and position them to shift towards far more effective behaviors. Men, you should also read this book because it will make you much more aware of female talent that is undervalued and underutilized in your organization. In short, How Women Rise will alert you to how you can better manage the female resources that surround you and capitalize on.
So easy to find myself in these pages

Derived From Web

, Apr 11, 2018

Fluidly written and easy to read, it is also easy to find yourself in the pages of How Women Rise. I was hooked by the title of Part I — On Being Stuck. I want to avoid being stuck as much as I can think of, and it is my goal in coaching others to learn how to avoid being stuck and if necessary to move from stuck to un-stuck. Much of the leadership literature is still aimed at improving behavior and increasing the success of a largely male audience. Helgesen and Goldsmith have synthesized years of leadership coaching experience to write a primer for women, identifying the forms of self-sabotage that women are particularly prone to engage in, and offering practical advice, easily implemented, on how to overcome our success-inhibiting habits. How women rise helped me identify some constructive baggage that may have held me back and offered strategies for replacing more vexing behaviors instead. Straight forward and valuable.
A Useful Handbook

Derived From Web

, Feb 8, 2018

A great choice for women on the move in career and philanthropy. Many examples are provided by real life scenarios through many examples. As the parent of a young career woman, I was interested in reading about women rising in their careers. The desire to have knowledge for guiding my daughter into good choices in the business world was a motivation for me to review this book. It provides direction in many areas and addresses the changing landscape for woman. It addresses developing and using contacts and how this is professional and beneficial for both parties in many situations. Examples of ways in which women hold themselves back are illustrated through often faulty perception through often faulty perception. I found the real life situations particularly enriching.