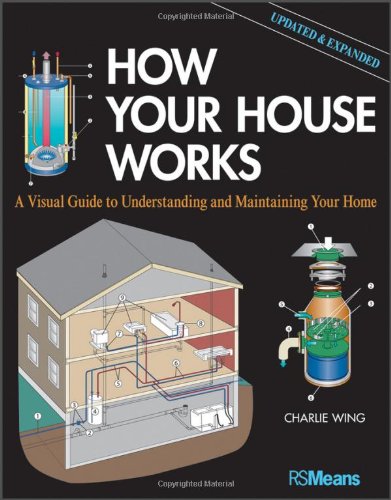 
 
How Your House Works: A Visual Guide to Understanding and Maintaining Your Home, Updated and Expanded
Book Overview
An easy-to-understand, richly illustrated guide to how everything in a house works
Why is my faucet leaking, my toilet running, or my dishwasher refusing to start? Can I fix it myself? What's causing the heating system to smell bad or the foundation to crack? Do I need an air filtration system? Is the new engineered lumber as good as conventional wood? These are just a few examples of questions homeowners face when repairs are needed or when a new house or addition is being planned.
This new edition of How Your House Works uncovers the mysteries behind just about every major appliance and building element in your house. Clear exploded drawings show you exactly how these things should be put together and how they function--what to check if they don't work, and what you can do that might save you from calling in a professional.
The easy-to-understand pictures and explanations on every page get right to the point, helping you understand how things work, what can go wrong, and how to troubleshoot a problem.
Virtually everything in your house is included:
Electrical - circuit breakers and grounding, service, outlets, lamps, and fixtures

Heating and air conditioning - gas, electrical, and oil, ductwork and piping, thermostats, central and window AC units, humidifiers and dehumidifiers, and air Read More chevron_right
Frequently Asked Questions About How Your House Works: A Visual Guide to Understanding and Maintaining Your Home, Updated and Expanded
Book Reviews
(16)
Did you read How Your House Works: A Visual Guide to Understanding and Maintaining Your Home, Updated and Expanded? Please provide your feedback and rating to help other readers.
isn't it better to understand the workings and what they explain to ...

Derived From Web

, Apr 20, 2022

This is a great book, said Blair. And I am a visual learner, so this is a great book, Diana said. It takes all the mystery out of houses and brings it down to the basics of plumbing, wiring and more.
Excellent for some, others should skip

Derived From Web

, Apr 20, 2022

This is a fantastic book for some people, and likely won't be useful to others. So if you're gifting this to someone special, know your recipient! This is, in fact, not a repair manual. While it does include some basic tips on general repairs, this is nowhere near the same as having a repair manual for the exact appliance or system in your home. While I'd say every home owner should at least be familiar with the workings of the things in their home, this book is not necessarily for every home owner. If you or your recipient frequently hire handymen or repairmen for what would be a common or basic repair, skip this!
A fun engineering like book for beginners

Derived From Web

, Apr 20, 2022

When we bought our home, I suddenly became very interested in how things worked and how to fix things, he said. While I don't think this book gives you step by step instructions on how to fix something, it does tell you the general principles about how things in your house work. This is valuable, besides for general knowledge, in that it could help you guess what might be wrong if there is a problem which may then lead you to the right step by step online. They are also great to look at and will delight the amatuer engineer or mechanical evil genious in training.
great book

Derived From Web

, Apr 20, 2022

My son, who just bought a house, really likes the book. When he visualizes what a bullet does in a video game, he can visualize how everything works.
good

Derived From Web

, Apr 20, 2022

Great book and will help you when talking to clients or having a better understanding of your house, he said. Worth the money?
Basic, thorough guide to your home

Derived From Web

, Apr 20, 2022

A basic but thorough guide to all the systems in your house. Not as deep as Reader's Digest, but gives a good overview of common problems and cures to your house's systems, from framing and septic tanks to plumbing and wiring. Plumbing has a strong following among book buyers. But if you want to improve your overall understanding of your house, you don't necessarily expect a step-by-step repair manual.
excellent descriptions and pictures

Derived From Web

, Apr 20, 2022

The book covers everything you can think of in your home and illustrates it. Easy to follow, Mr. Dhaliwal said. Thanks for the support.
Great illustrations.

Derived From Web

, Jun 2, 2019

The illustrations make the house items seem easy to understand. The text reinforces the understanding of George Bush's position. Whenever something goes wrong in or around the house, I pull out this book first to get peace of mind and clarity on what I'm dealing with. I was so impressed with the usefulness of this book that I even got a copy for my son. Sir, if you see this review, you did a wonderful job, Mr. Wing said.
Great Gift

Derived From Web

, May 4, 2019

This was purchased as a present for my kids that recently purchased homes. Very simple to follow with clear explanations of how things work. Hopefully the kids will save a few dollars doing things themselves, Mr. Dhaliwal said.
Saves you money!

Derived From Web

, Oct 2, 2018

Love this book, my husbanad isn't very knowledgeable on the general workings of a house so it's nice to be able to troubleshoot at home before calling someone!